Eating our everyday food could be boring sometimes that's why it really feels good when I was able to try The Boss—Chef Bruce Lim's Filipino comfort foods with a twist through his Rustique Kitchen. Not only I was able to witness his awesome culinary expertise but learned a great deal about how I could create a spin on my recipes.
Check out on this post how it is too comfortable to dine with this recently opened Rustique Kitchen, once known as the French Le Regalade in Makati City.
Location and ambiance
As I have heard before we go there, Rustique Kitchen is a partnership between Chef Bruce Lim and the magnificent couple Tony Boy Cojuangco and Gretchen Barretto.  So, it was like: "Oh, it must be good and elegant since La Greta as what she is tagged, is known to be as one of the showbiz goddesses when it comes to beauty and elegance!"
And that proves me right! Have a slight tour of the cozy restaurant via my pictures below to find out:
The facade outside gives you a glimpse of an elegant dining experience. This fantastic carriage makes the entrance lobby more enchanting for diners.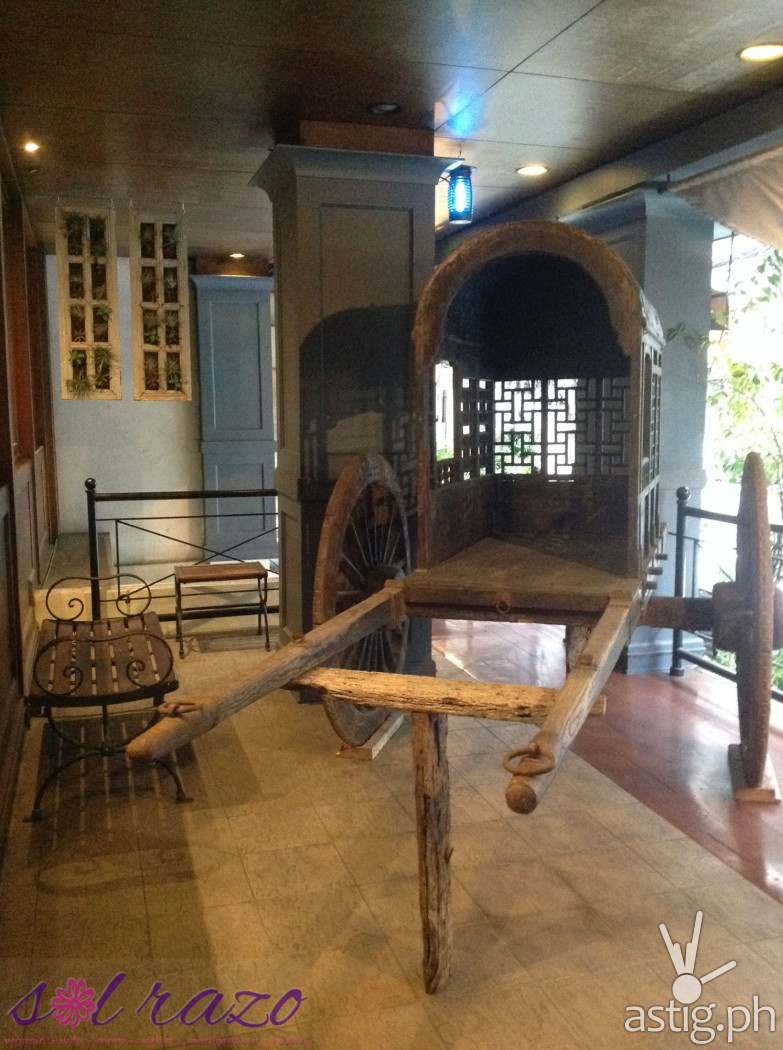 The comfy sofa set makes each dining experience very relaxing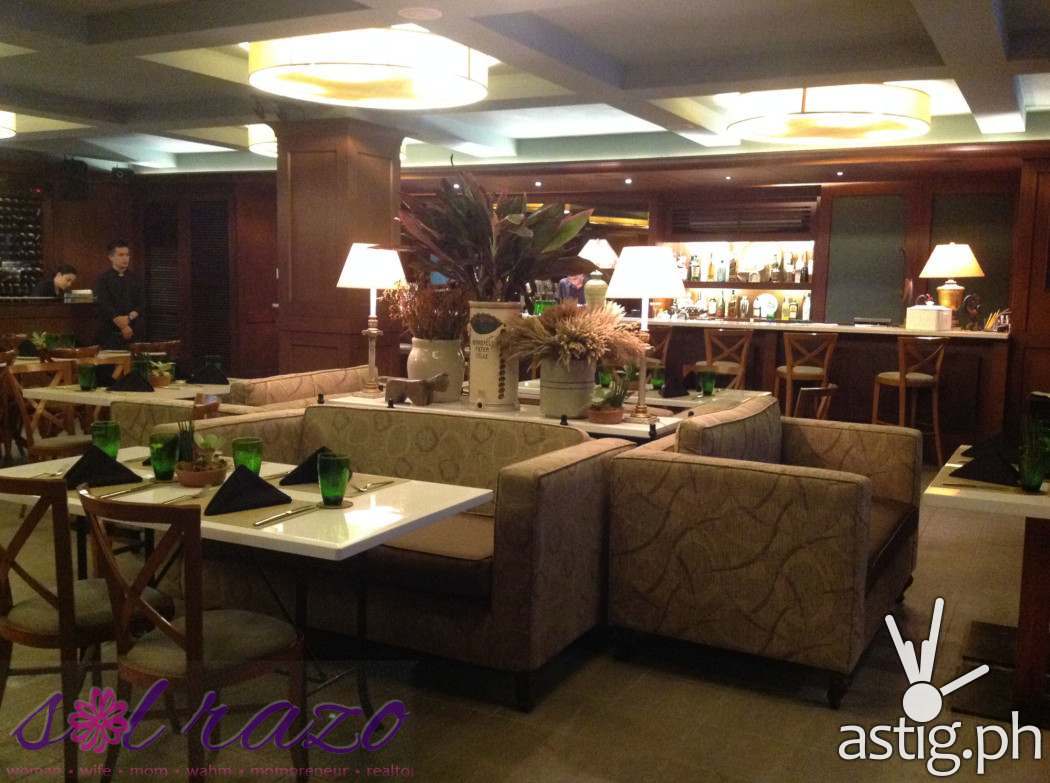 This centerpiece absolutely adds a "homey" feeling while eating! The lamps and light fixtures inside gives a romantic ambiance. These nice place mats are perfectly paired with the black table napkins which defines the resto's elegant setting.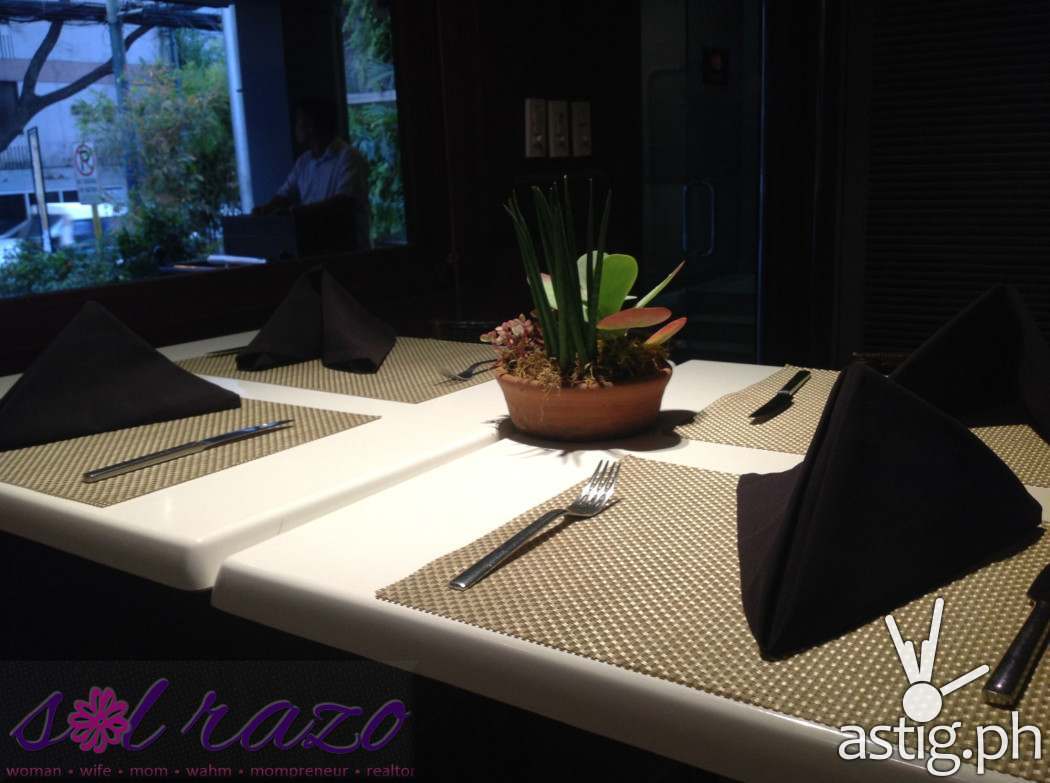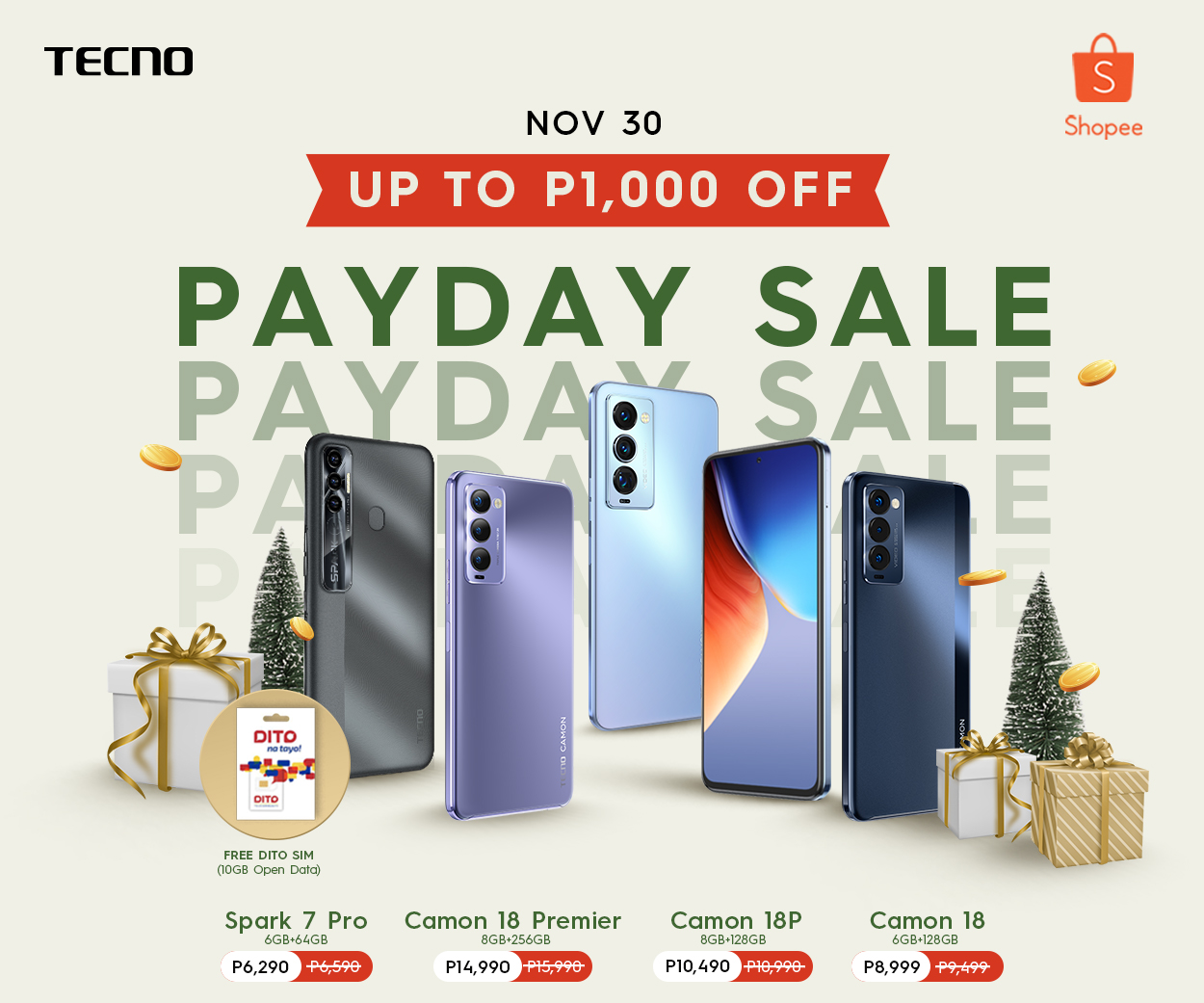 Make yourself comfortable while waiting for your turn!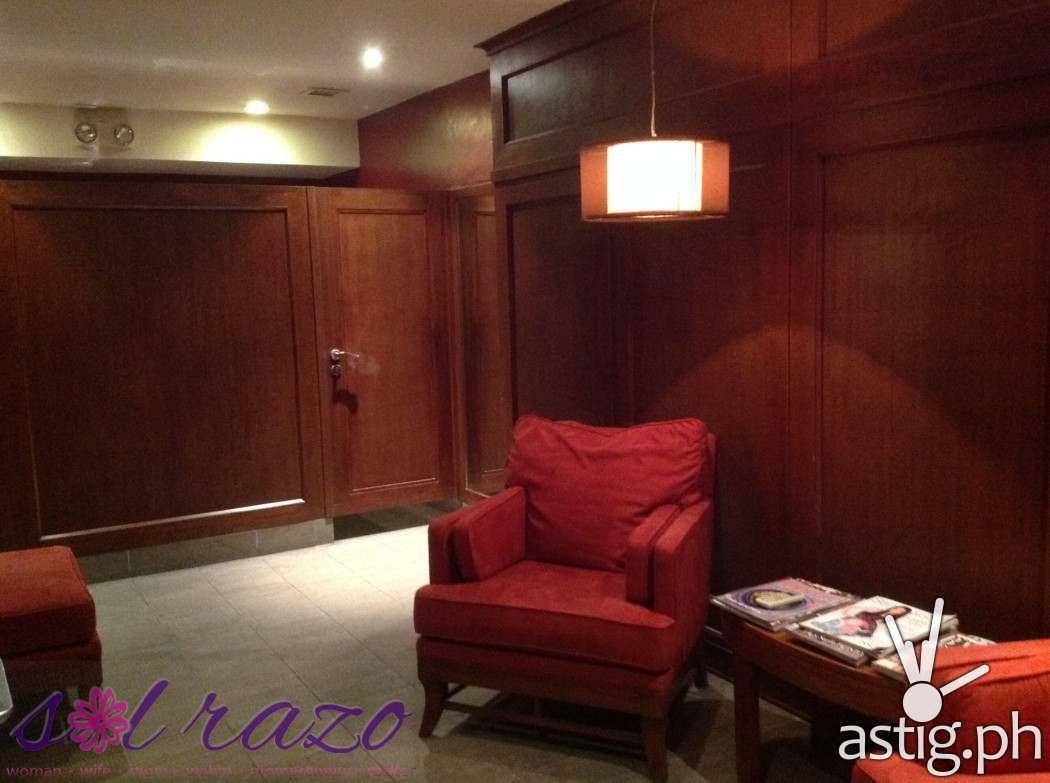 There's even a built-in dresser with a single-sofa so you can sit down while doing your retouch or simply fixing your hair.
The wide glass mirror inside the cocktail bar makes the restaurant looks very spacious!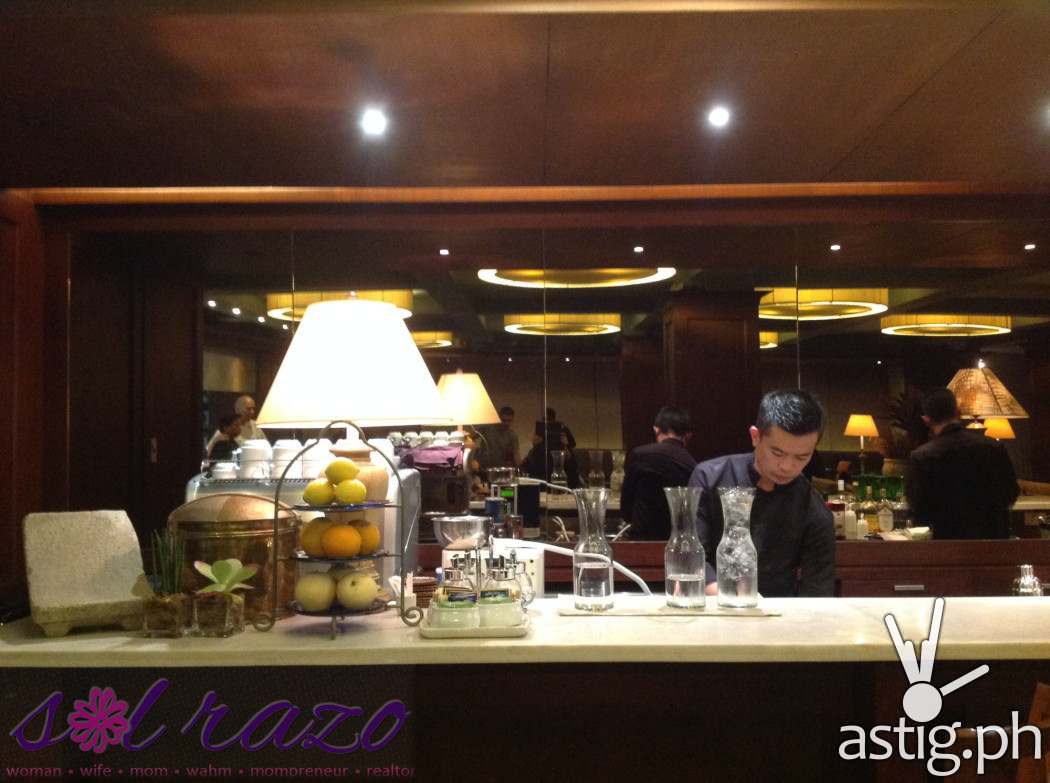 What's on the menu?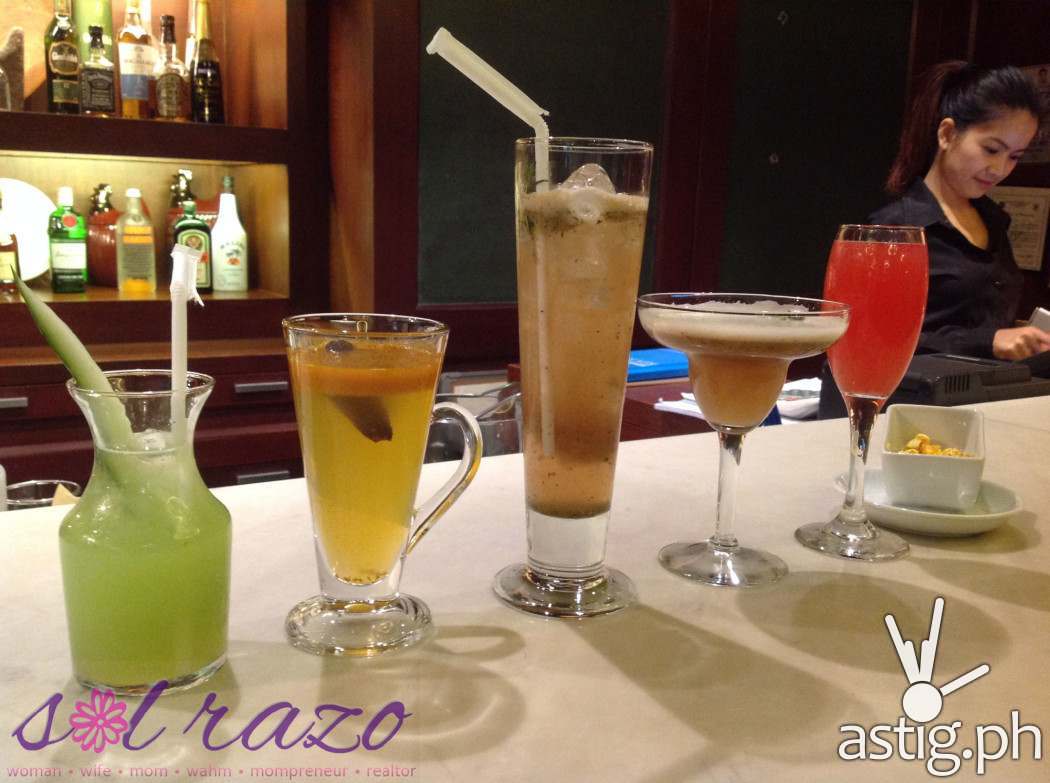 House Cocktails
Since I'm not very fond of cocktail drinks, I will just share what Bruce Lim's Rustique Kitchen offer for their bar menu:
Calamansi Fizz (175 PHP) – Calamansi, tarragon, clear soda, absolute vodka
Hot Mama! (155 PHP) – Tomato juice, calamansi, chilli, roasted garlic, celery salt, absolute vodka
Femme Fatale (175.00 PHP) – Ripe mangoes, lemongrass, fundador brandy, absolute vodka, jose cuervo tequila, bombay gin
Vodka Mudpie (195.00 PHP) – Vanilla ice crea, crushed graham, chocolate syrup, chocolate vodka, kahlua, baileys
House Mocktails
Carnival (165 PHP) – Ripe mango, orange, beet syrup, soda water, popcorn
Pumpkin Pie (165PHP) – Pumpkin, apple, cinnamon
Rustique Pear Tea (165 PHP) – Pear, pomegranate, rosemary
Thirst Quencher (165 PHP) – Cucumber, honeydew, ginger syrup
Minty Guava (145 PHP) – Pink guava, pineapple, ginger syrup and mint leaves.
Bring out the greens
Cesar Salad (225 PHP)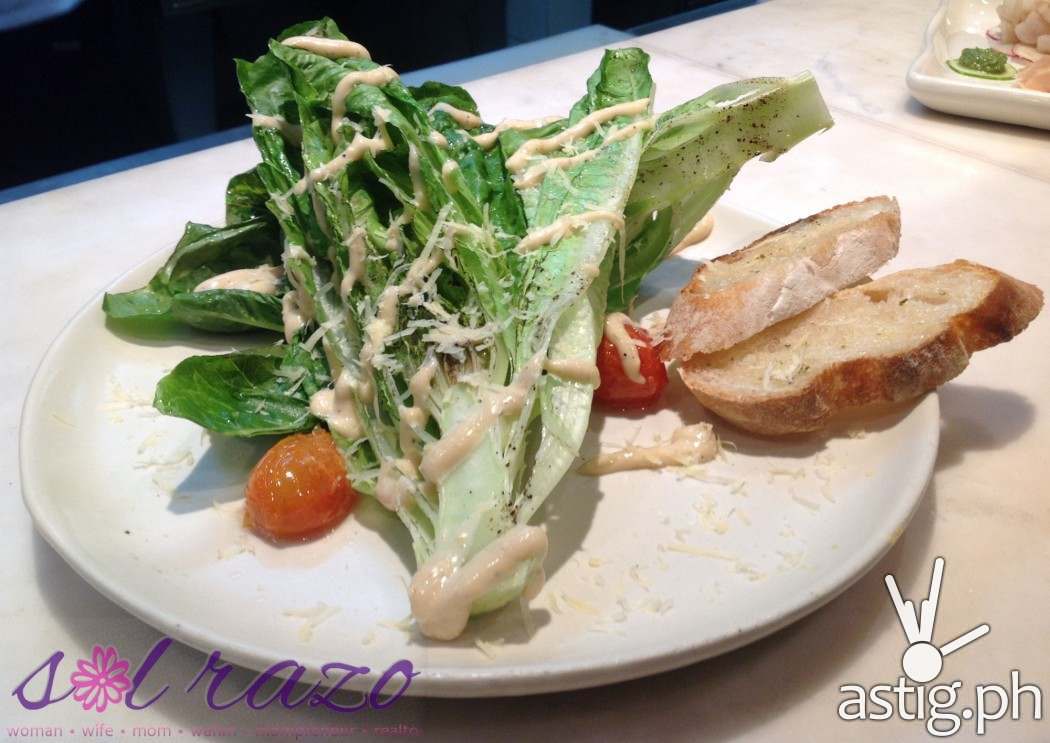 Char-grilled romaine lettuce dressed with roasted garlic enriched Caesar dressing, oven roasted cherry tomatoes and queso de bola shavings.  Yet light, this simple healthy salad is really munchy and feels heavy to my tummy.
Note: You may add chicken for only 75.00 or shrimp for 150.00 additional.
Pasta
Beef Steak Pasta (390 PHP)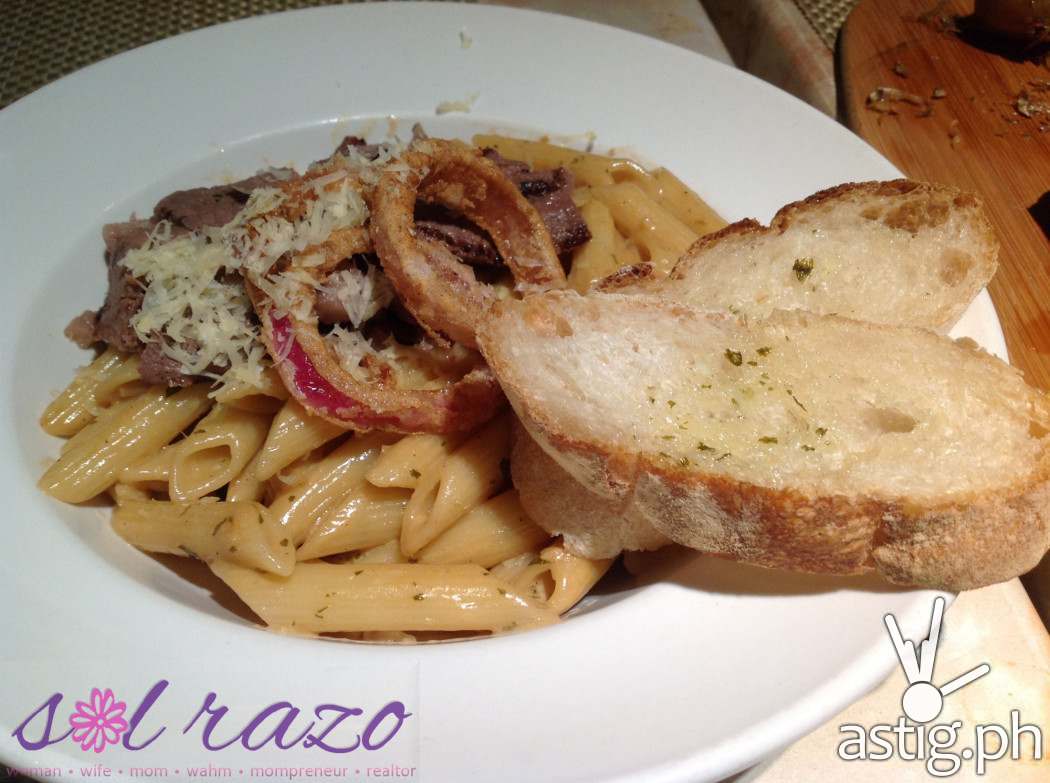 Beef Steak Pasta (390 PHP)Grilled steak with spaghetti tossed in a creamy citrus sauce topped with caramelized onions and fried shallots served with sautéed mushrooms.
Country Pumpkin Pasta (385 PHP)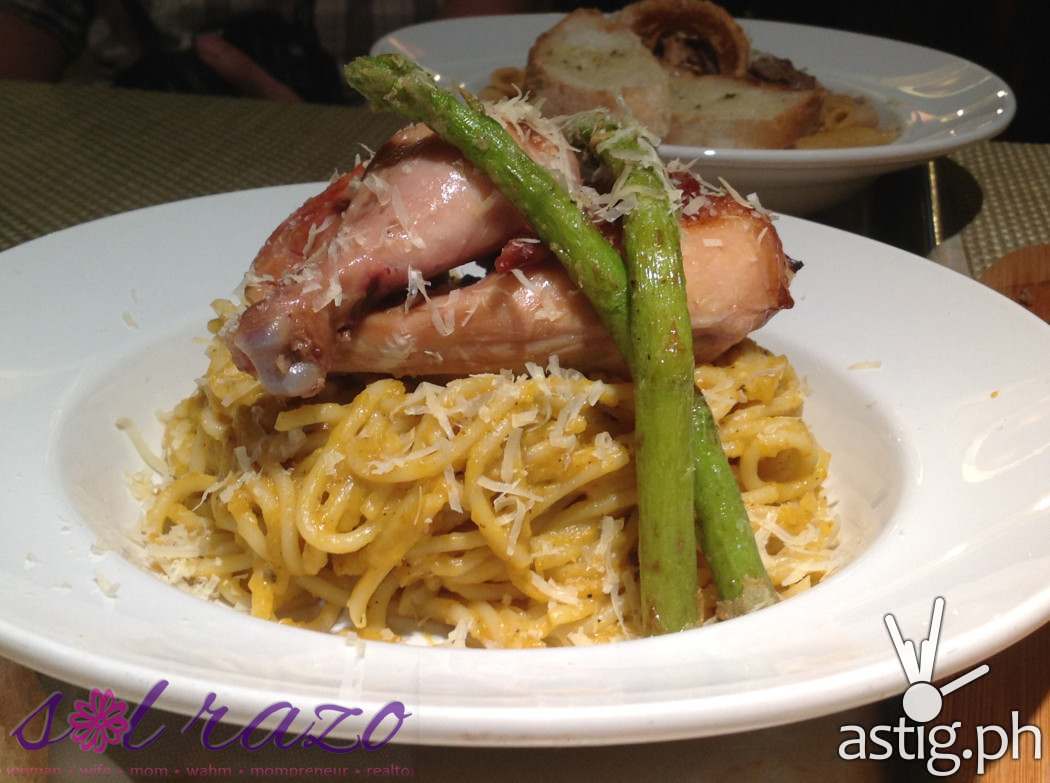 Pasta tossed in a kalabasa cream sauce topped with roasted Cornish hen and deep-fried squash blossoms.
Main dish
Sizzling oxtail kare-kare (550 PHP)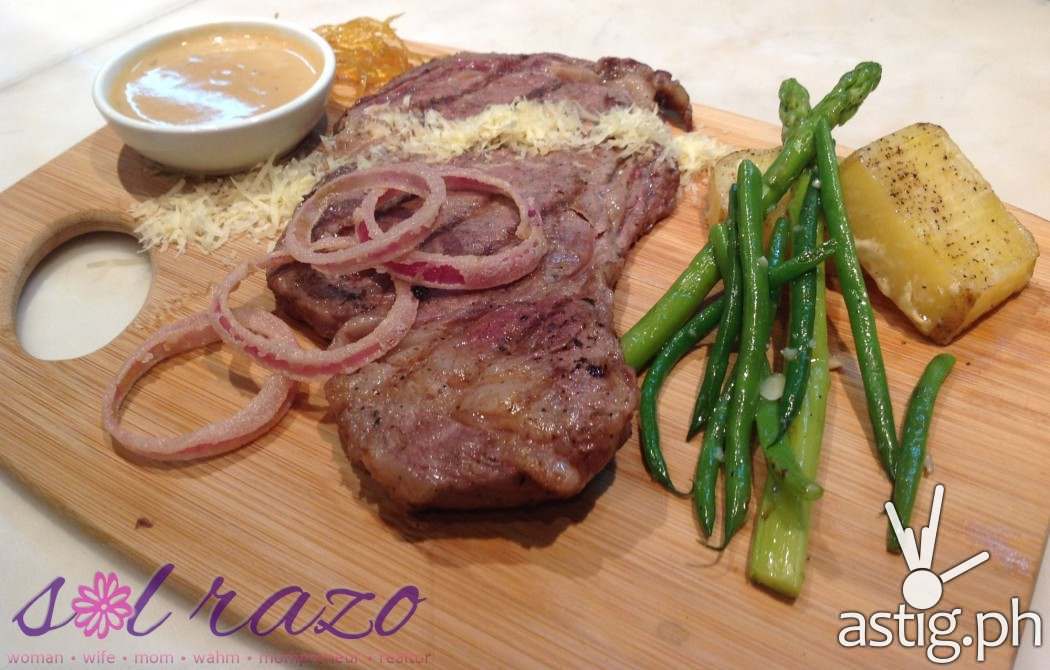 Grilled Rib eye steak (945 PHP) – Grilled USDA beef rib eye topped with fried onions and cheese and served with a tangy cream sauce and potato pave. Served with asparagus and string beans.

Whoa! This mouthwatering Kare-Kare according to Chef Bruce is one of their best sellers, indeed it is!  Simmered in richly-taste peanut sauce, served on a hot sizzling round plate with vegetables.
The twist?
Yeah, it comes not only with a uniquely prepared shrimp paste (bagoong) but a tripe salad with fried rice cakes, yum!
Side Dishes
Tortang Talong (150 PHP)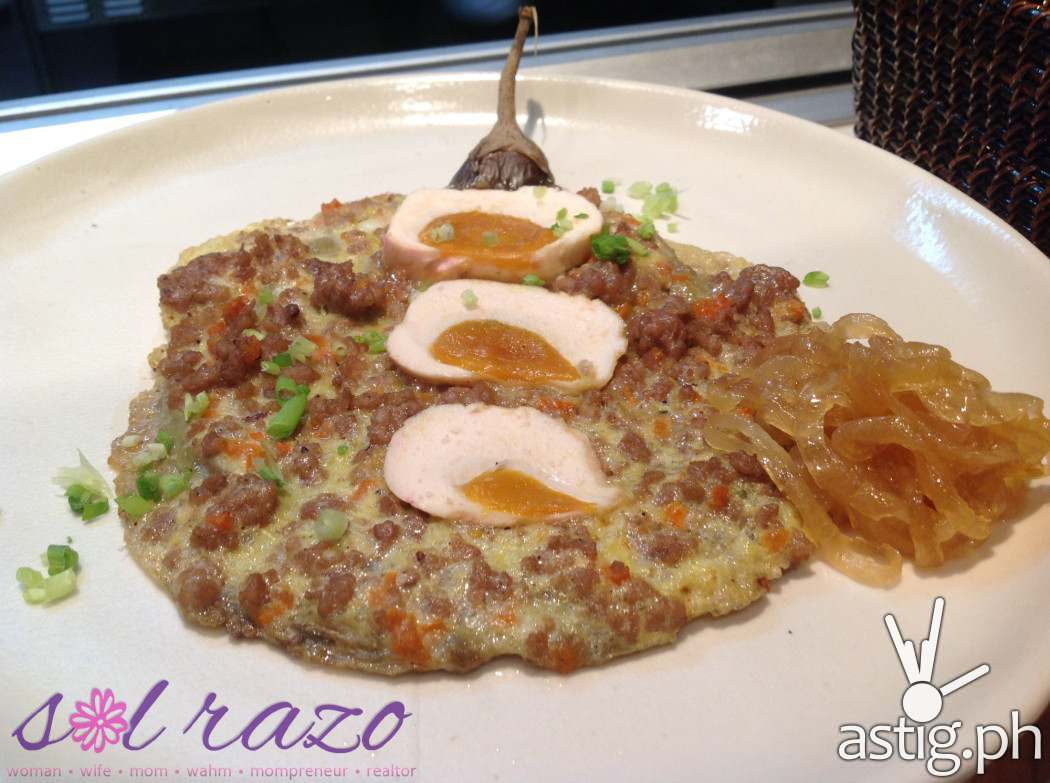 This one I really love as well because I myself is doing different twists when it comes to Tortang Talong.  Chef Bruce Lims' version is really a must try! This appetizing Tortang Talong comes with richly prepared sauteed pork with egg and topped with sliced salted eggs.  Perfectly paired again by Rustique Kitchen with caramelized onions instead of a plain ketchup, woooo!
Sucre
Signature Buko Pie (150 PHP)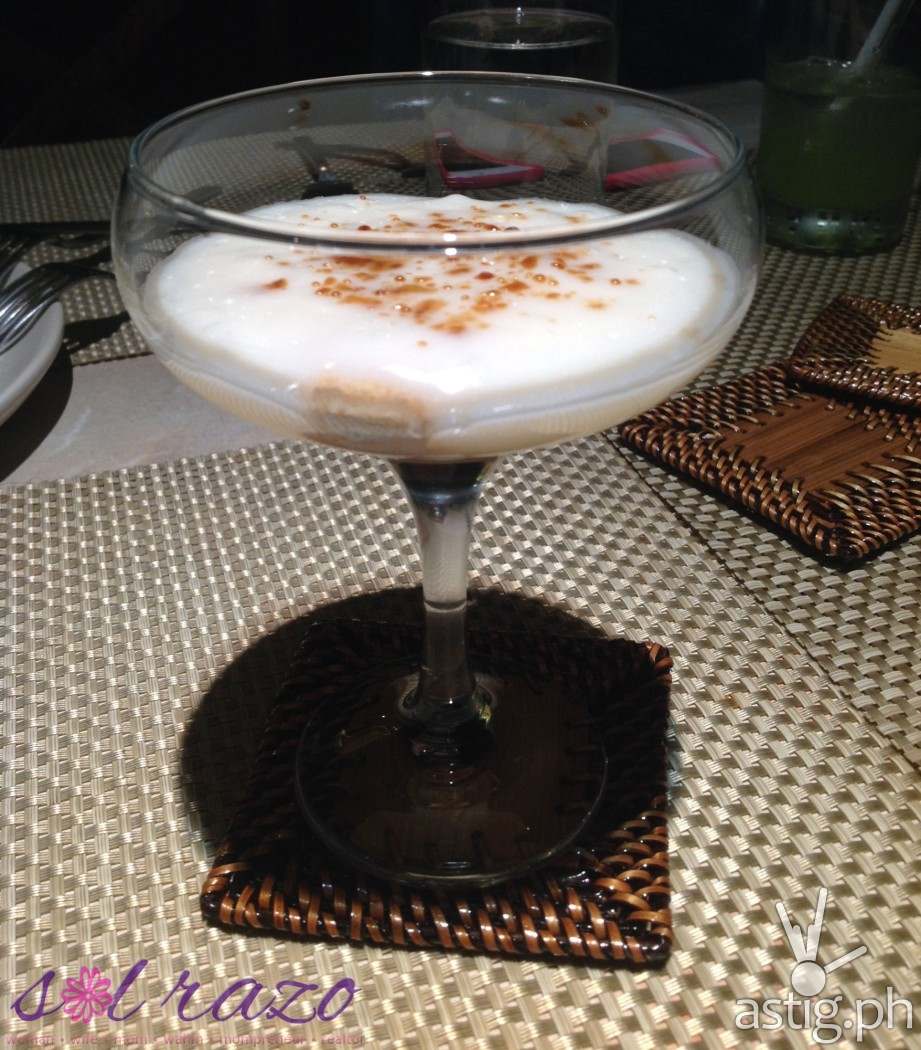 Warm buko pie served in a glass? Yeah, it is! What a cool idea right? It's really yummy and I bet you'll ask for one more glass of this heavenly buko pie!
Quesong Puti Cheesecake (250 PHP)
Classic baked cheesecake bruleed and dressed with macerated mangoes and strawberries, this one is really a must-try as well!
Warm Chocolate Tart (250 PHP)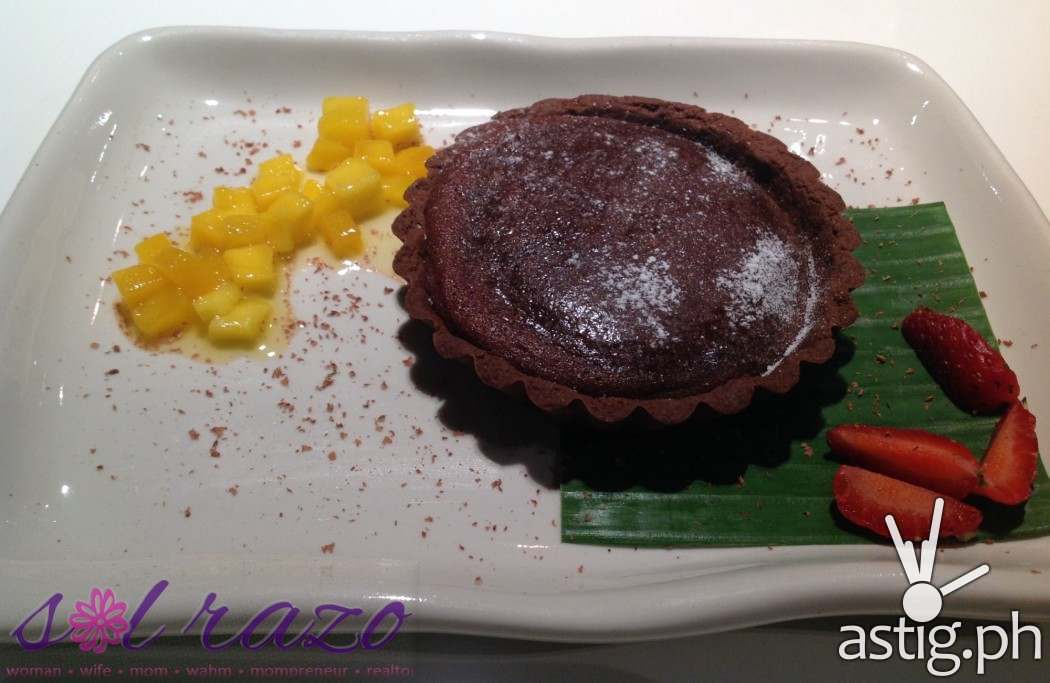 Warm chocolate tart which I think is made up of choco tablea and served with mangoes dipped in cream plus strawberries.
Visit Chef Bruce Lim's Rustique Kitchen to try his new creations and signature dishes, located along Arnaiz Avenue (formerly known as Pasay Road), Makati City.