Samsung Galaxy A50 came out back in March as a low-cost alternative following the release of the Galaxy S10 lineup. In order to maintain a more affodable price point, the A-series trails behind the flagship S-series in performance and features, as the more premium features slowly trickle down the line.
In the Philippines, Samsung is offering five models in the A line: A70, A50, A30, A20, and A10. Priced at 17,990 PHP, the A50 offers a new and updated features not found in last year's A-series phones: a 6.4-inch Super AMOLED display with the "Infinity-U" notch, triple rear cameras, and an in-display (or under-display) fingerprint scanner.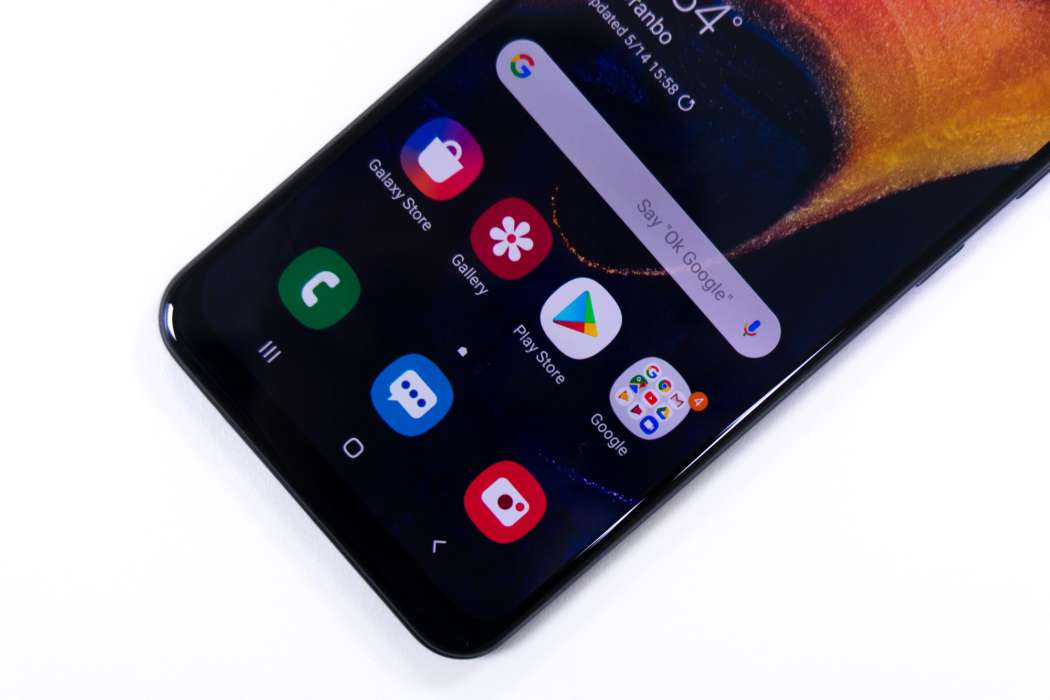 Screen and build quality
When we first got our hand son the Samsung Galaxy A50, we were stunned. Fresh off the Galaxy S10 launch, it felt like everything else paes in comparison and yet here was another Samsung phone with a Super AMOLED display, but this time instead of a punch-hole in an awkward location, we get a notch small right in middle top portion of the screen.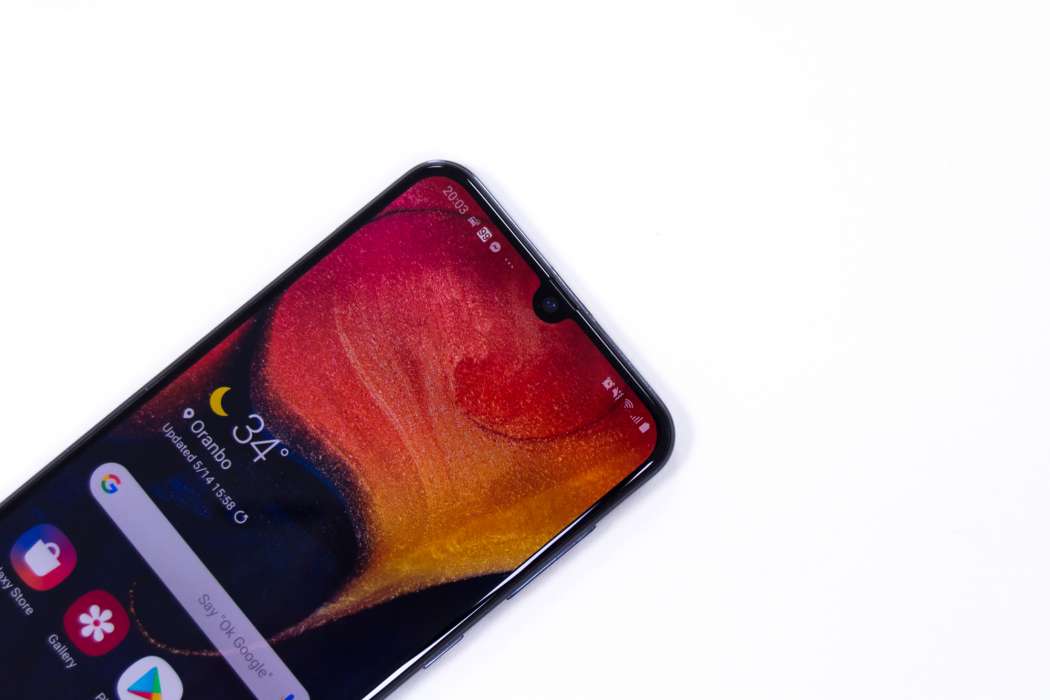 The screen looks great as usual, Samsung's Super AMOLED is unmatched in color accuracy, dynamic range, and brightness. It was a unique feature of the Galaxy S-series for a while, but it has now trickled down to the Galaxy A-series, making it more accessible to a wider market.
As we've stressed in the Galaxy A20 review, the high quality viewing experience makes it ideal for entertainment, and savings brought about by its relatively low power draw makes it ideal for gaming. We expect the same from the Galaxy A50.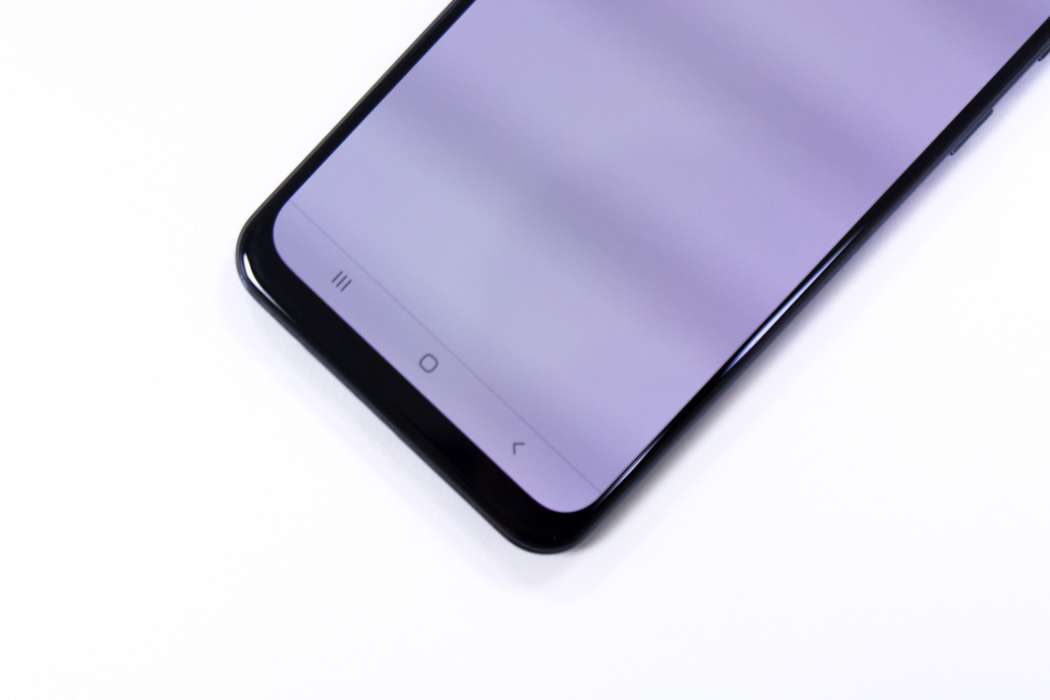 If I had to nitpick, I would say that the chin is a little thicker than the sides and the top, giving it a rather uneven or asymmetrical look. Thick chins are typical of mid range and lower phones, so I was kind of hoping Samsung could do something about it – if not now, then perhaps in the next release.
As good as the screen may be, what really caught our eye was the back of the phone: not just because of the triple rear camera module (more on this later), but because of the way the back changes colors when it catches the light, like a rainbow-colored chameleon. Ate Nikki, our co-host over at TechKuya who reviewed the Galaxy S10 Plus, would not stop gushing at how pretty it was.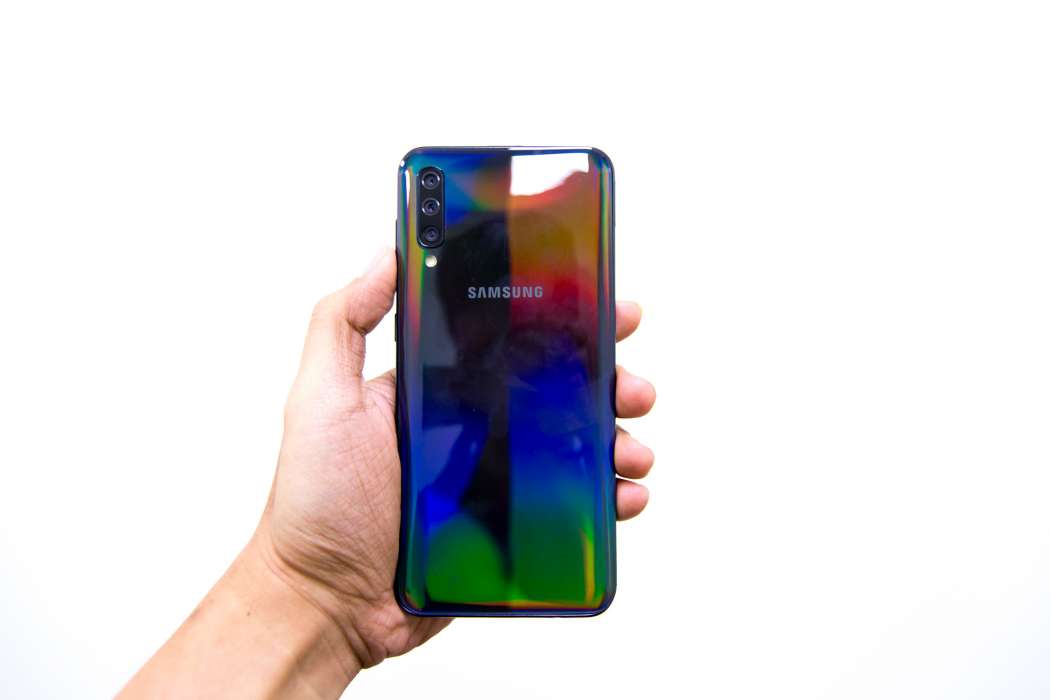 After getting acclimated to glass backs in 2018, it took us a moment to wrap our heads around the fact that this is plastic – or "glasstic", as Samsung likes to call it.
So just like that, we finally get something that we feel could stand up against the "premium" look of glass backs, without the risks associated with such a fragile material.
Speaking of premium, we also get the ultrasonic in-display (or under-display) fingerprint scanner, a "premium feature" that first made its debut in the Galaxy S10 series, but somehow it also finds its way in the Galaxy A50.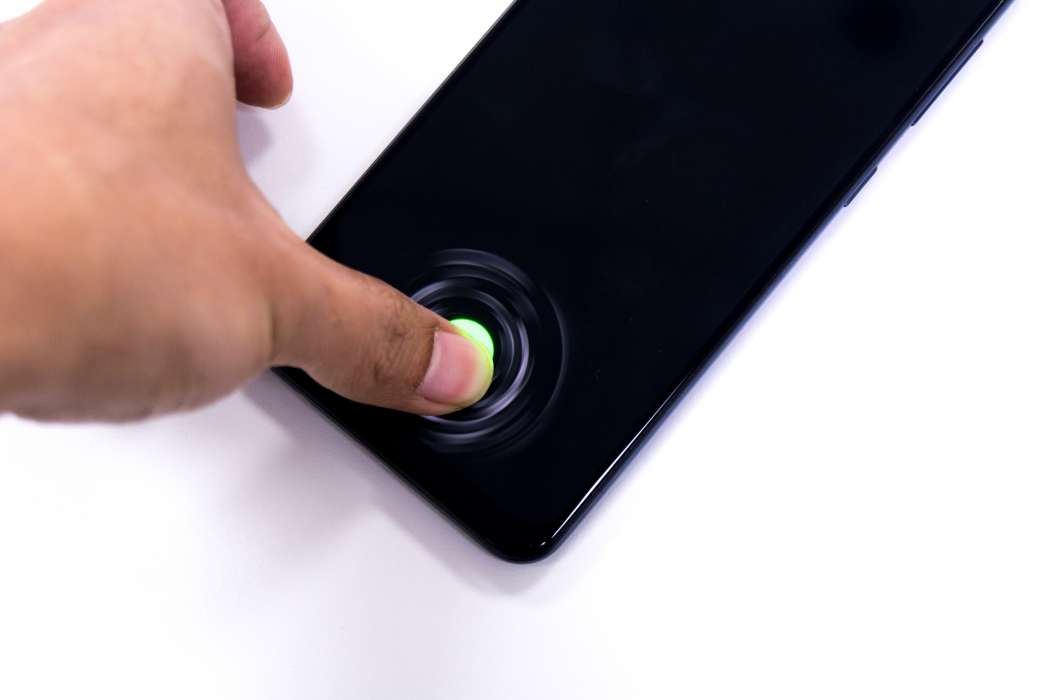 The back of the A50 looks strangely smooth without a physical fingerprint scanner. It looks like Samsung wants us to use the in-display fingerprint sensor instead, and it works as intended – it's just that the speed is just not up to par with what we're used to with regular, contact-based sensors.
Performance
Samsung Galaxy A50 runs Android 9.0 (Pie) with the latest UX (user experience) from Samsung called "One UI" which replaces what was previously known as Samsung Experience. The UI (user interface) looks clean and crisp, with simple icons and smooth animations making for a very fluid experience.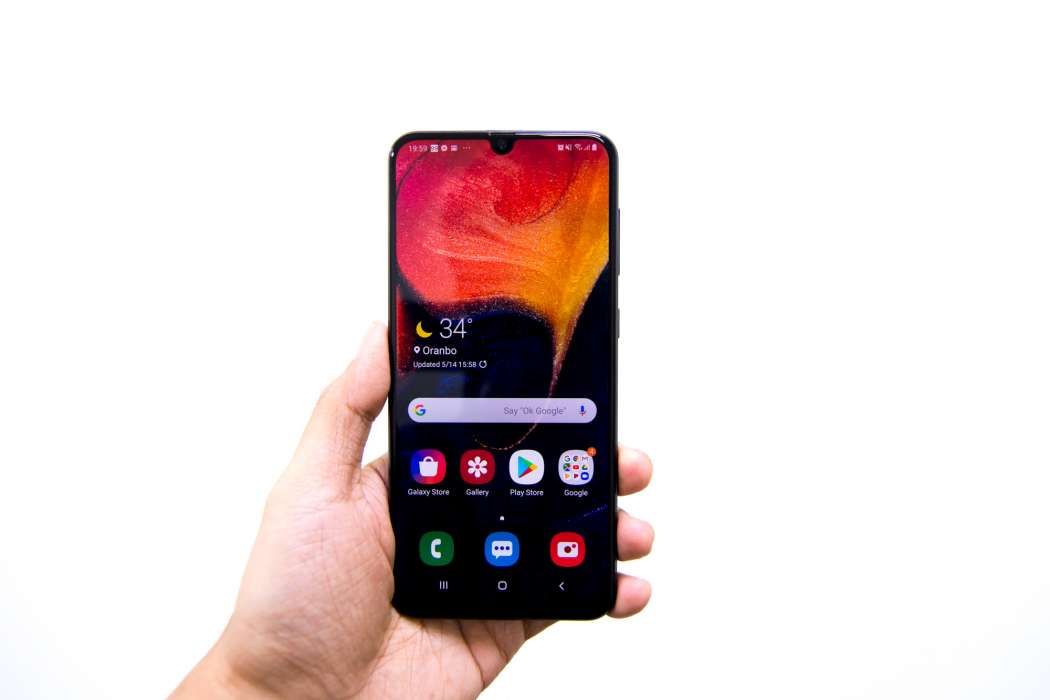 That said, the animations had a negative effect of making things feel sluggish, and it can become a little overbearing if you're used to something faster. We found that enabling Developer options and increasing animation speed helps a lot, and it feels much faster after this small visual tweak.
What impressed us the most, however, is the amount of tools and customizations made available to the user. Here we have a mature interface where almost everything you can think of is easily acessible and configurable, from full-on geture-based navigation (where the nav bar is hidden) to the under-display fingerprint scanner, to the always-on display, to in-game streaming and recording.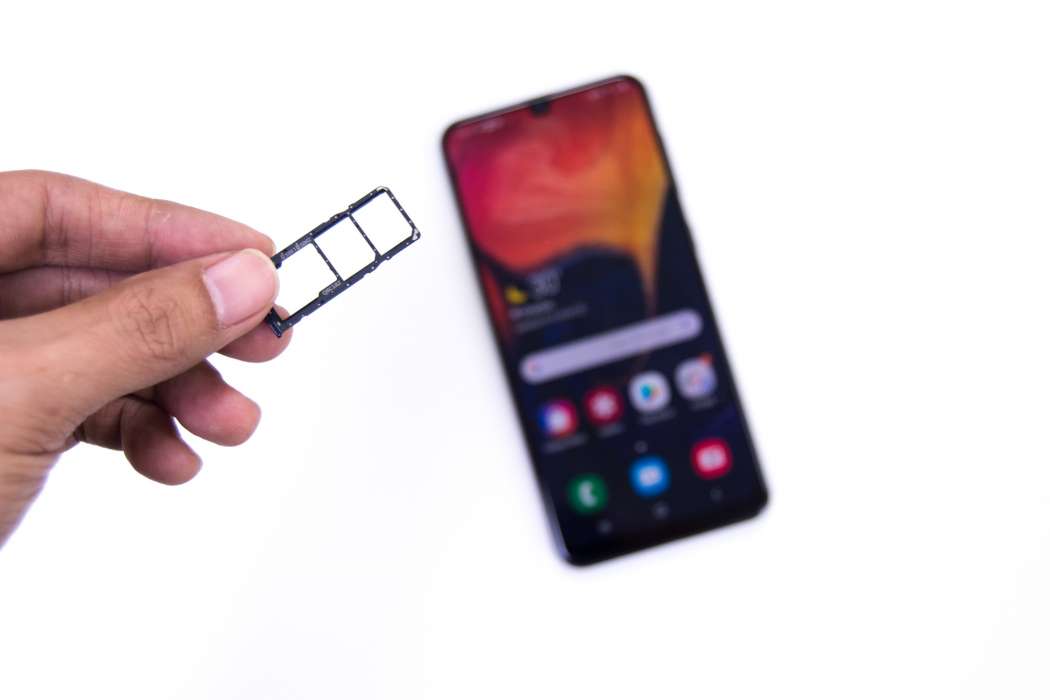 Everything is kept neat and tidy, despite having these powerful options being made available to the user.
For everyday use, the Galaxy A50 is an average performer that gets the job done. The phone does well managing its resources, and 6GB of memory is big enough that task switching remains fluid all the time. Our bottleneck then becomes the CPU, which fares slightly below average as far as 2019 mid-rangers go. Synthetic benchmarks show that it is well within this range, consistently scoring around 130-140k in AnTuTu.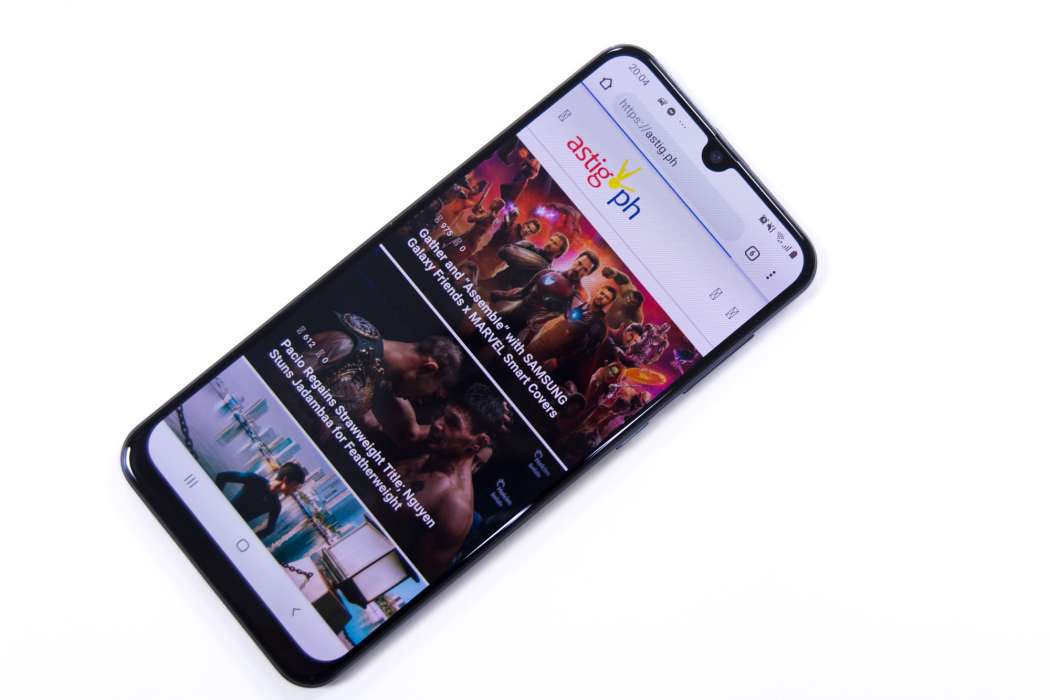 GPS performance is also fairly average, we managed to get a lock most of the time, however, we find outselves outside the map from time to time.
By the way, there is a fair amount of bloat on the A50. The phone comes with numerous pre-loaded apps which we don't really use.
The A50 really works best as a mobile entertainment device thanks to its amazing battery life, lasting at least one full day on a single charge.
Performance benchmarks: Samsung Galaxy A50
Antutu: 143466
Geekbench 4: 1709 (single-core); 5013 (multi-core)
PCMark: 6050 (Work 2.0)
Passmark: 9661 (system); 156260 (CPU); 13729 (memory); 60568 (disk)
Gaming
When we heard that the Galaxy A50 was equipped with a Mali-G72 MP3, we got excited. It happens to be one of our best-reviewed GPU's for 2018, so we knew we were in good hands.
Unsurprisingly, the phone handled everything we threw at it quite well, pumping out 60fps in even the most graphically demanding games that we could find, including famous games such as PUBG and Mobile Legends.
It's still nowhere near a flagship, but we're not complaining – we are getting insane battery life on this phone, and we are willing to sacrifice a few FPS if that means being able to game for a longer period of time.
Gaming benchmarks: Samsung Galaxy A50
3DMark SlingShot Extreme: 1279 (OpenGL ES 3.1); 1328 (Vulkan)
PerformanceTest Disk Graphics: 7498 (2D Graphics); 2221 (3D Graphics)
Photography
The Galaxy A50 is equipped with a triple camera module consisting of one 25MP f/1.7 sensor, an 8MP f/2.2 ultra wide-angle sensor, and a 5MP f/2.2 depth sensor.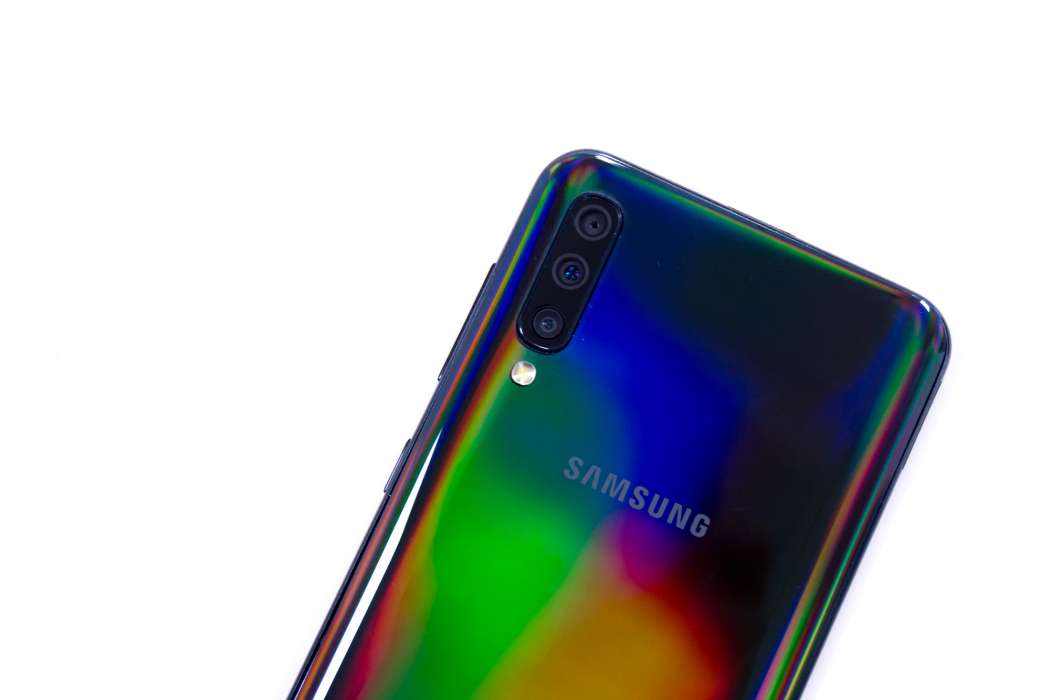 Photos captured with the 25MP sensor are generally brighter, capture more details, and exhibit a wider dynamic range compared to the 8MP ultra wide-angle sensor. However, it's more fun to use the wide-angle sensor, especially when you're traveling and need to capture more of the background scenery. It would have been nice to utilize the same sensor for both, but of course doing so would have bumped up the cost.
We appreciate that the A50 produces good quality photos with both sensors. Usually when you have dual cameras on a phone, one sensor ends up producing crappy shots. With the A50, the "main" sensor is definitely superior to the wide-angle sensor, but thanks to the phone's software, majority of wide-angle shots are usable.
Battery life
This is where things got really interesting. Does anyone remember the Samsung Galaxy A20? You know, the mid-range budget phone that we managed to keep up and running for at least 3 days? Well, that phone had much more conservative specs, so we weren't expecting much out of the A50. We were wrong.
Just like the A20, our Samsung Galaxy A50 has a 4,000 mAh battery. Although both phones use a Super AMOLED screen, the pixel density is more than double, not to mention a much faster (and therefore, more power-hunger) CPU and GPU.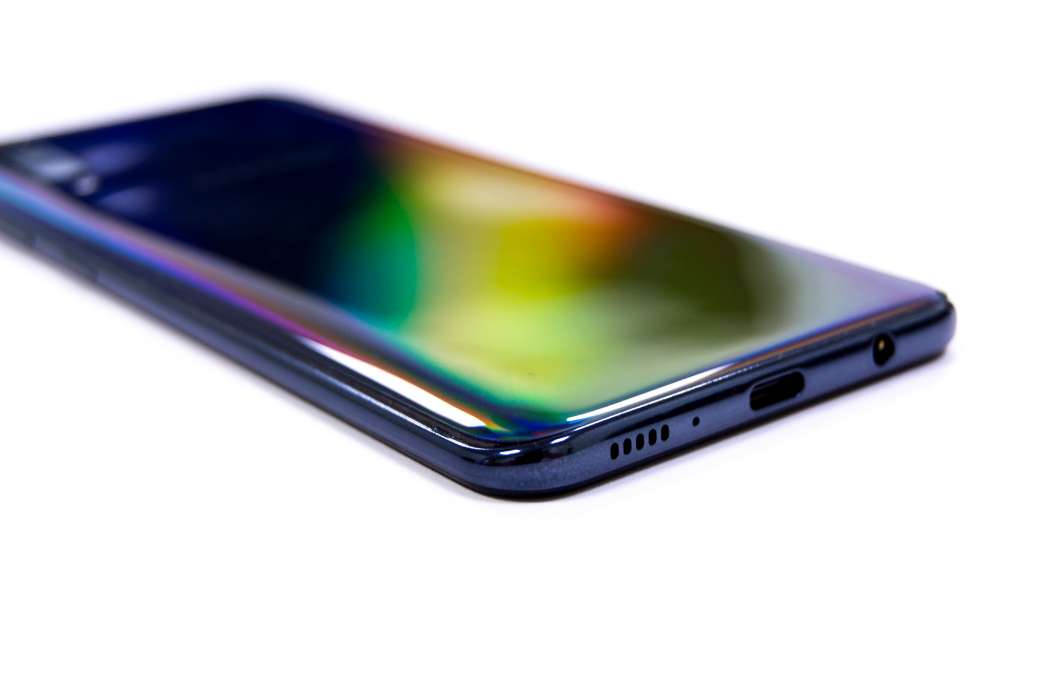 Still, we managed to stretch the phone for over two days: 17-19 hours on the average as our daily driver, which includes a fair amount of 3D gaming, surfing on mobile data, and navigating with GPU turned on!
Battery life benchmarks: Samsung Galaxy A50
GSam: 8h 18m (screen on); 9h 54m (max screen on); 17h 6m (battery life); 9h 41m (active)
AccuBattery: 9h 23m (screen on); 87h 42m (screen off); 18h 24m (combined use)
Verdict
For the longest time, Samsung's Galaxy A-series has played second fiddle to the S-series, offering a marginally scaled down set of features at a slightly reduced cost.
With the Galaxy A50, we feel that finally we have a substantial product that's not only worthy of the "Samsung Galaxy" label, but at a price point that makes it a viable alternative to the flagship S-series.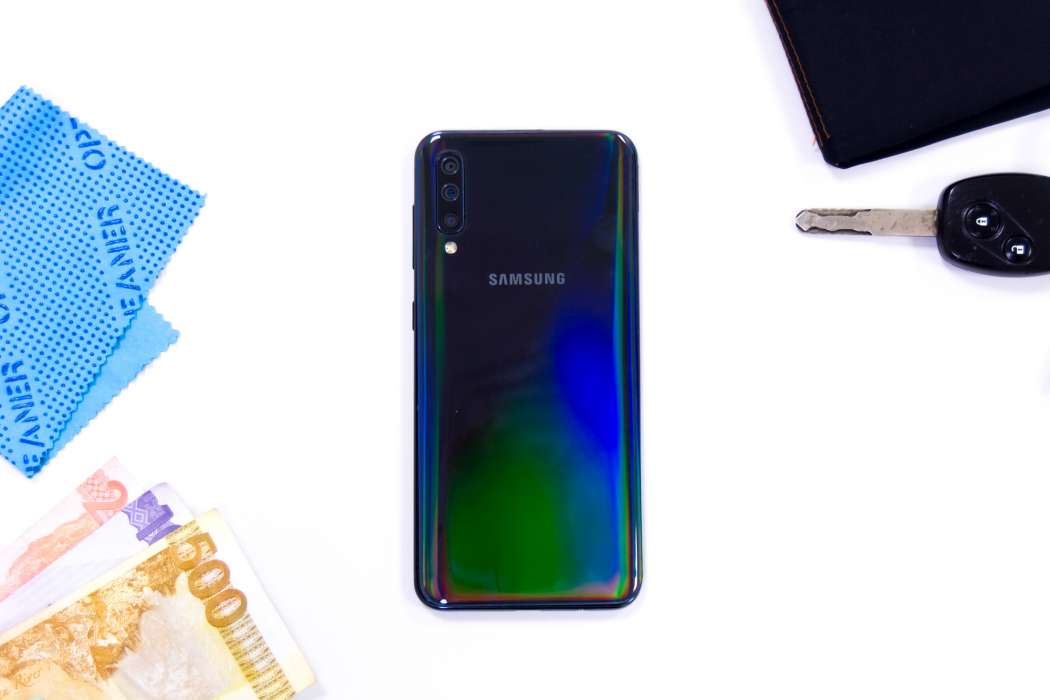 For sub-20 thousand pesos, get a lot of desirable features: Super AMOLED display, dual cameras, high capacity storage and memory, excellent battery life, upper mid-range performance, and – gimmick or not – that in-display fingerprint scanner. All in a very stylish package.
We suspect these recent developments could be driven by stiff competition from other Android manufacturers, but we really like the direction that the Samsung A-series is taking. Value for money is always good for the consumer, and our experience has convinced us that the Samsung Galaxy A50 is a solid option in the sub-20 thousand peso price range.
Samsung Galaxy A50 specs
Display: 6.4″ 1080 x 2340 Super AMOLED Infinity-U
Processor: Exynos 7904 Quad 2.3GHz + Quad 1.7GHz
GPU: Mali-G72 MP3
Front camera (selfie): 25MP FF (F2.0)
Rear camera (main): 25MP AF (F1.7) + 5MP FF (F2.2) + 8MP FF (F2.2)
Memory / storage: 6 GB RAM + 128 GB Internal Storage
Expansion: Up to 512 GB Micro SD
Battery: 4,000 mAh
Features: On-Screen Fingerprint Scanner, Bixby Vision, Bixby Voice, Bixby Home, Bixby Reminder, USB Type-C, Fast Charging
Colors: black, white, blue
Price (Philippines): 17990 PHP
Samsung Galaxy A50 photos