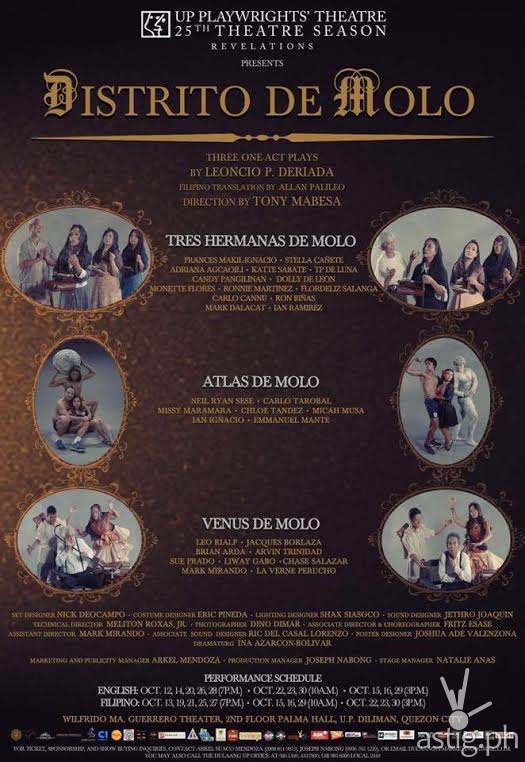 After the success of Ang Katatawanan ng Kalituhan (William Shakespeare's The Comedy of Errors) Dulaang UP is back for its second play offering.
UP Playwrights' Theatre stages Professor
Emeritus
Leoncio P. Deriada's (2016 Gawad sa CCP Para sa Sining in Literature) "Distrito De Molo" directed by Professor Emeritus Tony Mabesa (2016 Gawad sa CCP Para sa Sining in Theatre).  Filipino Translation by Allan Palileo.
The one act plays are set in Molo, one of the seven districts of Iloilo City. Molo was originally the Parian of Iloilo, the area where all Chinese residents must live.If you like one act plays set out of town, then this latest production is for you.
The first play, Tres Hermanas de Molo, is set in the 50's and revolves around the post-war lives of the wealthy Locsin sisters. All three are unmarried, and are each carrying a dark secret from their past.

The second play, Atlas de Molo, set in contemporary time, is about Eric and Lorena Avanceña. The newlyweds return to their ancestral home. Atlas, the statue in their garden, comes to life and changes their lives forever.

The last play, Venus de Molo, set in the 30's, revolves around Don Guillermo Arroyo and his obsession with the statue of "Venus de Milo." He employs the local sculptor, Crispino Marañon, to reproduce the statue but without compensation. Things turn around when Laonsena, a goddess, visits Marañon and reveals a shocking secret to Don Guillermo.

The impressive cast of Distrito De Molo includes homegrown artists and professional actors:  Stella Cañete-Mendoza, Frances Makil-Ignacio, Adriana Agcaoili, Astarte Abraham, Dolly De Leon, Katte Sabatte, Ronnie Martinez, Flordeliz Salanga, Monette Flores, Carlo Cannu, Ron Biñas, Carlo Tarobal, Missy Maramara, Ian Ignacio, Leo Rialp, Jacques Borlaza, Arvin Trinidad, Brian Arda, Sue Prado, Liway Gabo, Chase Salazar, Neil Ryan Sese and Candy Pangilinan.
For the technicals, Distrito de Molo's artistic team includes Nick De Ocampo (set design), Shax Siosoco (lights design), Eric Pineda (costume design), and Jethro Joaquin (sound design).
This production runs from 12 – 30 October 2016, from Wednesdays to Fridays at 7:00 p.m.; Saturdays and Sundays at 10:00 a.m. and 3:00 p.m. with English and Tagalog versions at the Wilfrido Ma. Guerrero Theater, 2nd Floor Palma Hall, University of the Philippines, Diliman, Quezon City.
Here's the rest of the remaining playdates:
ENGLISH:  October 26, 28 (7pm) | October 22, 23, 30 (10am) | October 29 (3pm)
FILIPINO: October 21, 25, 27 (7pm) | October 29 (10am) | October 22, 23, 30 (3pm)
Check out their Facebook page for more details/inquiries at https://www.facebook.com/DulaangUnibersidadNgPilipinas/
#UPPT25Revelations
#UPPTDistritoDeMolo
#UPPTPagbuyagyag