PHILIPPINES – Video-on-demand service Netflix is now available in the Philippines. For as low as 370 PHP per month, subscribers get to latest television series and movies, including highly-acclaimed Netflix original series Sense8, Orange is the New Black, Narcos, Jessica Jones, and Marvel's Daredevil.
Here is everything you need to know before you sign up for Netflix Philippines:
1. What shows will I be able to watch via Netflix Philippines?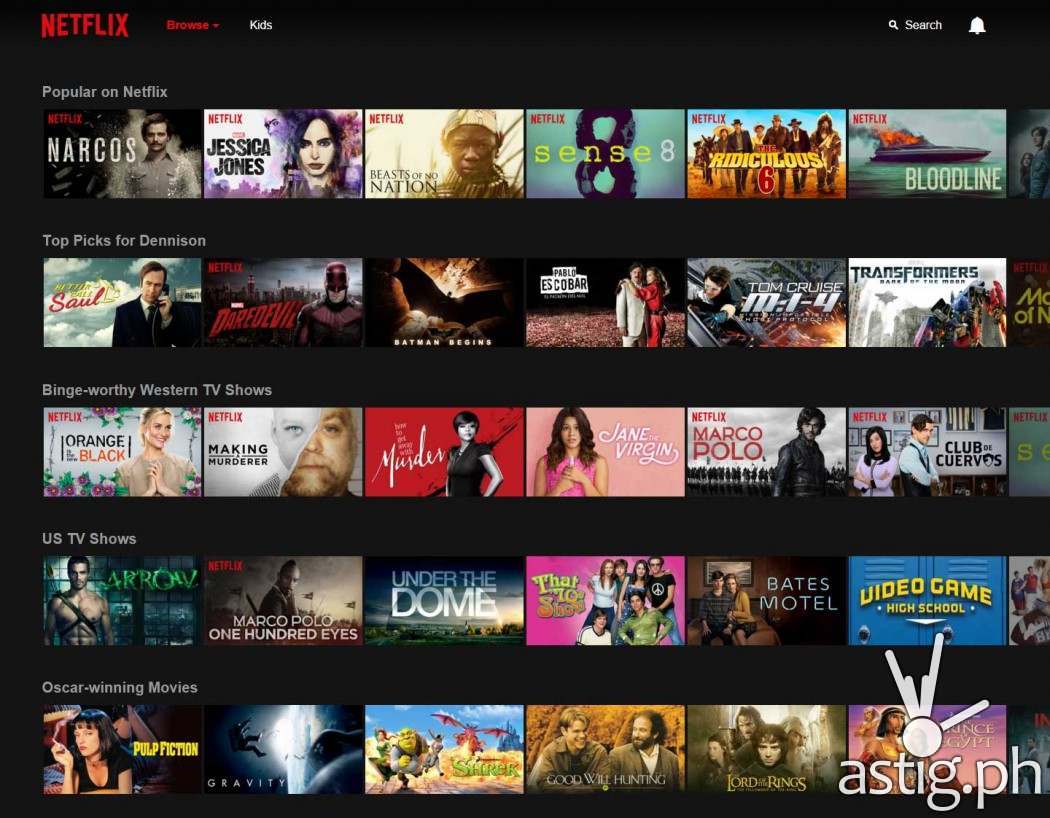 Finder.com lists a total of 507 movie titles and 174 television shows available in Netflix Philippines as of January 7, 2016.
According to this page, 93% of titles available on Netflix in the US are NOT available in the Philippines.

This page contains a searchable database of shows available to Netflix Philippines without requiring an account.
Currently, Netflix Philippines does not appear to carry any local titles.
2. What do I need to provide in order to sign up for a Netflix Philippines account?
To sign up for a Netflix Philippines account, you will need to provide your name and e-mail address. You will also have to provide as a method of payment (credit card or PayPal).
Based in our observation, if you have an existing Netflix USA account, you will need to sign up for a new account.
3. Is there a free trial for Netflix Philippines?
Yes! New subscribers get to enjoy the first month for free.
You can choose from any of the three (3) plans, and you will not be charged until after your first month.
IMPORTANT: You have to manually cancel your subscription to avoid getting charged on your second month.
4. How much does a Netflix Philippines subscription cost?
Update (10-Jul-18): Netflix has added a fourth plan, called Ultra at 660 Php / month. Previously, the Premium plan gave you Ultra HD and allowed simultaneous streaming on 4 screens, but they have reduced it to 2 screens.
Old Netflix Philippines subscription plans: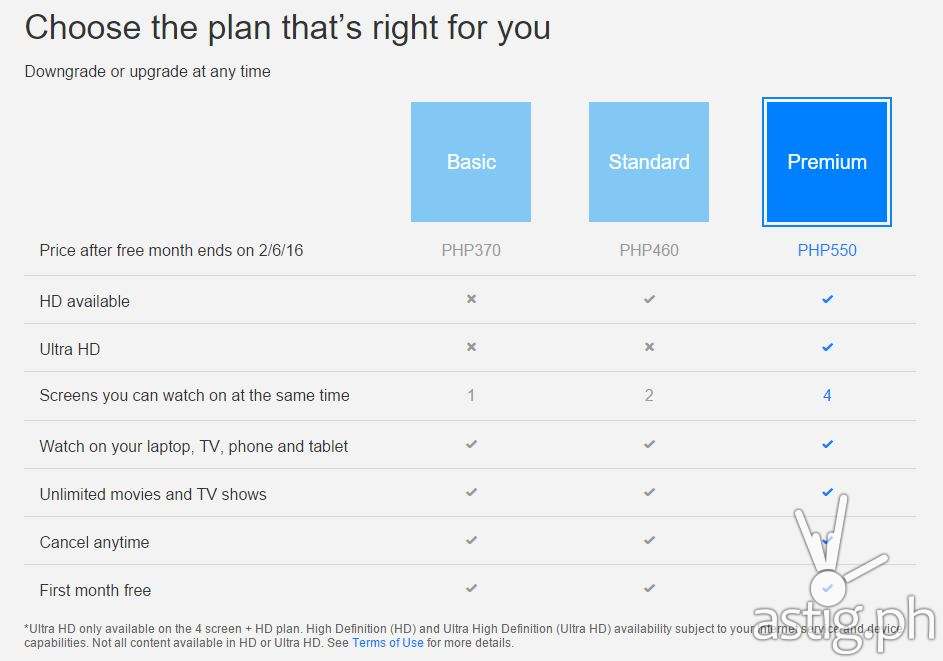 New Netflix Philippines subscription plans: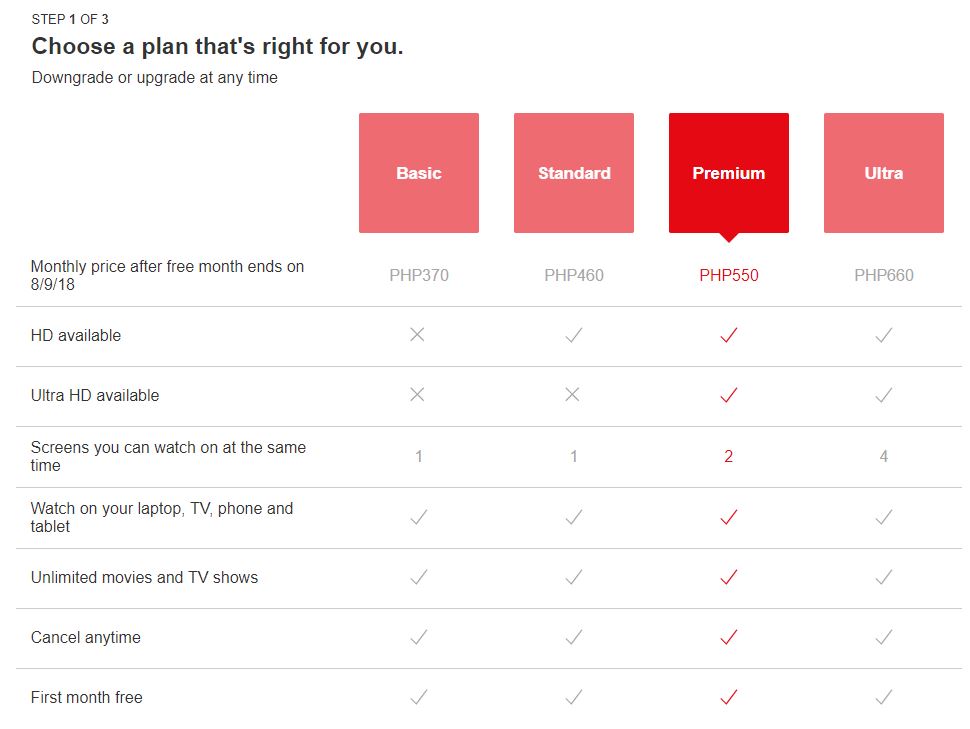 There are currently three available plans starting from 370 PHP per month.
Basic (370 PHP / month) – watch on a single screen in Standard Definition
Standard (460 PHP / month) – stream up to 2 screens at a time in High Definition
Premium (550 PHP / month) – stream up to 2 screens at a time in Ultra High Definition
Premium (660 PHP / month) – stream up to 4 screens at a time in Ultra High Definition
You can switch downgrade or upgrade your plan at any time by going to your account settings.
For comparison, a Netflix USA subscription costs about as much (before July 2018):
Basic: $7.99 or ~375 PHP
Standard: $9.99 or ~470 PHP
Premium: $11.99 or ~564 PHP
5. How do you pay for your Netflix Philippines subscription?
Netflix Philippines accepts PayPal and credit card payments for users who decide to continue beyond the first month.
Accepted credit cards include Visa, Mastercard, and American Express.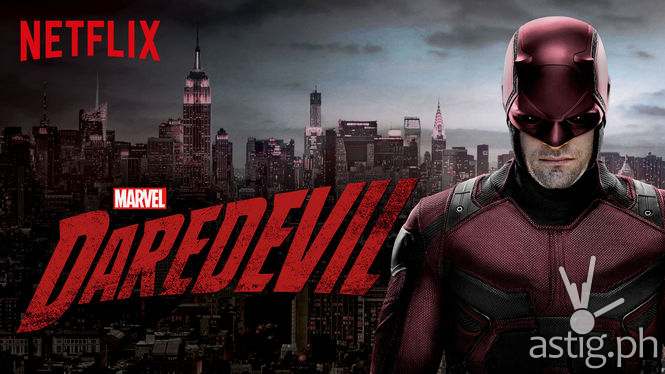 6. How much bandwidth (Internet connection speed) do I need to stream Netflix videos?
According to the Netflix FAQ, standard definition videos use about 1 GB of data per hour, while high definition videos take up to 3 GB per hour.
Netflix recommends the following Internet download speeds for streaming videos:
SD quality: 3.0 Megabits per second
HD quality: 5.0 Megabits per second
Ultra HD quality: 25 Megabits per second
7. Can I watch Netflix on my smartphone, computer, or TV?
Netflix supports a huge number of devices. You can play it directly on your desktop PC's browser or through your smartphone.
There's a full list of compatible devices on Wikipedia, but here's a quick list:
Smart TVs: HiSense, LG, Philips, Samsung, Panasonic, Sharp, Sony, Toshiba
Streaming Media Players: Apple TV, Google Chromecast
Game Consoles: PS3, PS4, Xbox 360, Xbox One
Blu-Ray Players: LG, Panasonic, Samsung, Sony
Smartphones & tablets: iOS, Android, Windows Phone
8. Is Netflix better than HOOQ or iFlix?
Netflix is a late entrant in the Philippines, where alternative video-on-demand services HOOQ and iFlix have long established a foothold.
Unlike Netflix, HOOQ carries content locally produced in the Philippines, while iFlix carries a number of shows produced within the Asia. In addition, iFlix has partnered with local entertainers and celebrities to push the service.
Both HOOQ and iFlix are partnered with major Internet service providers in the Philippines. HOOQ is partnered with Globe Telecom, while iFlix is partnered with Smart Communications.
Netflix is not yet partnered with any service providers in the country.
An iFlix subscription costs 129 PHP / month (99 PHP / month to PLDT Home and Smart subscribers), while a HOOQ subscription will set you back 199 PHP / month.