realme 7's arrival half a year ago left us thoroughly impressed. It offered so much value to the mid-range segment that we were left wondering how the product development team can take it to the next level.
So we were super excited when realme 8 finally arrived at our doorstep. It had already been out for some time in India, but I knew it was coming to the Philippines so as tech reviewer, I tried to stay away from reading other reviews so I can see it for myself.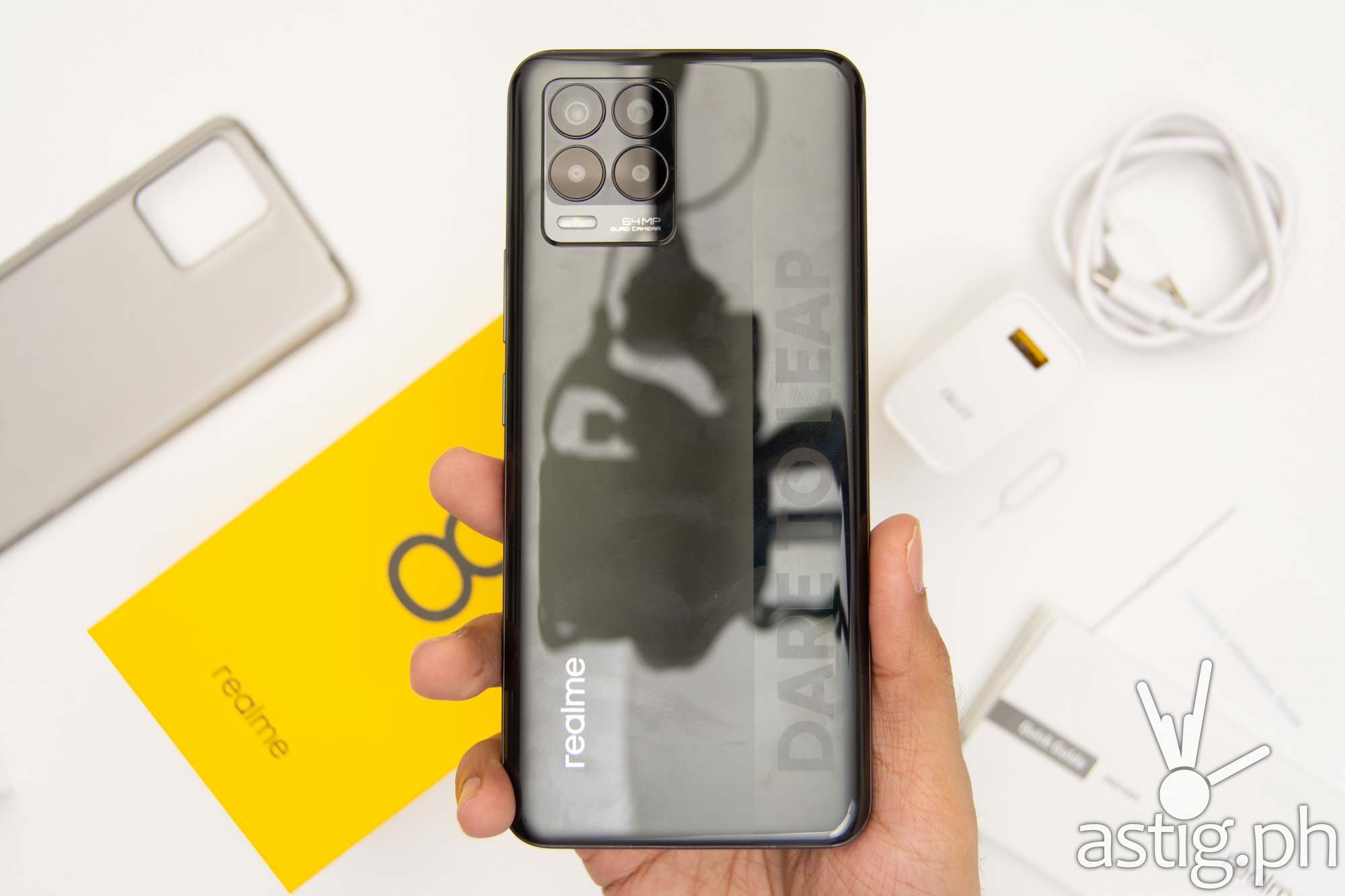 Check out the relevant specs below, or skip ahead for the full rundown.
realme 8 specs (Philippines)
Display: 6.4 inches; 1080 x 2400 pixels; Super AMOLED, 1000 nits; Gorilla Glass, under-display fingerprint scanner
OS Android 11; realme UI 2.0
Chipset (SoC): MediaTek Helio G95
Memory (RAM) + storage: 8 GB + 128 GB
Camera: 64MP f/1.73 (wide) + 8MP f/2.3 (ultrawide) + 2MP f/2.4 (macro) + 2MP f/2.4 (depth); 16MP f/2.5 (front)
Battery: 5,000 mAh; 30W DART Charge
Design, display
The moment we laid our hands on the realme 8, we immediately noticed how thin and light it was. Having reviewed realme phones since they launched in the Philippines over two years ago, there's a pattern in its construction that we have gotten so used to by now, that we literally felt the difference.
We thought we were just imagining things, so we had to check. It turns out that the realme 8 is at least 15 percent thinner than the realme 7 at only 8mm vs the latter's 9.4mm.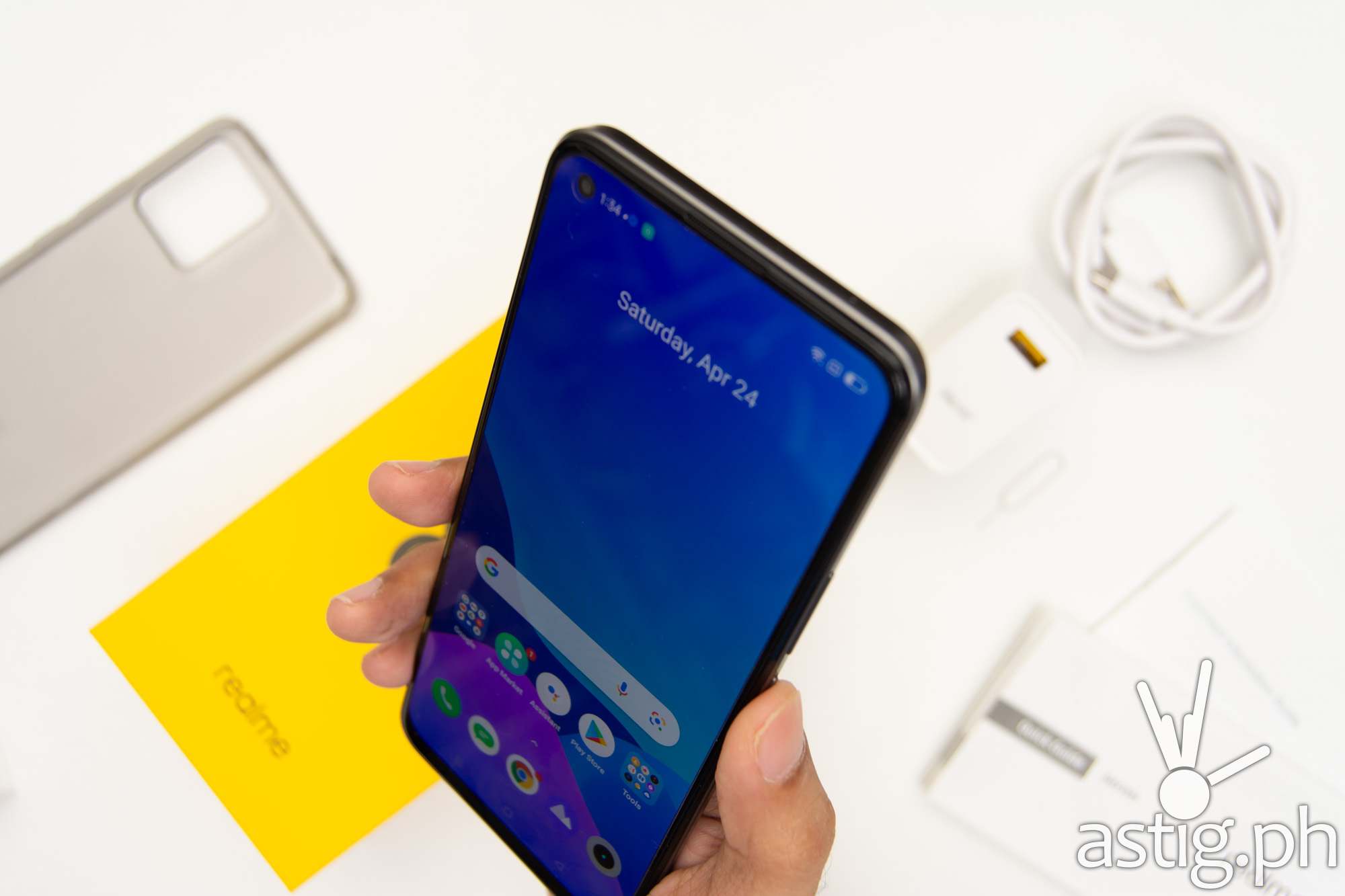 It is also 10 percent lighter at only 177 grams vs 196.5.
On paper, one would think that a few millimeters and grams wouldn't make that big of a difference, so we were surprised to have figured it out without looking at the spec sheet.
Not only that, the overall construction is sleeker and smoother: The body is curved on the edges which makes it much more comfortable to hold compared to its predecessors.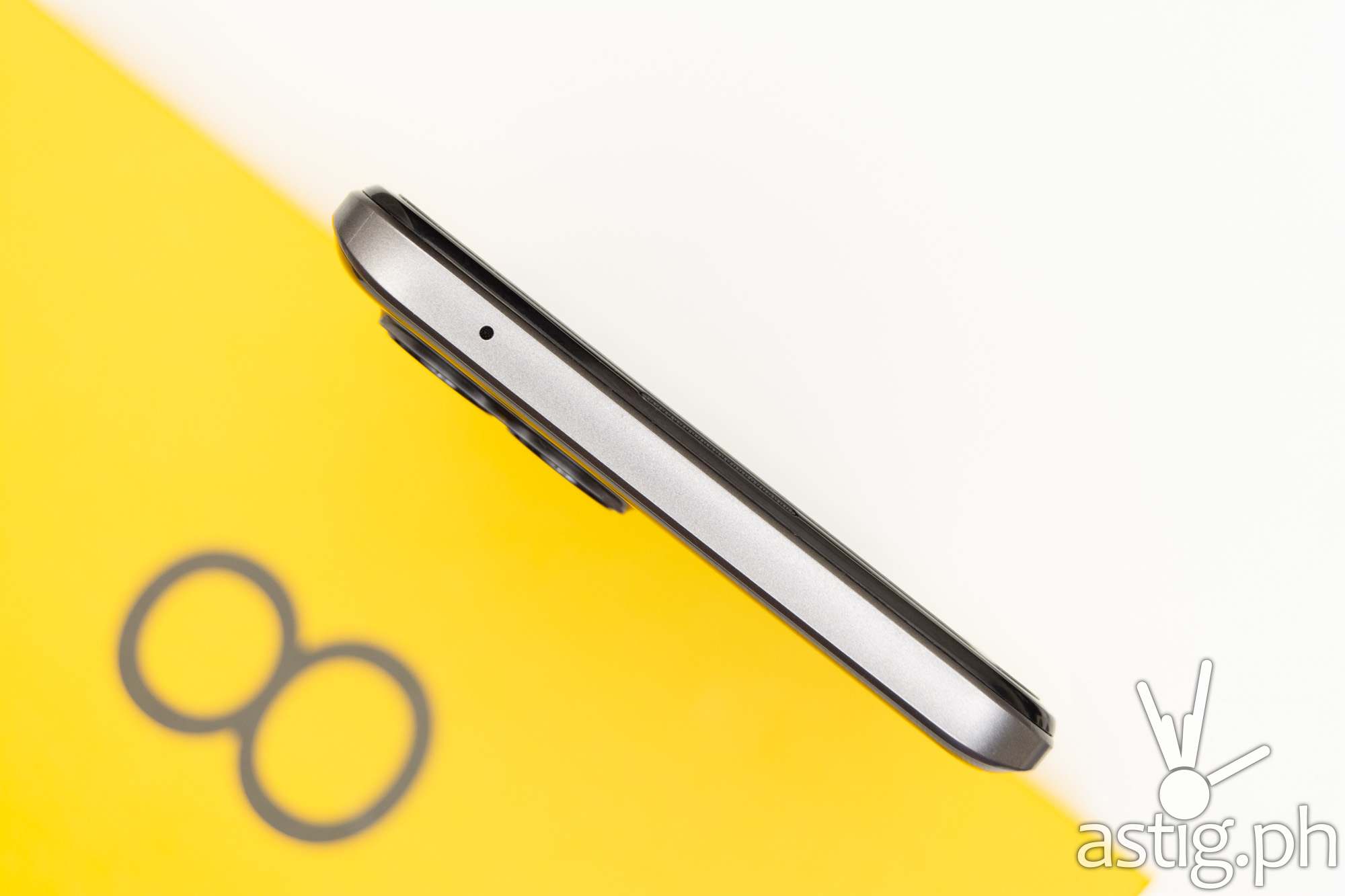 Nothing could be more dramatic, however, than the refreshed back design: Not only does the glassic look make a comeback, we get a duotone back with the phrase "DARE TO LEAP" printed in big, bold, holographic letters on its side.
It's definitely attention-grabbing, and we like how it shifts in colors as you move it around. However, we're not sure it matches the phone's premium build quality. Like, it's the kind of aesthetic that we'd expect from a gaming phone and yes, we are well aware that there's a MediaTek Helio G95 Gaming Chipset under the hood.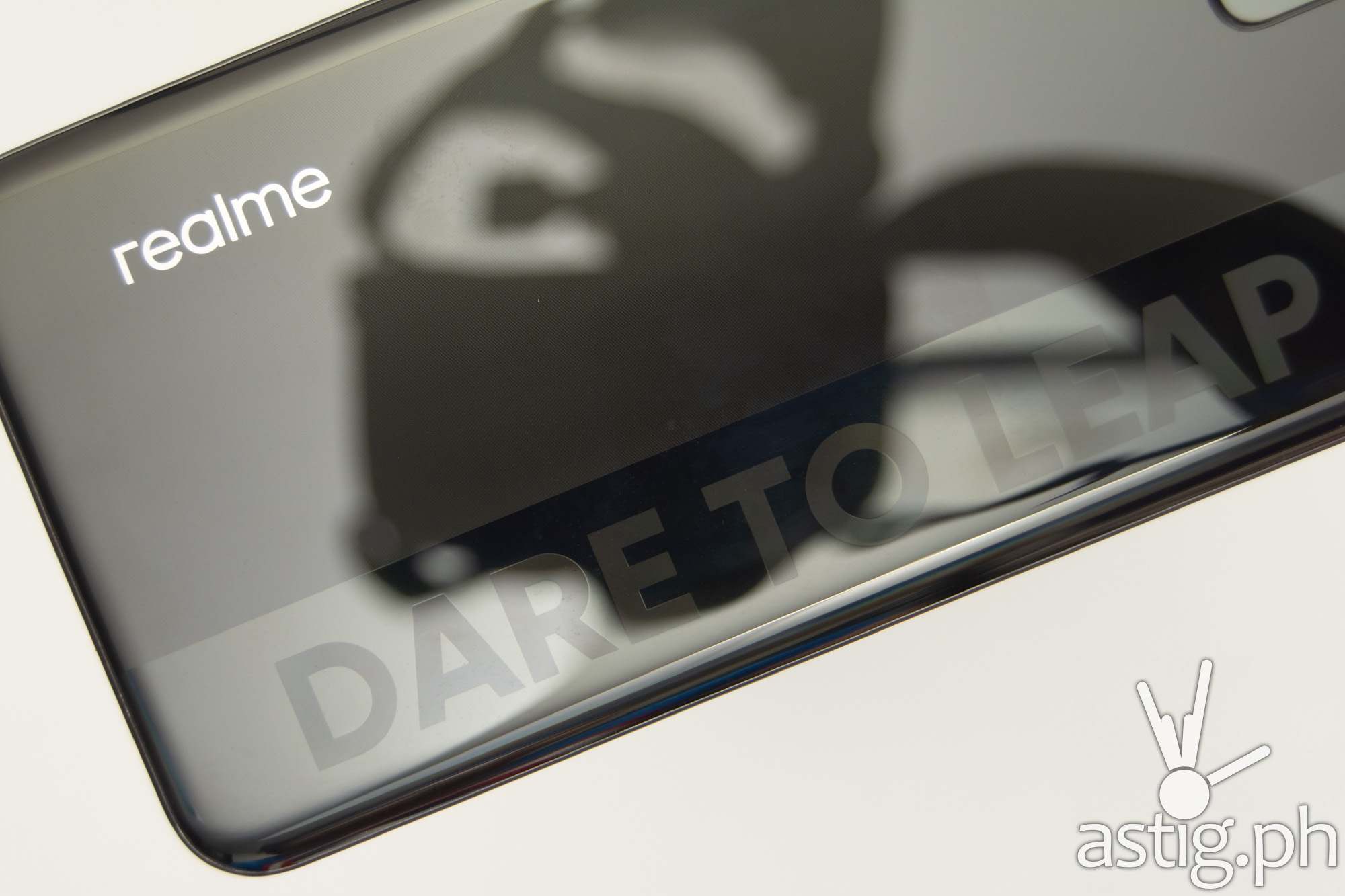 So maybe it takes some getting used to. Either way, we applaud realme for taking risks and making steps to differentiate their product from the competition.
That's not all: the quad camera module is also quite dramatic on the realme 8, occupying a big part of the upper-left corner.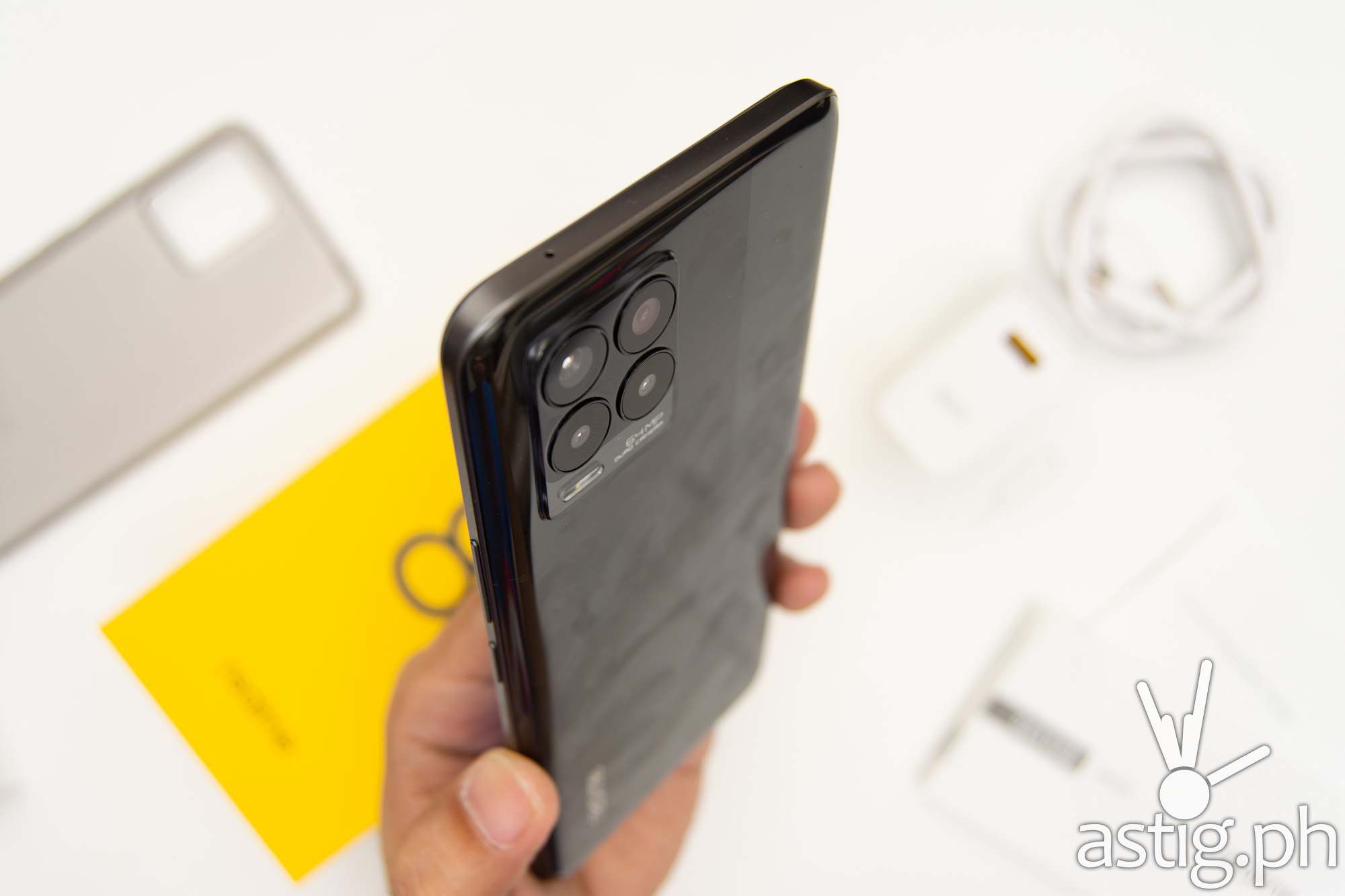 With realme 8, we welcome the arrival of Super AMOLED with its 6.4-inch full HD display capable of 1000 nits peak brightness. There's a Gorilla Glass layer of unknown version to protect that display from casual wear and tear, and if that's not enough, there's a plastic screen protector on top of it too.
realme 8 also heralds the  arrival of the under-display fingerprint scanner onto the mid-range realme numbered series, a much sought-after feature normally found on more expensive phones. You need to be able to turn off specific pixels for under-display sensors to read your fingerprint, so the shift to Super AMOLED makes perfect sense.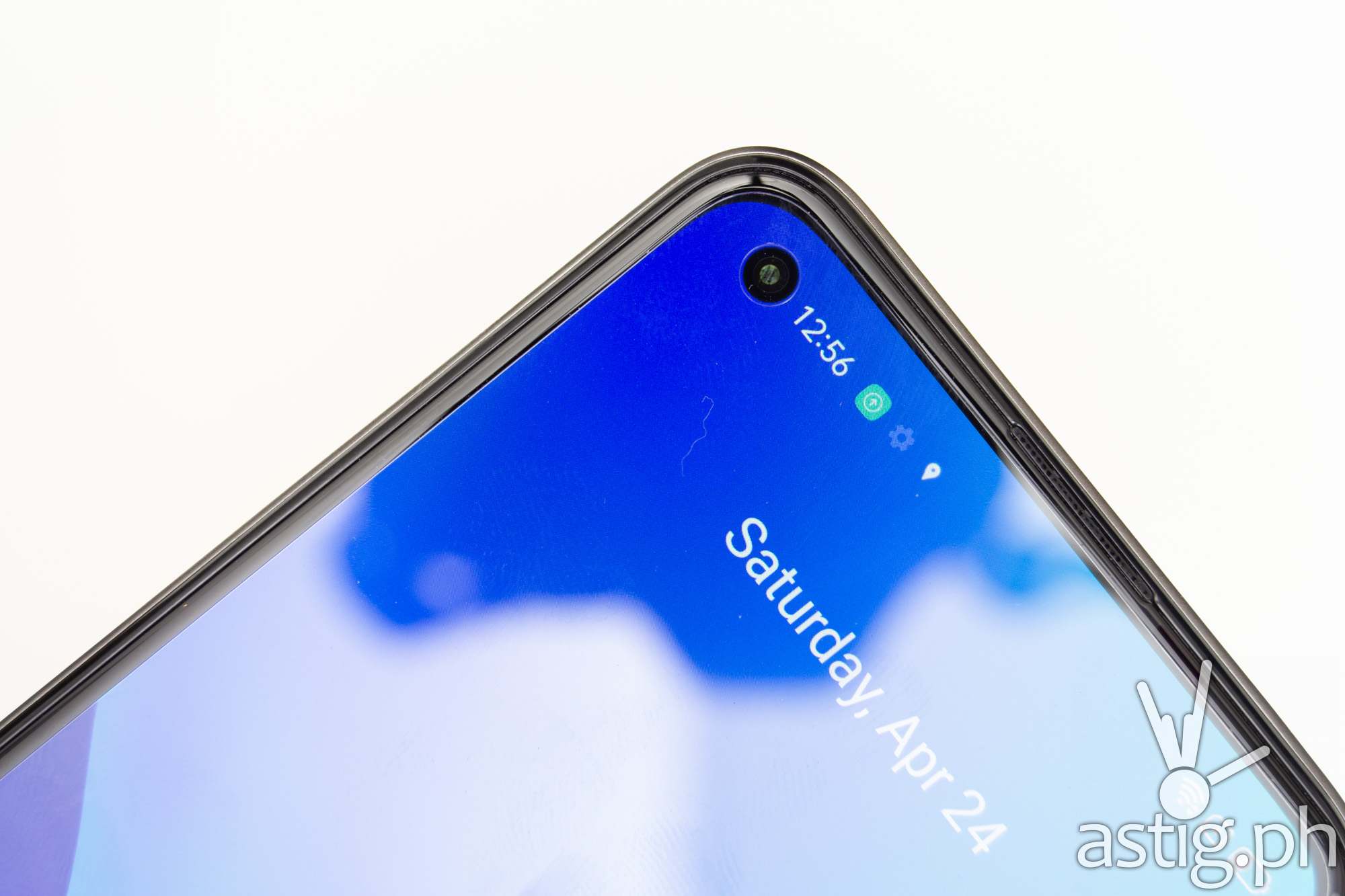 If you recall, the display on the realme 6 and realme 7 both supported high refresh rate at 90Hz, so we're a little bummed that realme 8 doesn't support high refresh rate. Native touch sampling rate is 180Hz though, so hopefully that translates well in gaming.
Still, Super AMOLED and under-display fingerprint sensor is a huge upgrade over the already impressive IPS LCD panel of its predecessors, so it's a trade make willingly.
Much like its predecessors, the "punch hole" for the 16MP front-facing selfie camera stays at the top-right corner.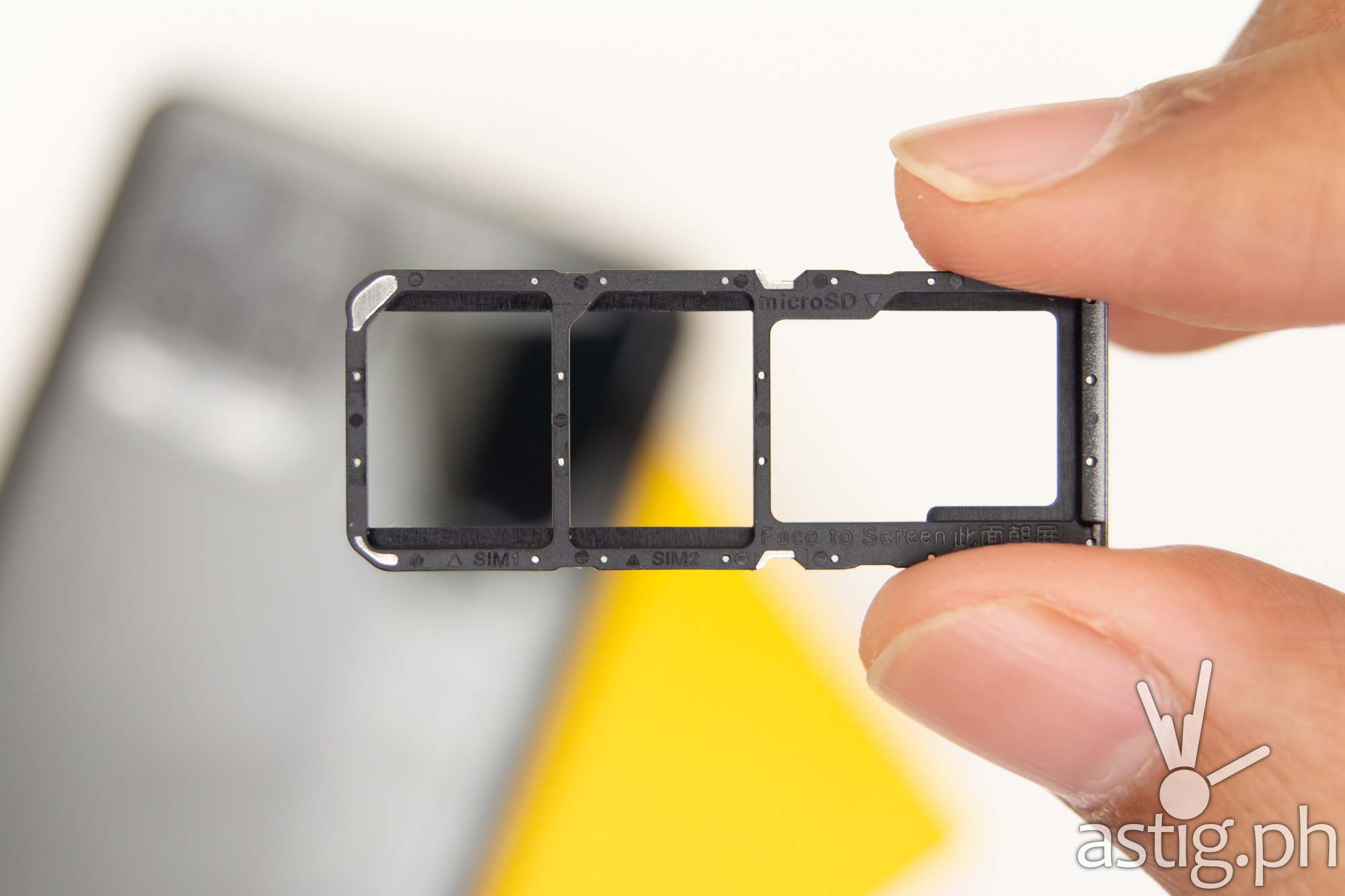 Everything else follows the blueprint established by its predecessors: dedicated dual SIM and storage expansion slots, USB Type-C port, single bottom-firing speakers, and a 3.5mm audio jack.
It also comes with a free jelly case which I find a little tight but hey I like how it fits. It's smoked which is a shame because I would have wanted to see a little more of that glasstic back.
realme 8 comes to us a month after the realme C25 came out in the Philippines, which happens to be the first TUV Rheinland-certified smartphone in the world. So we were curious to see if realme 8 carried that badge, too. We asked our friends over at realme Philippines who confirmed that realme 8 is NOT a TUV Rheinland-certified phone.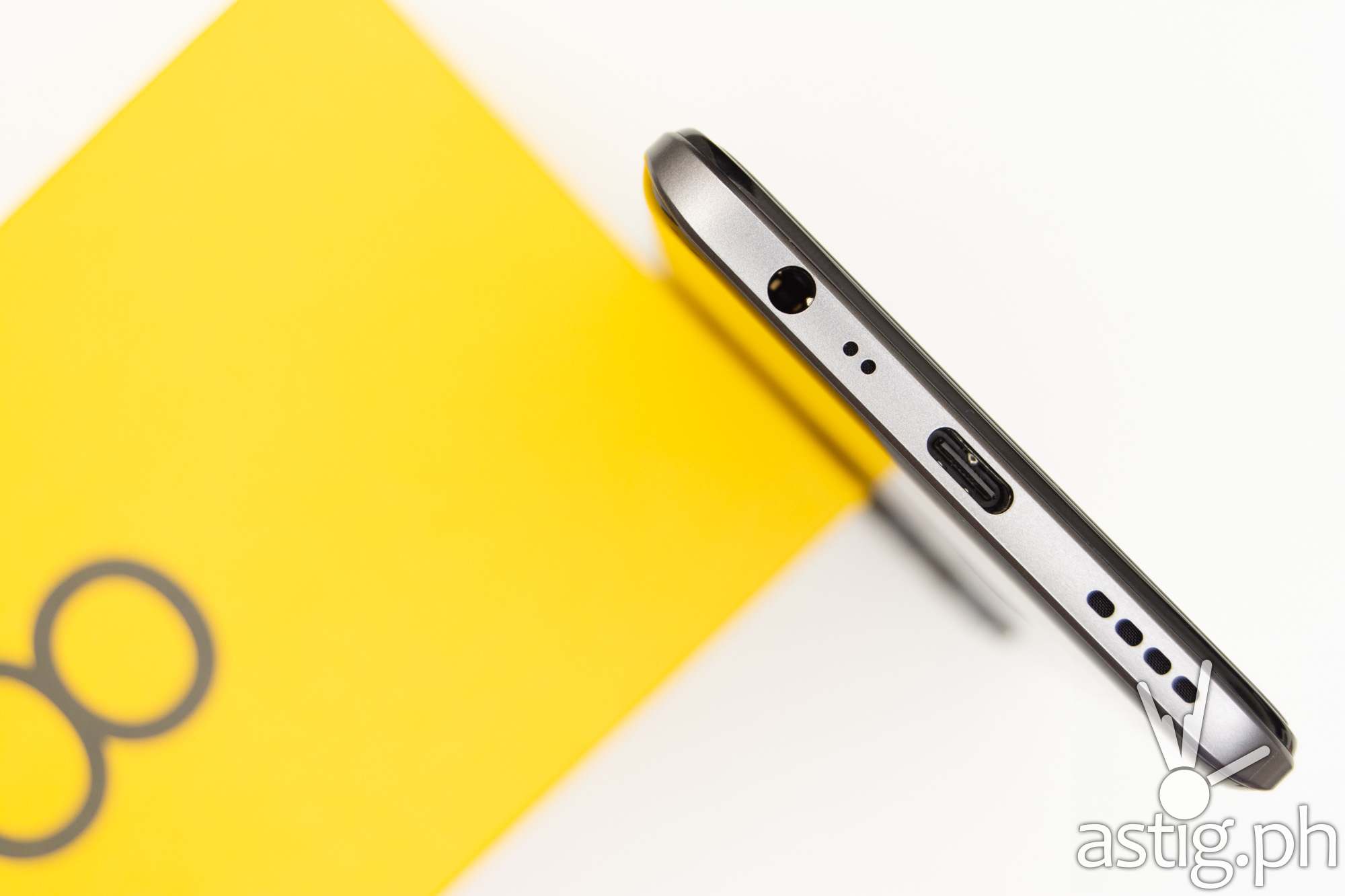 Performance
realme 8 runs on Android 11 with realme UI 2.0 out of the box, which is something that we were super excited because of the stability, performance improvements, and new features that it brings with it. We were already familiar with realme UI 2.0 after reviewing the realme C25.
Still, we couldn't help but be amazed at how smooth and fluid it runs on the Helio G95-powered realme 8. We immediately felt its power despite not having a high refresh rate display.
So we just had to compare it with the realme 7, which also runs on the Helio G95 platform but with a 90Hz display panel.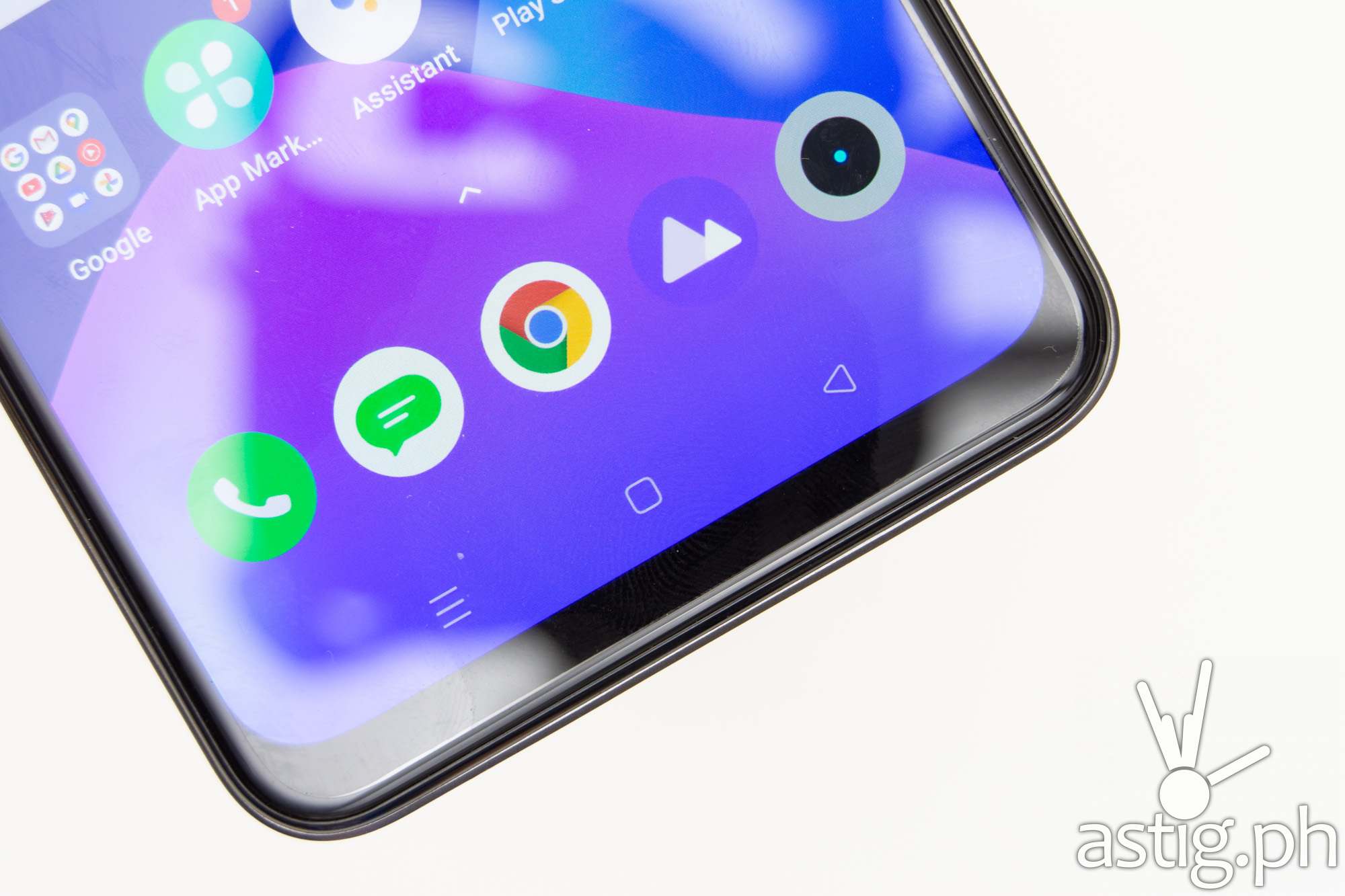 In real life, realme 8 actually feels significantly faster than the realme 7. It feels so snappy and smooth that we don't really miss having that 90Hz display panel. It could be that 180Hz touch sampling rate doing its magic, we're not sure.
Synthetic benchmarks reflect the same experience, with the realme 8 outperforming the realme 7 by a huge margin. We initially got 332k running AnTuTu on realme 8 out of the box, but after updating the phone, we went as high as 362k, while we only managed to get around 300k on the 7.
Made with Visme
This was a little surprising to us. We expected that the realme 8 would outperform the realme 7, but we didn't think that the performance gap would go as high as 20%. Here we have two phones running on almost the same chipset with the same display resolution, but one phone scored 300k while the other goes up to 360k.
It blows our mind thinking about it.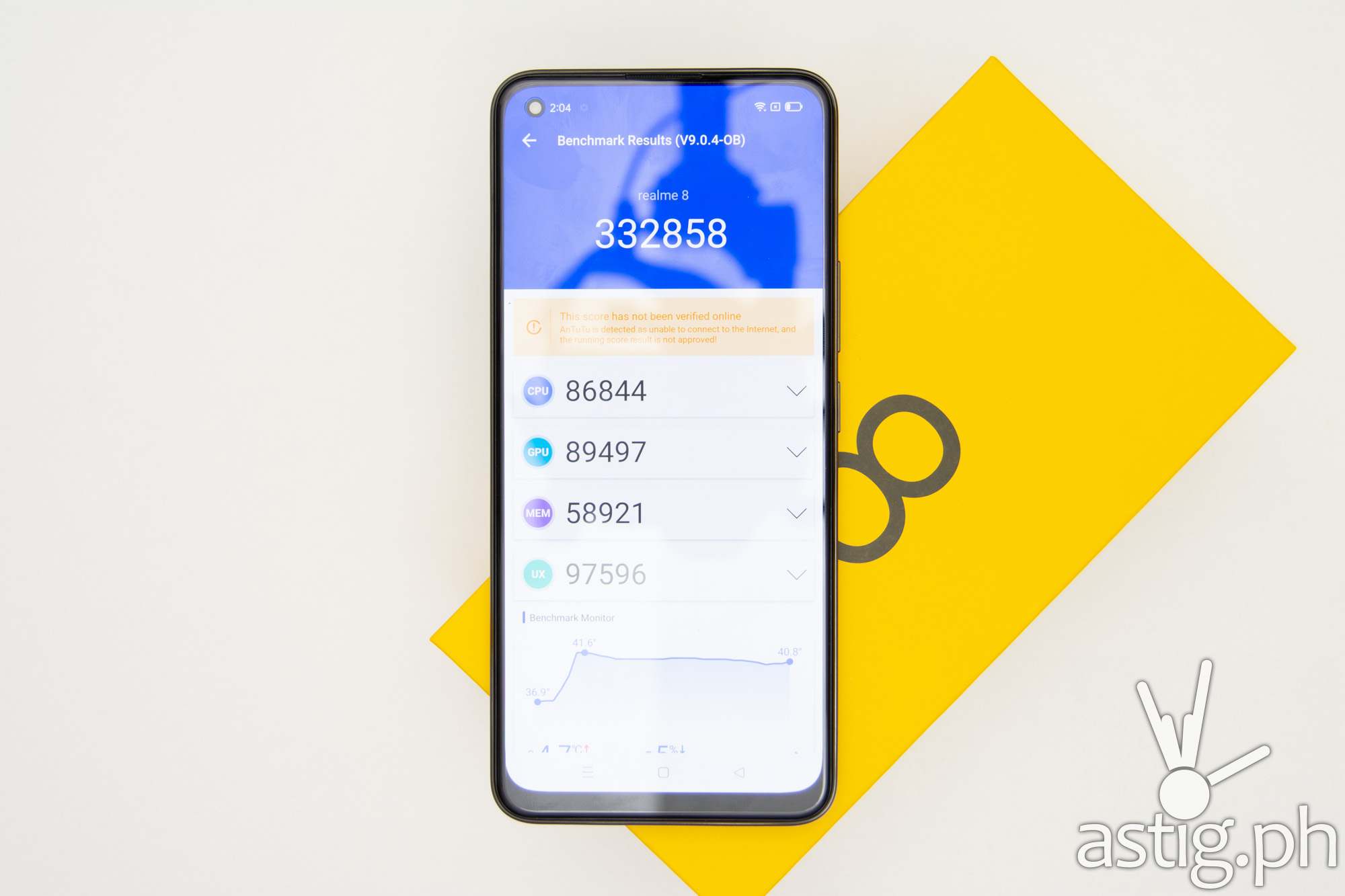 Are the optimizations that come with Android 11 that good? Is that what's doing this? What do you think, any ideas?
Memory and storage is quite generous at 8GB of RAM and 128GB of UFS 2.1 storage, which can further be extended by slotting in a microSD card in the dedicated expansion slot.
Gaming
Seeing these benchmark numbers made us super excited to see how this performance advantage carries over into gaming. Helio G95 is MediaTek's premium 4G gaming platform, and we tested it in-depth when we reviewed the realme 7, so we know that it's a very capable chipset.
To recap, our reference game Marvel Super War on max settings was stable at 60FPS, while Genshin Impact was steady at over 20FPS on the Helio G95-powered realme 7. On the game Black Desert Mobile, we managed to stay above 40FPS at maximum settings.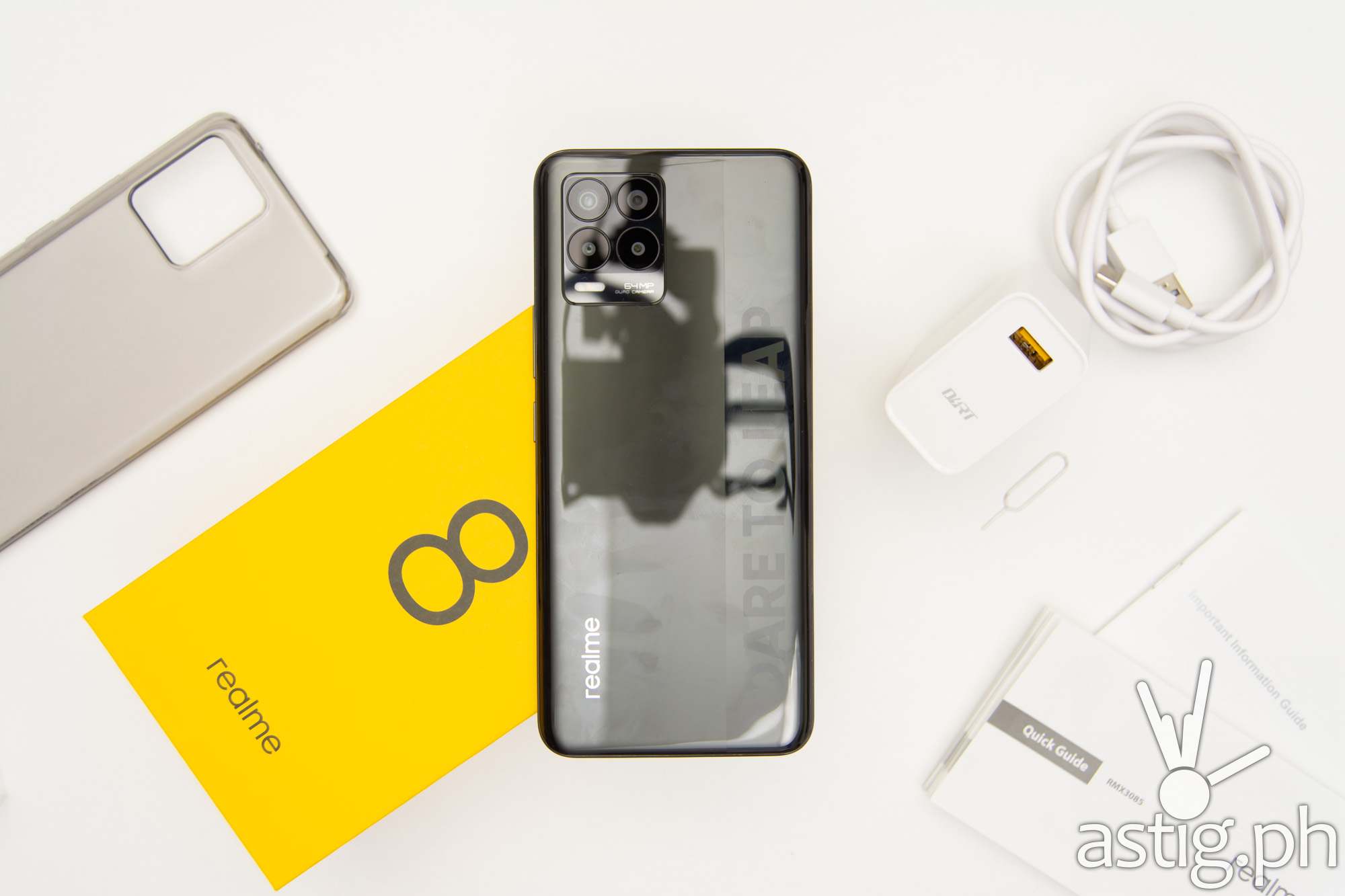 On the other hand, realme 8 was higher by at least 5FPS, going steady at around 25-27FPS in Genshin Impact. So it's looking good already, but we just had to bring in the ultimate game which I know from my Facebook groups many of you are bound to ask:
Will realme 8 run Diablo Immortal?
I'll shoot you straight: Yes, my friend – realme 8 runs Diablo Immortal, and you can take it all the way up to Ultra, although the High Frame Rate option is disabled, so we're capped at 30FPS.
Unfortunately there's no native frame rate monitor in Diablo Immortal, so we'll have to rely on Game Center's on-screen display, which shows that we are doing somewhere around 27-30FPS on Ultra, which is unbelievably good!
If you're not that hung up on high frame rate, this is probably the best case scenario is to do 30FPS, and this phone is well within acceptable territory.
Dropping the graphics settings to High, Medium, or even Low seems to provide a much smoother experience, though the difference doesn't feel that much, maybe around 2-3FPS difference. It's really hard to gauge without a frame rate monitor.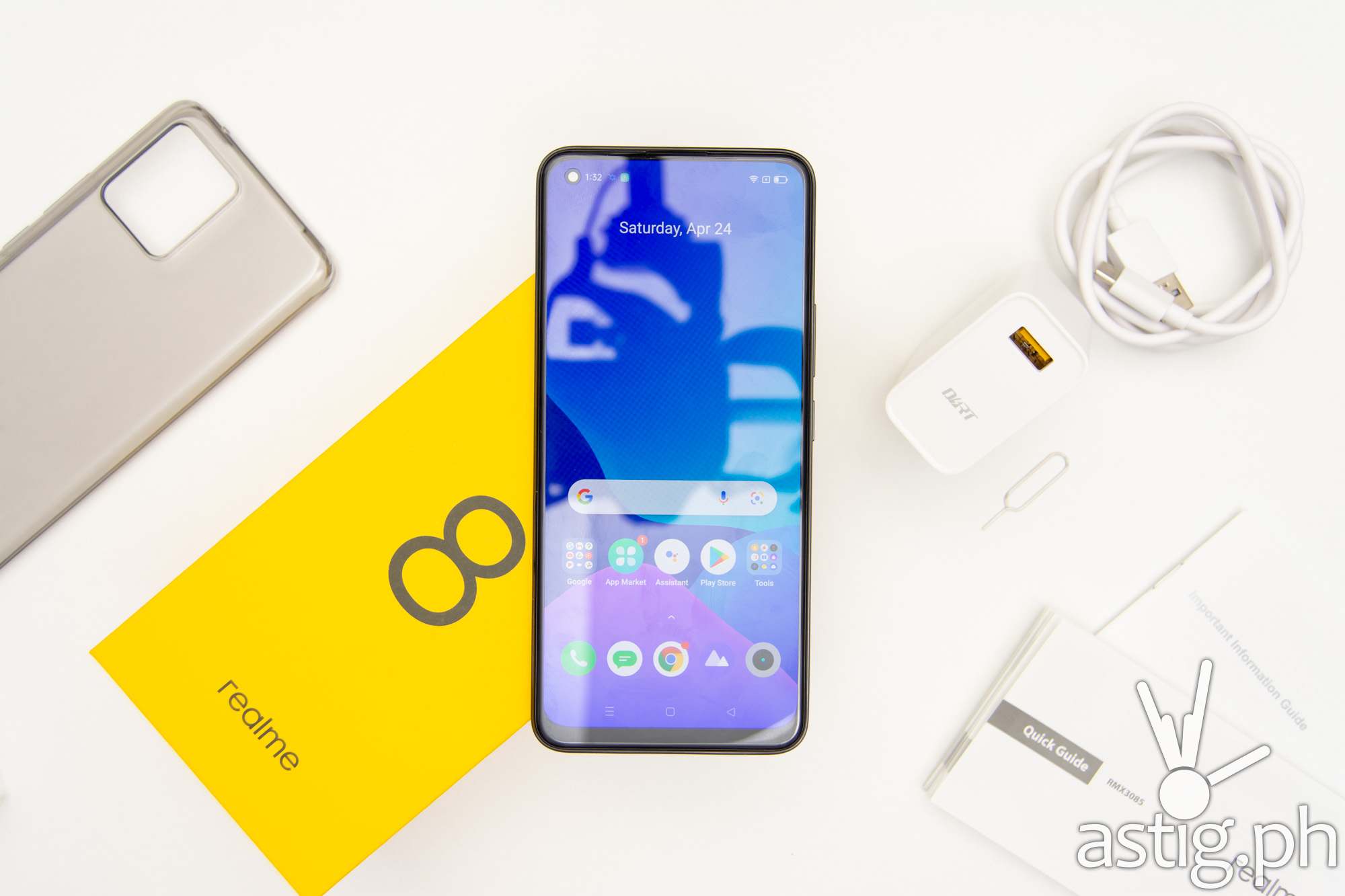 That being said, we are super happy with the new and improved Game Center that comes with realme UI 2.0.
One feature in particular that we were looking forward to was the ability to make a screen recording and capture both microphone and in-game audio at the same time, something that we could not do previously.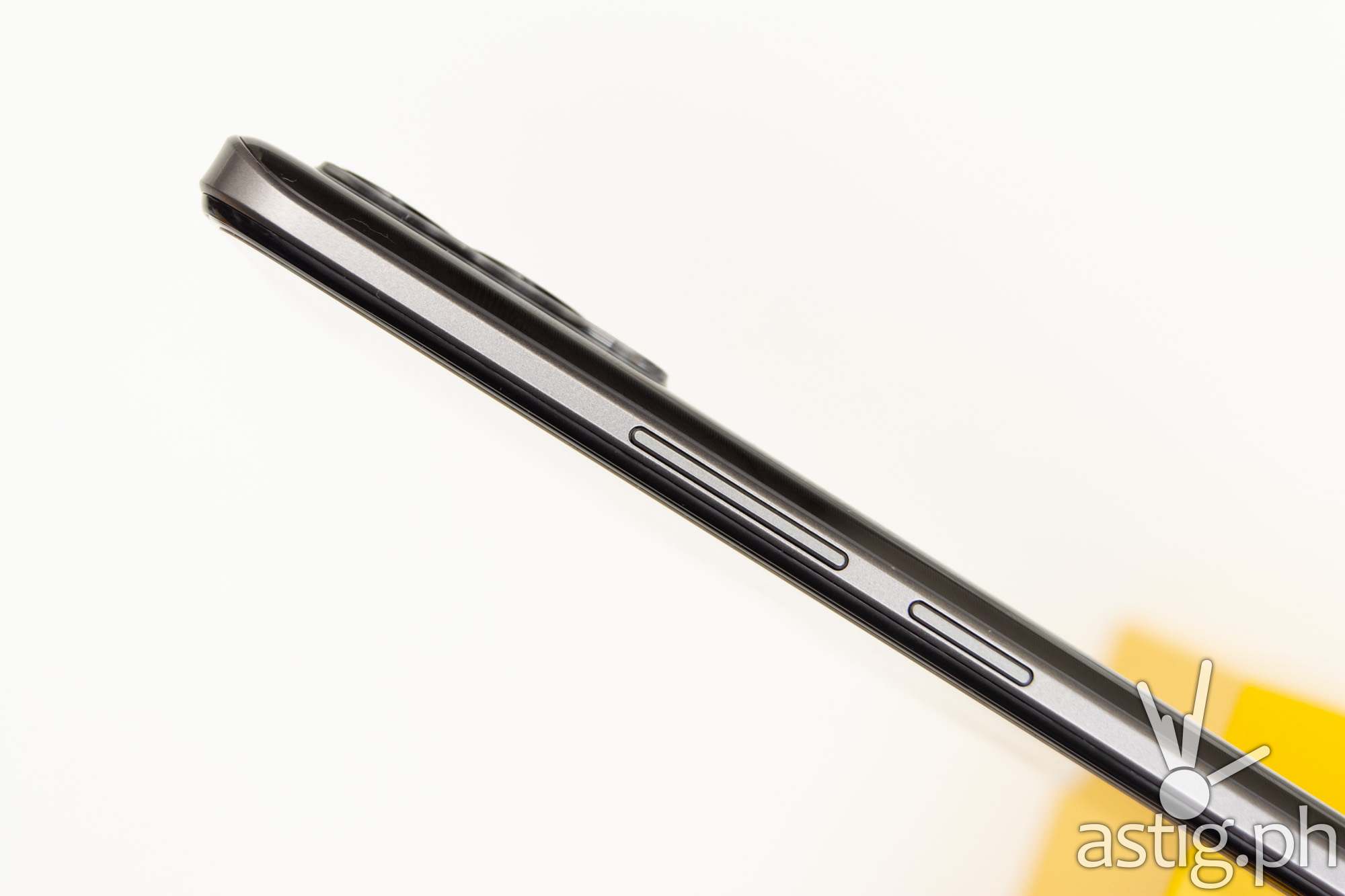 On realme 7, we had to make the choice between the on-screen audio or the microphone audio, but not both. Not only can we do both on realme 8, we can also capture video from the selfie camera!
Click here to watch me play Diablo Immortal on the realme 8.
Cameras
realme 8 bears an identical quad camera system as its predecessors, consisting of a 64MP f/1.8 main snapper, an 8MP f/2.3 ultrawide lens, 2MP f/2.4 macro lens, and a 2MP f/2.4 depth sensor. The front-facing camera also stays the same at 16MP, though the aperture is slightly smaller (shallower) at f/2.5.
This may seem low compared to the 108MP sensor of its big brother realme 8 Pro. We've been stuck the same camera setup since realme 6, so it would have been nice to see some improvement.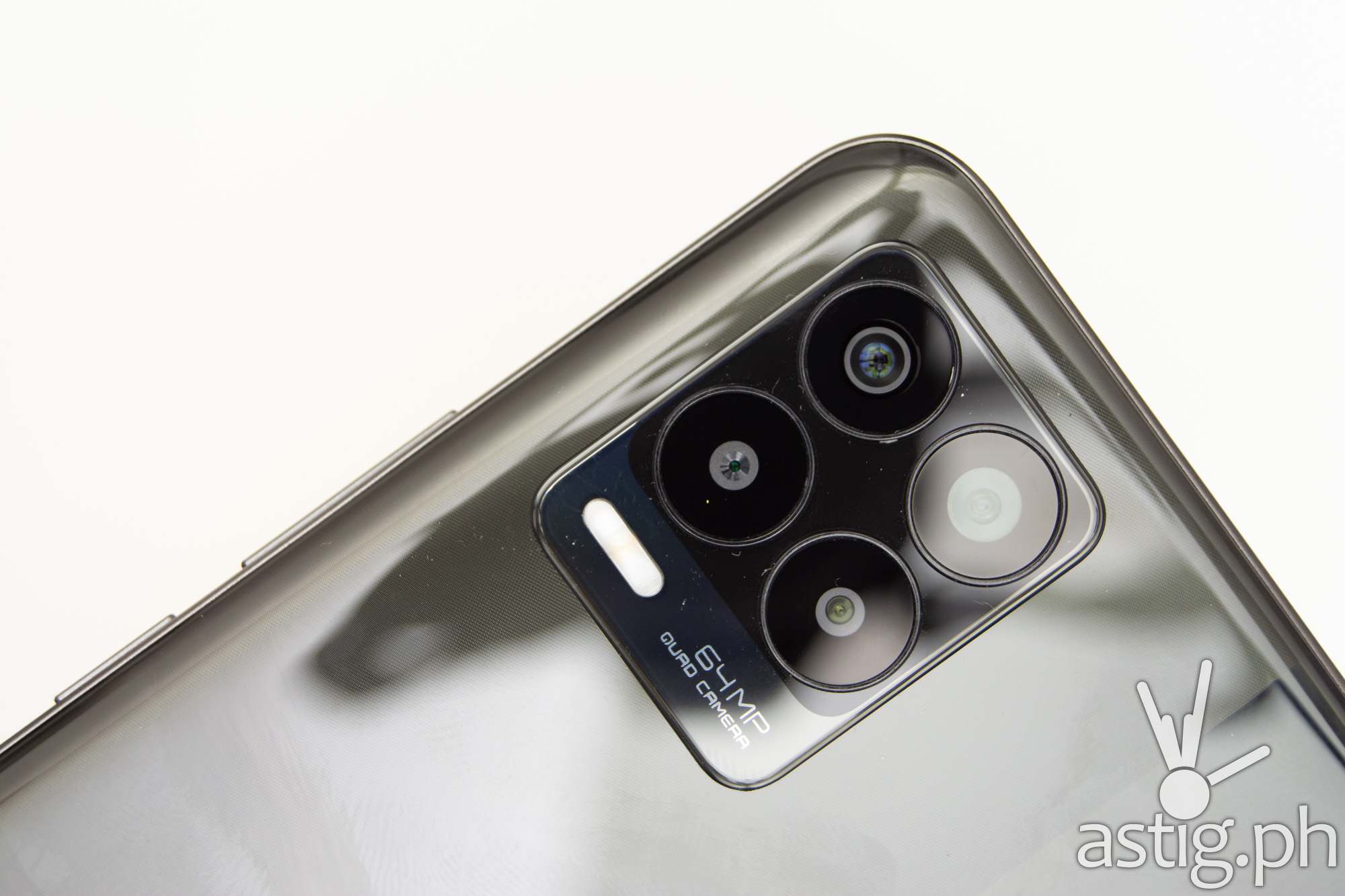 It doesn't necessarily have to be more megapixels: better optics in the form of a larger (deeper) aperture or optical image stabilization (OIS) would have done wonders.
Having said that, the real gem would be the upgraded camera software that comes with realme UI 2.0.
We enjoyed playing around with the new portrait modes (Dynamic, Neon, and AI Color) and we had a lot of fun with the new in tilt-shift modes. It makes buildings and cars in the city look like miniature toys!
We were excited to find the new Starry Mode that we immediately went out to try to capture shots of the moon amidst the night sky!
With Starry Mode, the camera will be shooting for over four minutes, so you have to be super steady. We took our sample photo using a tripod and it still came out blurry.
We'll keep practicing with this mode but for now, prefer shooting with Night Mode which takes stunning, dramatic shots at night – even handheld!
Generally, the images are sharp and bright, even the ones taken indoors. The white balance seems to be off at times but thankfully, we can manually override these settings in Pro Mode.
We also enjoyed taking close-up photos at 2x, which at times can look better than shots taken with the ultra-macro lens.
Selfies generally look good, though it's a little disappointing to discover that we can't use the new filters with the front-facing camera. You'll have to use the rear camera for that!
There new watermark looks cute too, although it can be difficult to see because of all the colors.
However, our favorite feature new feature has to be the Dual Video mode, which lets you capture a single video with both the front and rear cameras at the same time. You can display both cameras side by side in split mode, or in a smaller window.
Hit play to watch our sample videos, or click here and here to watch them on YouTube!
Battery life
We have the same battery configuration on the realme 8 as its predecessor at 5,000 mAh. It comes with a 30W Dart charger out of the box which takes the phone from zero to 100% in an hour.
So battery life should more or less be the same as before, right? How boring.
NOPE.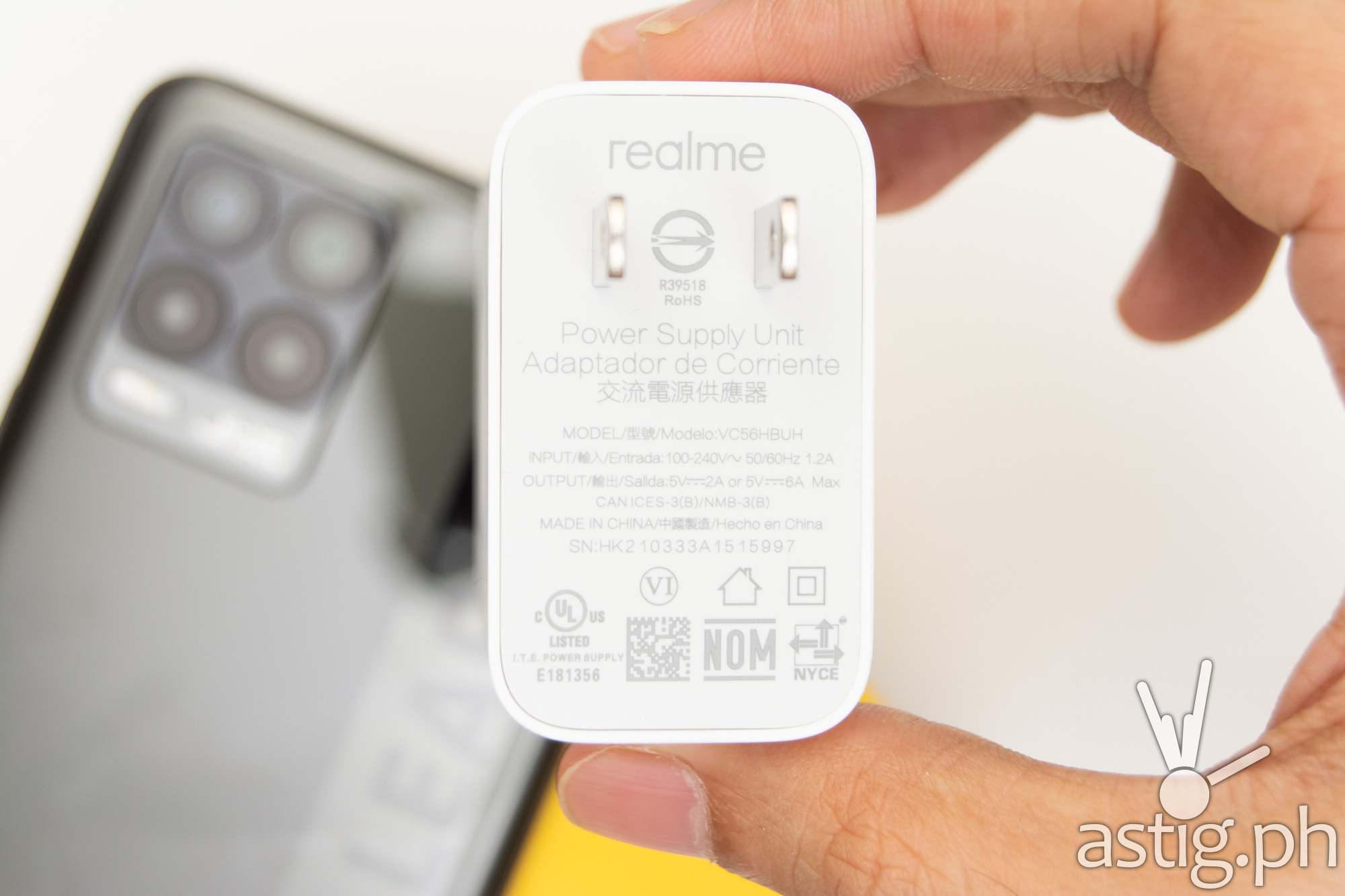 Remember that shiny new Super AMOLED panel? You know, that thing that not only meant better picture quality, but was also a prerequisite for the under-display fingerprint sensor?
Well, did you know that it also happens to be battery efficient? Much more so compared to the IPS LCD that we saw an increase in screen-on time of about an hour. Our mixed-use results were even more dramatic: at one point, we had almost almost 3 days' worth of continuous us: more than doubling that of the realme 7.
Holy cow, who's missing that 90Hz LCD now? We're team Super AMOLED all day (literally)!
Verdict
On paper, realme 8 appears to be no more than an upgraded realme 7 with better displays, newer software, and a sleeker package. However, the actual experience is that of an entirely different phone!
It FEELS and PERFORMS in an entirely different level that we found ourselves pleasantly surprised.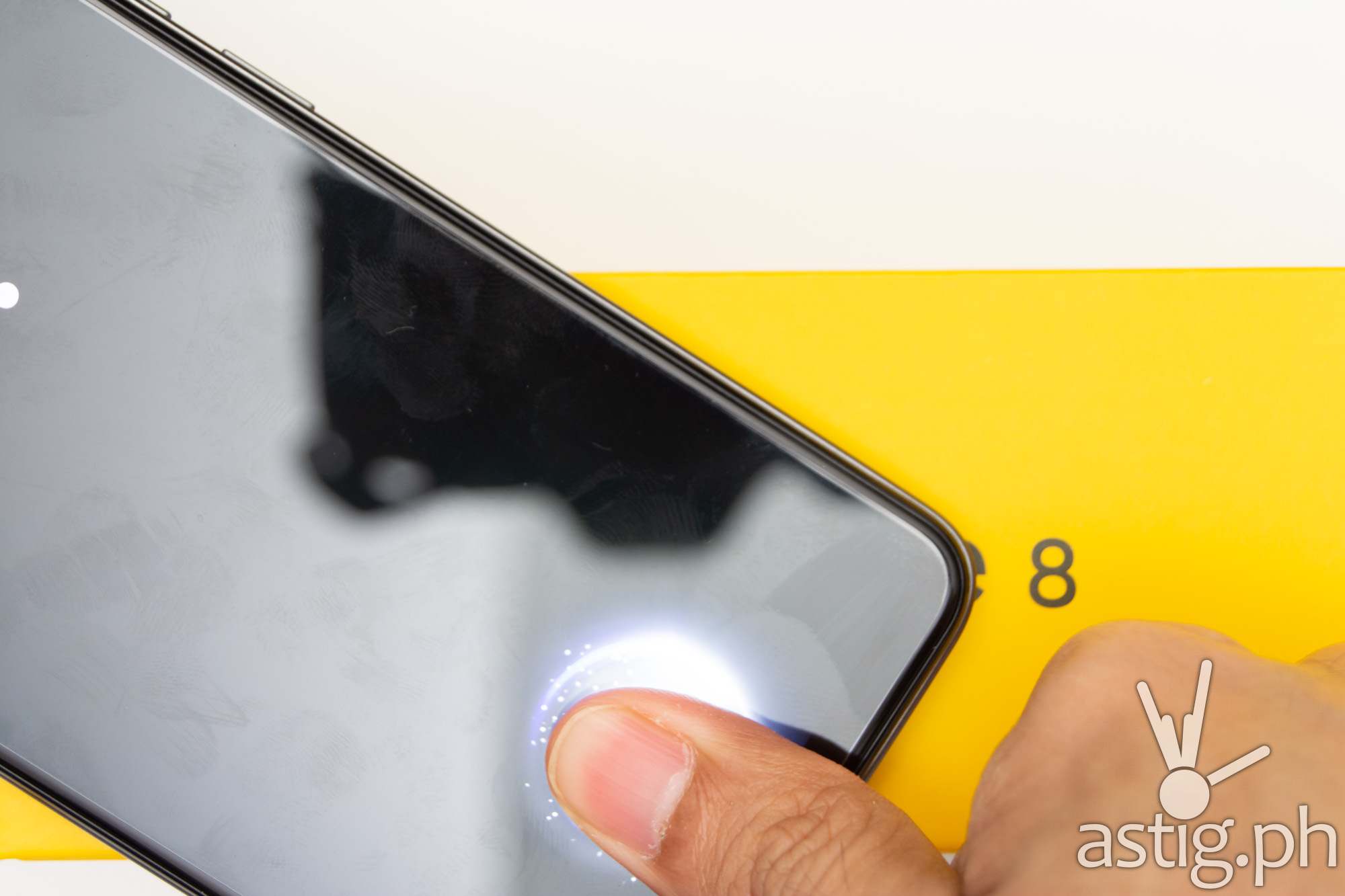 On the outside, we get the sleek, slim body of a flagship and that nice Super AMOLED display. It even has an under-display fingerprint scanner. Up until now, we could say that these are are features normally found on the more expensive phones.
At this point, we're not even sure what we want from the realme 9 anymore. A thinner chin? A 90Hz or 120Hz panel? Better cameras with OIS? Wireless charging? An IP68 rating? But those are flagship features, damnit.
All that, and we haven't even gotten to the price.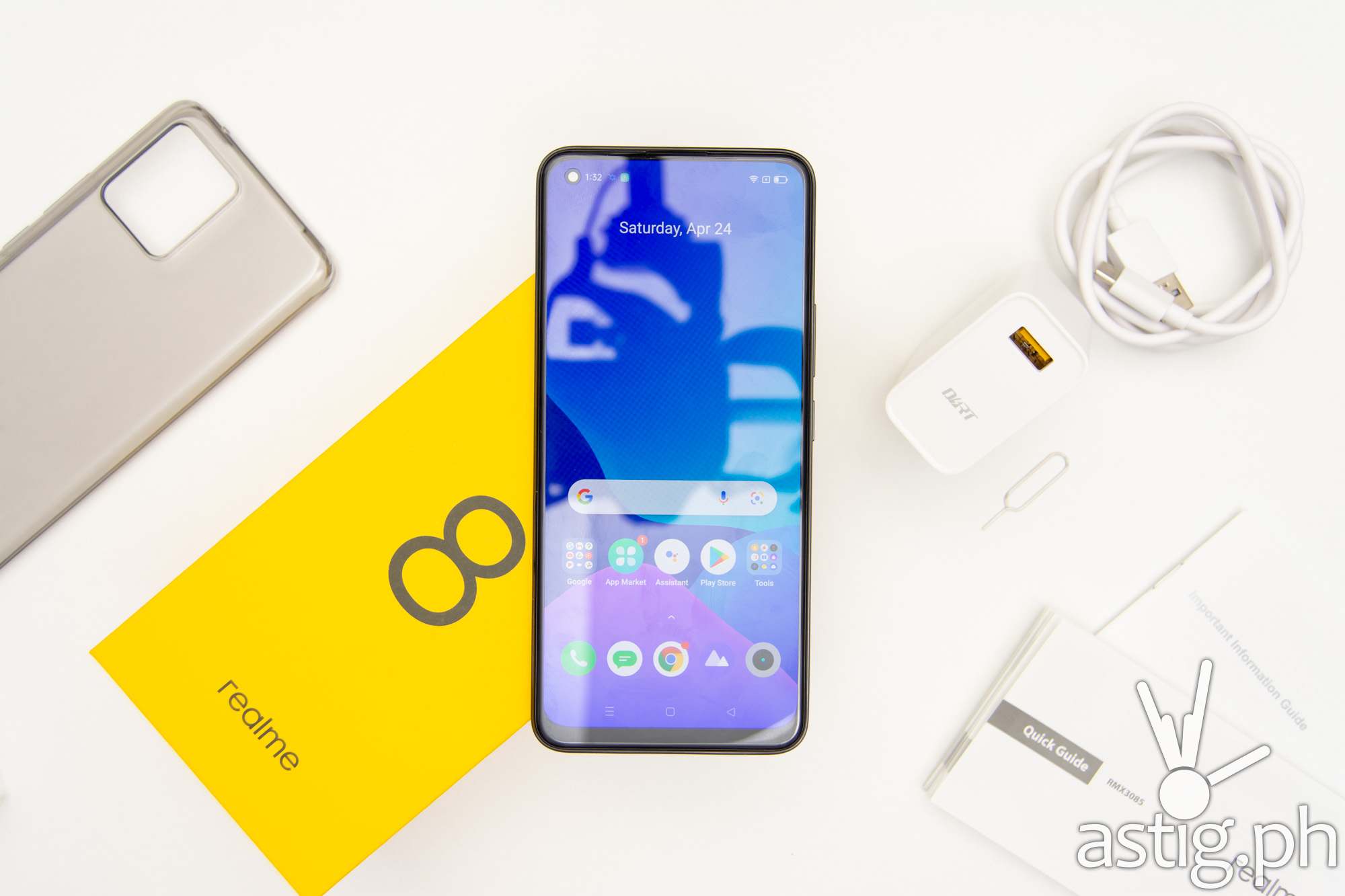 In a shocking move, realme Philippines has decided to offer the realme 8 at an introductory price of … wait for it … Php13,990, or Php1,000 lower than the realme 7 when it made its debut half a year ago, and you can even get it for Php1,000 off during the midnight sale, which puts it at Php12,990.
Are you kidding??!!!
I shit you not, the unthinkable has happened: Here we have a brand that's offering their next-generation product at a lower price than its predecessor.
When what was the last time that happened?
It's a clever move: offering a better product at a lower price is enough to end any further discussion, and we applaud realme Philippines for taking huge risks in a highly competitive market, staying true to the war cry that they so brazenly etched in big, bold letters of the realme 8:
DARE TO LEAP.
realme 8 technical specifications (Philippines)
Display: 6.4 inches; 1080 x 2400 pixels; Super AMOLED, 1000 nits; Gorilla Glass
SIM: Dual SIM (nano-SIM, dedicated slots)
OS Android 11; realme UI 2.0
Chipset (SoC): MediaTek Helio G95
CPU: Octa-core (2×2.05 GHz Cortex-A76 & 6×2.0 GHz Cortex-A55)
GPU: Mali-G76 MC4
Memory (RAM) + storage: 8 GB + 128 GB
Expansion: microSD (dedicated slot)
Main camera (rear): 64MP f/1.73 (wide) + 8MP f/2.3 (ultrawide) + 2MP f/2.4 (macro) + 2MP f/2.4 (depth)
Selfie camera (front): 16MP f/2.5
Connectivity: 2.4/5 GHz Wi-Fi 802.11 b/g/n/ac; Bluetooth 5.1
I/O: USB Type-C; 3.5mm audio jack; fingerprint scanner (under-display)
Battery: 5,000 mAh; 30W DART Charge
Colors: Cyber Silver, Cyber Black
Price (Philippines): 13,990 PHP (8GB + 128GB)