PHILIPPINES – realme just launched the new realme 9 Series, starting with the realme 9 Pro and the realme 9 Pro+. While both models support 5G mobile data connectivity, the Plus distinguishes itself from the pro with better displays, faster charging, and flagship level cameras with optical image stabilization (OIS).
Aside from improved specs, it also offers dual stereo speakers, Wi-Fi 6 connectivity, and an under-display fingerprint sensor that can function as a heart rate monitor.
We highlighted our first impressions in a another article as well as a review video on announcement day. Read on for our full review after using the realme 9 Pro+ for an extended period of time.
Design and display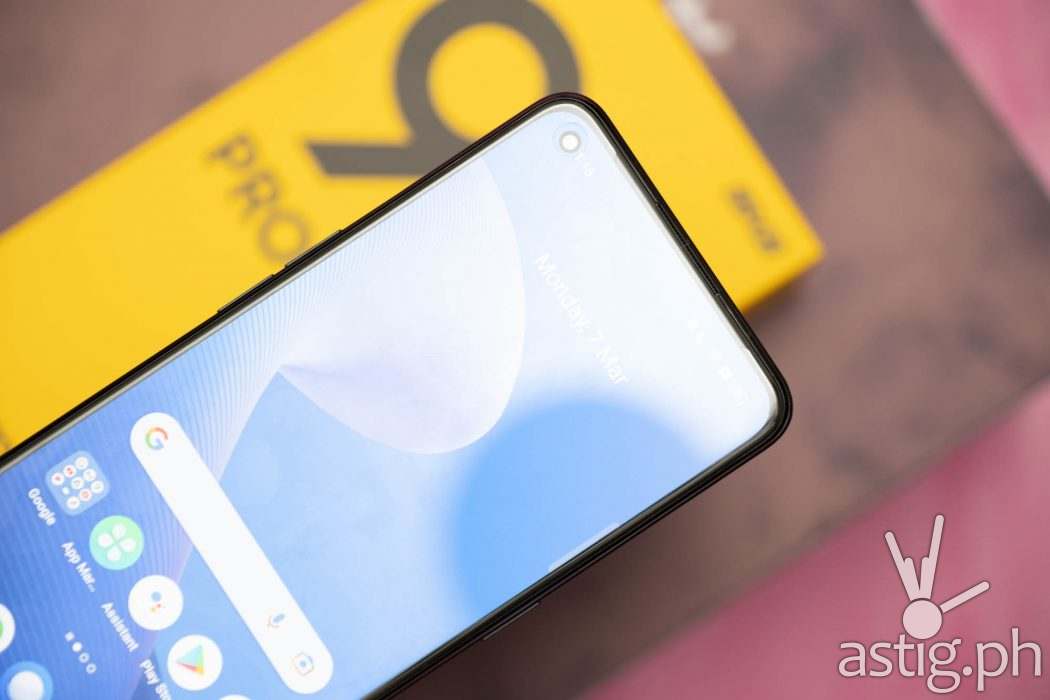 Design-wise, the phone does away with the polarizing DARE TO LEAP branding that characterized its predecessor, the realme 8. We return to a much cleaner cleaner aesthetic, with a twist: a 3-layer 'photochromic' that gives the illusion of depth and movement whenever it catches the light.
realme 9 Pro Plus comes in two colors: Aurora Green and Sunrise Blue, but the latter goes above and beyond with a simple visual trick: hold it under the sunlight and it will change color to a reddish hue, returning to its original blue once taken back into the shade.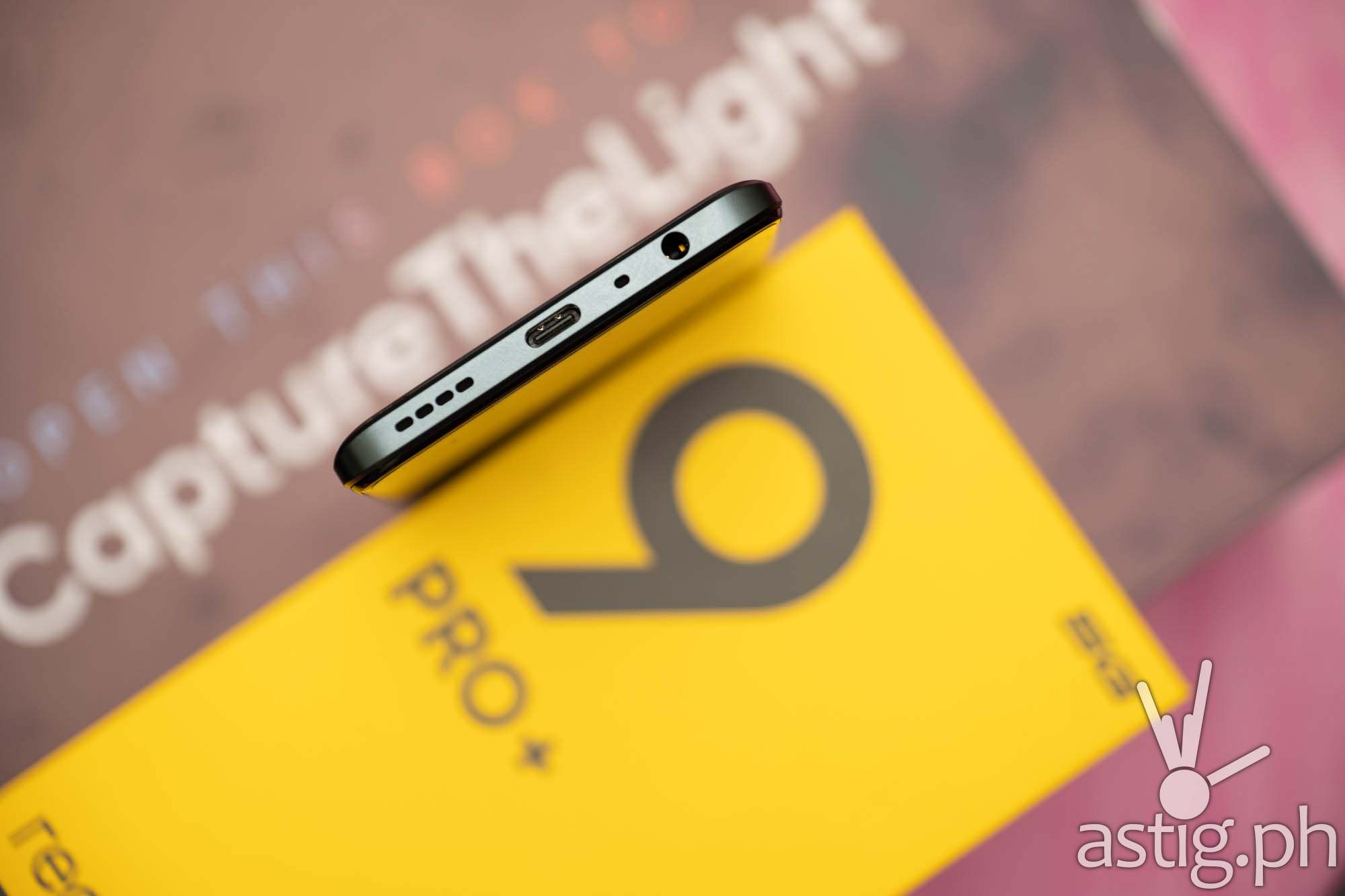 realme calls this "Light Shift Design", and while color changing paint is not new, we've never seen its application on smartphones until now.
Like the realme 8 Pro, this phone touts a Super AMOLED display panel with a hole-punch notch, but it gets a slight spec bump with the refresh rate going up to 90Hz. Upon closer scrutiny we noticed that the edges are slightly brighter compared to the middle, and the top panel is very reflective, which may or may not be affecting the way colors are being displayed when viewed at a slight angle.
Still, Super AMOLED is Super AMOLED: great contrast ratio, deep blacks and extremely vivid and lifelike. At the end of the day, it's a high quality panel with a hole-punch notch located at the top-left corner and a slightly thicker chin lining the bottom edge.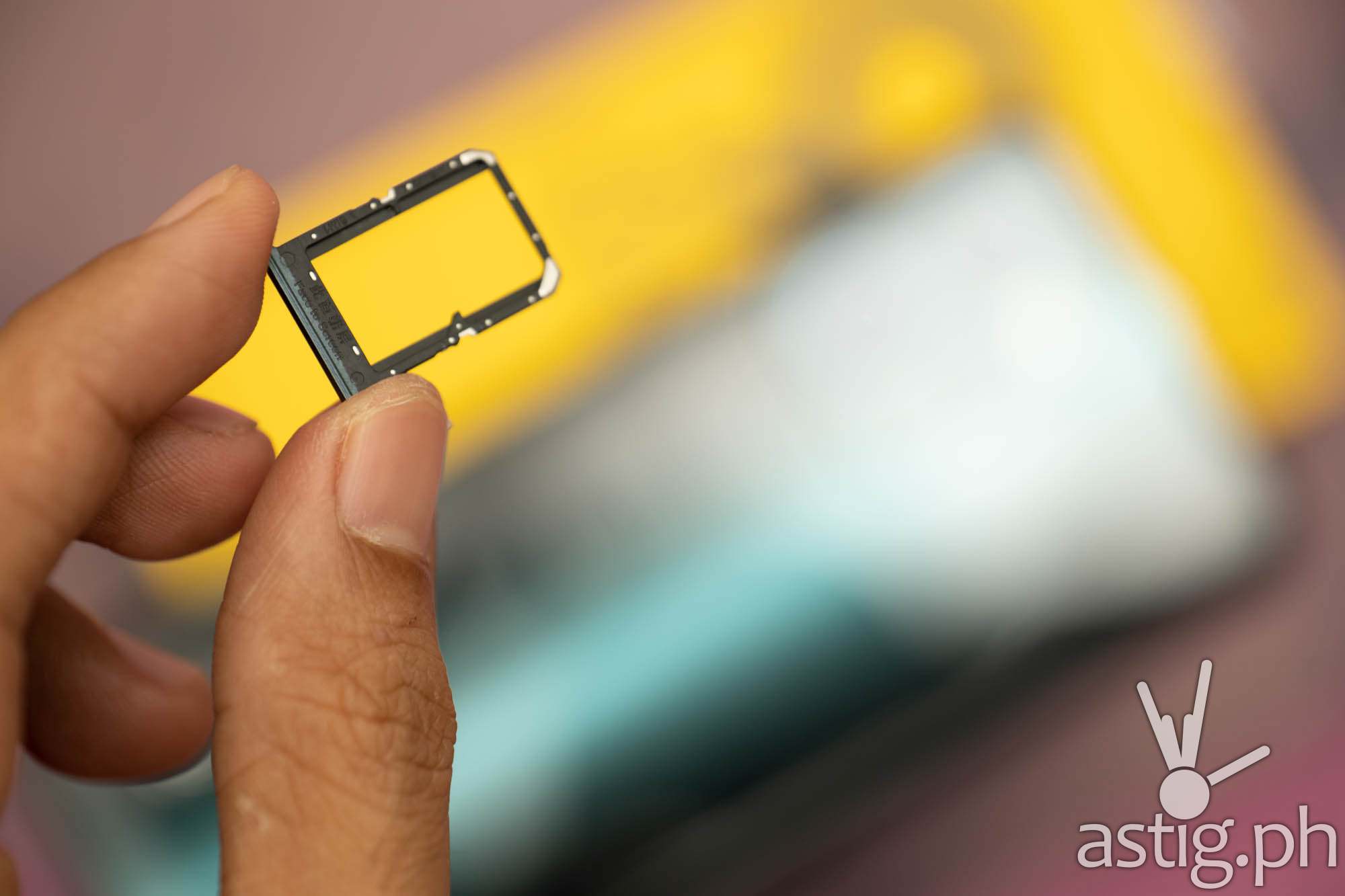 Like its predecessor, the screen also hides an in-display fingerprint scanner, but an experimental feature makes it possible to monitor one's heart rate. We tested this feature and it actually works!
By the way, the phone still rocks a 3.5mm audio jack and dedicated dual SIM slots, although we're not getting a storage expansion slot this time.
Performance and benchmarks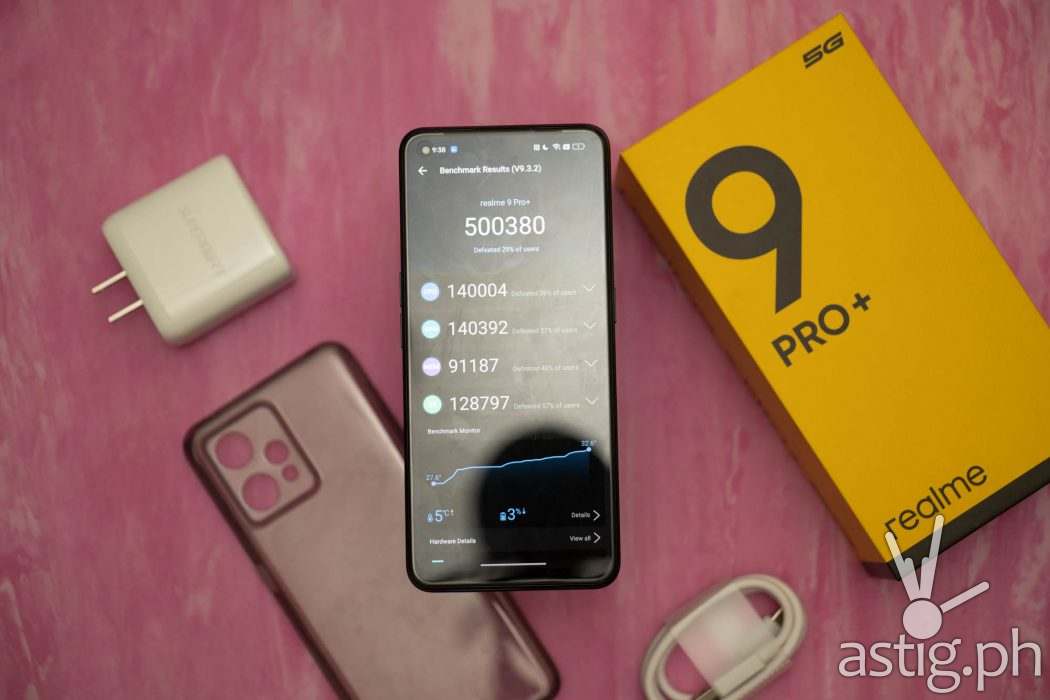 Performance also gets some love on both the realme 9 Pro and the Pro Plus, which runns on Dimensity 920 5G, MediaTek's mid-range 6nm chipset. It's the affordable choice if you want to get the most performance for your peso, and a relatively power-efficient design until 4nm chipsets become the norm.
We have been using the phone heavily for weeks now, and we have yet to notice any slowdowns. We attribute this to the generous 8GB of RAM and 256GB internal storage. and the 90Hz display pairs well with it, making the overall experience smooth and snappy.
|   |   |   |   |   |   |   |
| --- | --- | --- | --- | --- | --- | --- |
| Model | System | CPU | Memory | Disk | 2D | 3D |
| realme 9 Pro Plus (8+126) | 11077 | 5206 | 25871 | 76932 | 22641 | 23871 |
| SAMSUNG Galaxy M52 5G (8+128) | 8917 | 3999 | 25995 | 47051 | 41690 | 40990 |
| SAMSUNG Galaxy Z Fold3 (12+256) | 7097 | 3102 | 17335 | 107528 | 34695 | 79385 |
Comparison: realme 9 Pro Plus vs Galaxy M52 5G vs Galaxy Z Fold3
We managed to score a whopping 500k points on our first run on AnTuTu benchmark – it wasn't too long ago when scores like that was considered flagship-level. Performance gaming phones like the Legion Phone Duel 2 and the ROG Phone 5 do 800k, but this is the first mid-ranger in 2022 that we've seen break 500k.
What really took us by surprise are the CPU, memory, and disk performance results, scoring 5206, 25871, and 76932 points, respectively. For reference, the Snapdragon 888-powered Galaxy Z Fold3 does 3102 CPU, 17335 memory, and 107528 disk, while fellow mid-ranger and Galaxy M52 5G does 3,999 CPU, 25995 memory, and 47051 disk, respectively.
Mobile gaming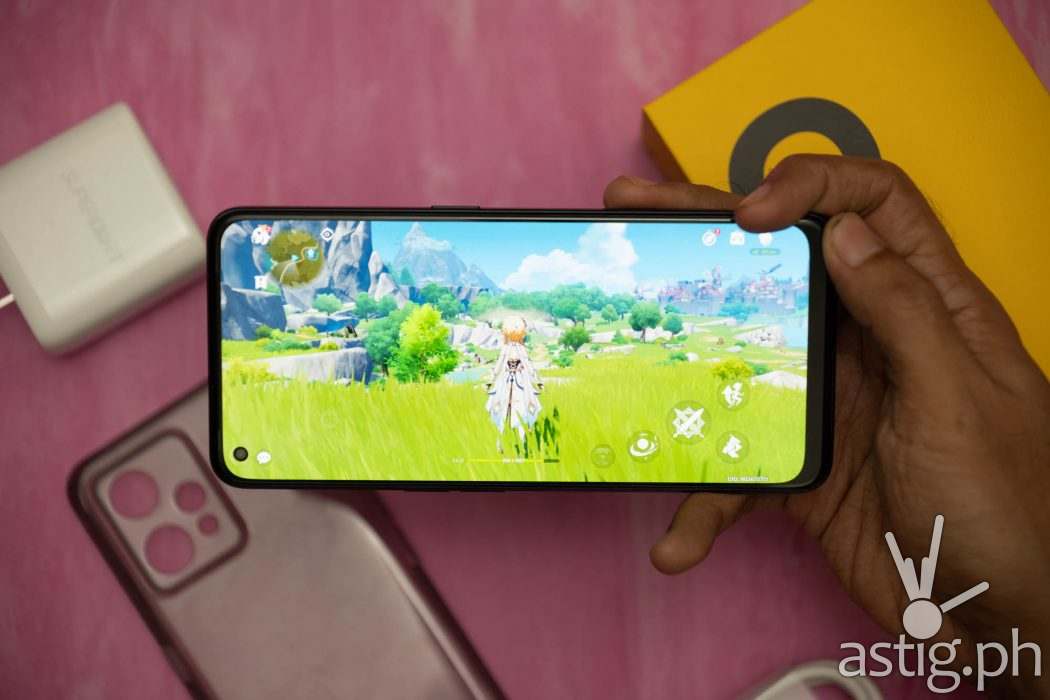 Gamers will no doubt be satisfied with the realme 9 Pro Plus, thanks in part to improved thermal management brought about by its Vapor Chamber Cooling System that first made its appearance on the realme GT NEO 2.
As expected, the phone remained stable through our long gaming sessions, with operating temperatures staying below 40 degrees, even while running resources-intensive games like Genshin Impact at maximum graphics settings in high frame rate (HFR) mode.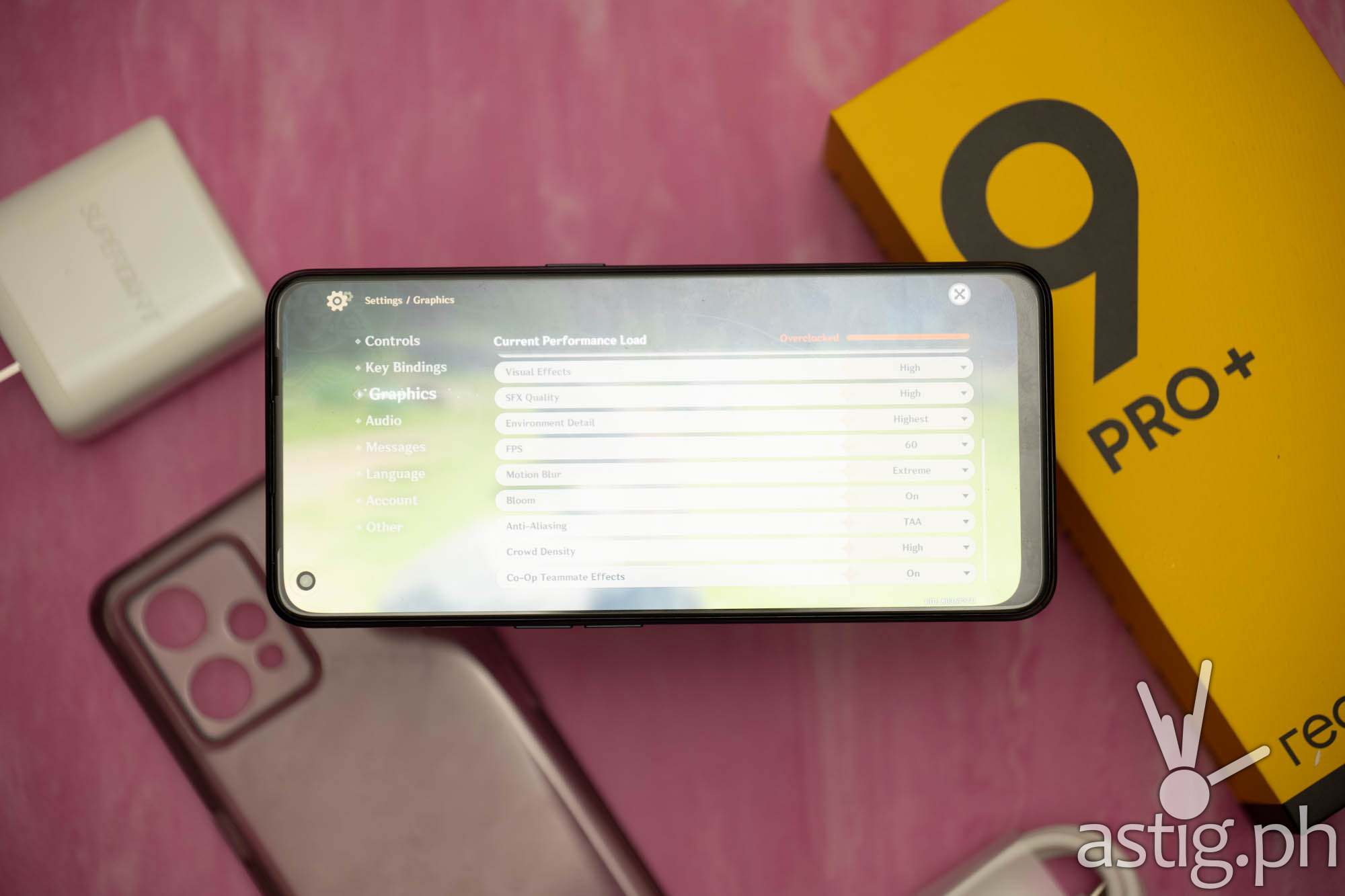 Gamers will also enjoy better haptic feedback thanks to improved hardware, the X-axis Tactile Engine. We never truly appreciated haptics until now. It's a small but very noticeable feature that needs to be highlighted more, and we are glad that realme decided to upgrade the hardware on the realme 9 Pro+.
We were able to push the boundaries of graphically demanding AAA games such as Genshin Impact to its highest possible settings at 30 FPS, although it drops down to something like 15-20 FPS (frames per second) during intense battles.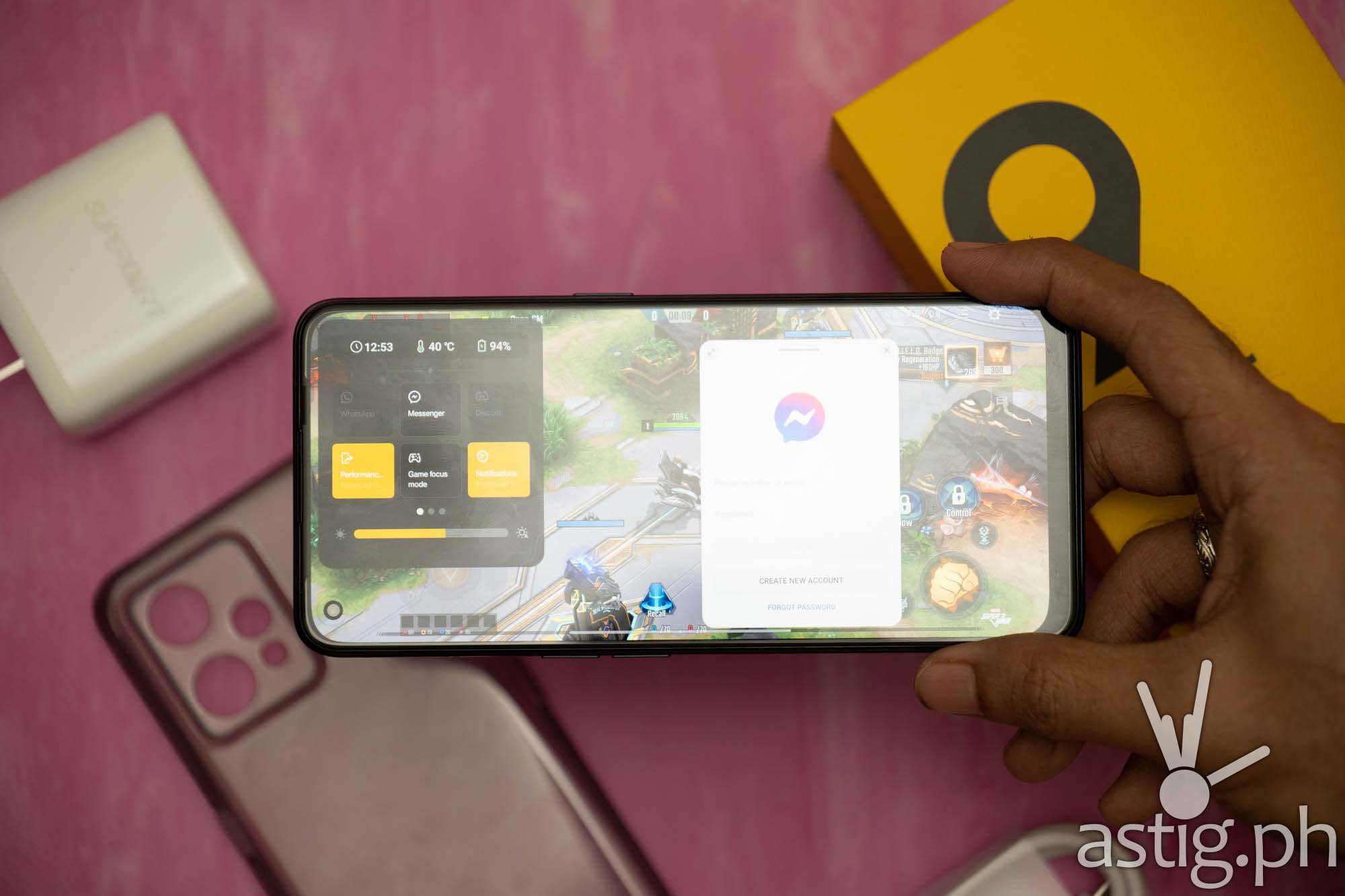 Dropping down to Medium seems to deliver a more consistent 30 FPS, while dropping to Low takes that average up to 40.
The benefits of realme UI 3.0 goes beyond just the home launcher and navigation, as the Game Center gets a massive visual overhaul. Now called Game Toolkit, we're seeing much tighter OS integration with its ability to log and track usage data. In-game screenshots also get a dedicated area to differentiate them from non-game captures.
The best features are still there such as floating windows, marquee notifications, and an on-screen display (OSD) to monitor CPU, GPU, and memory utilization. There's a fun new voice changer, as well as dedicated controls to in-game and microphone audio separately recording the screen.
Photography and content creation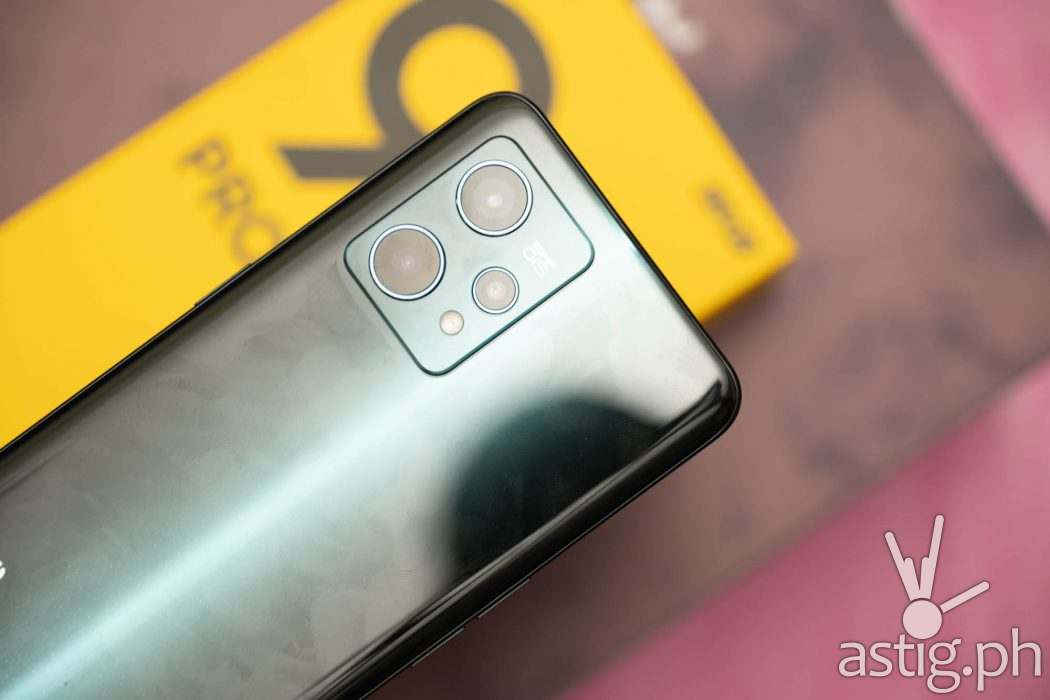 Photography and content creation take the spotlight on the realme 9 Pro+: that 50MP Sony IMX766 OIS main sensor is pure bliss, delivering usable shots even with limited light.
The built-in camera software takes this a step further by using OIS to make it easier for users to take street photos and create light paintings. First appearing on the realme GT Master Edition, the dedicated "Street" photography mode finally makes its way into the realme Number Series.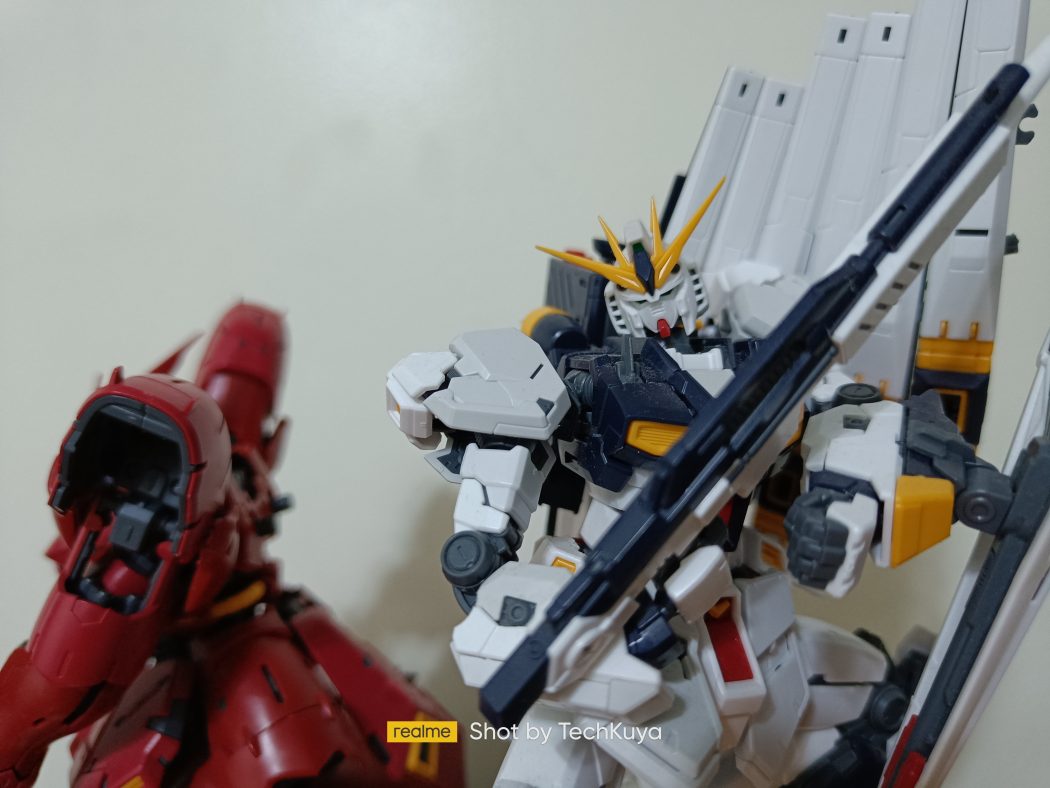 Unlike Night mode which essentially stacks exposures to make the entire scene brighter, Street mode tries to capture movement, so the result can be quite dramatic.
There are four options: Neon Trail captures light trails while Light Trail Portrait tries to keep a foreground subject within focus.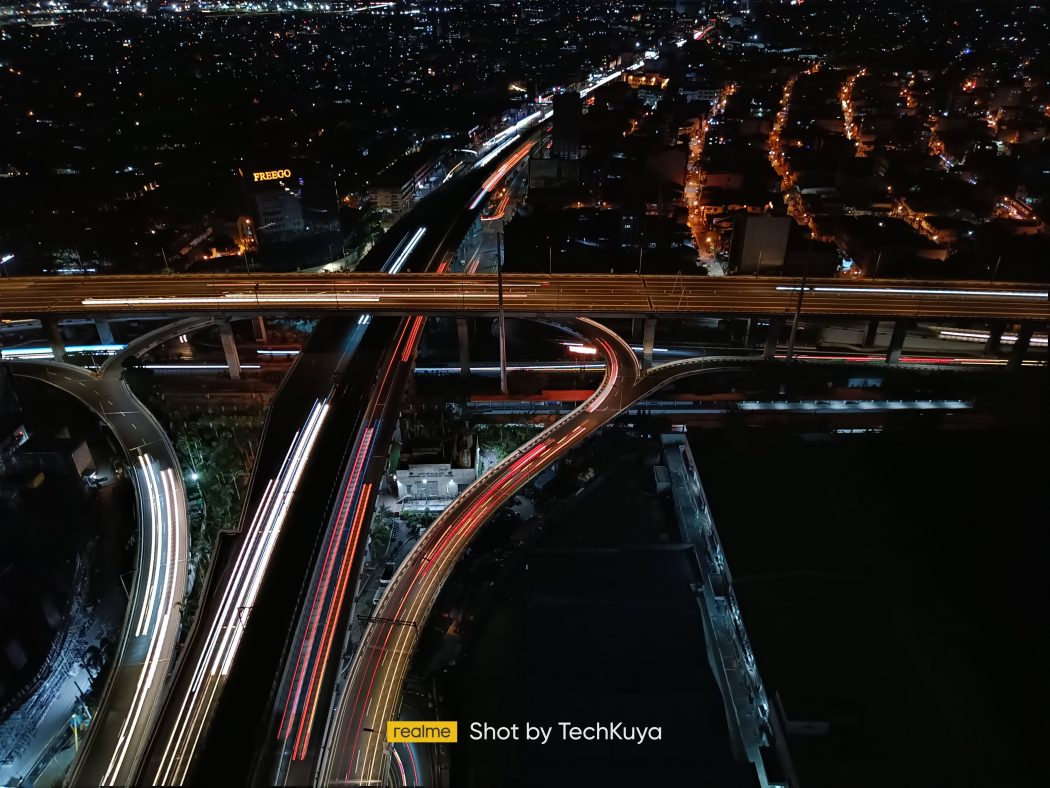 Rush Hour mode lets you capture movement during the day, while Light Painting operates similar to "bulb" mode on DSLR and mirrorless cameras, allowing you to capture light for an unlimited duration.
Compare the two shots above above and notice how the one taken in Light Painting shows more light streaks, since we held it manually for a much longer period of time compared to Neon Trail.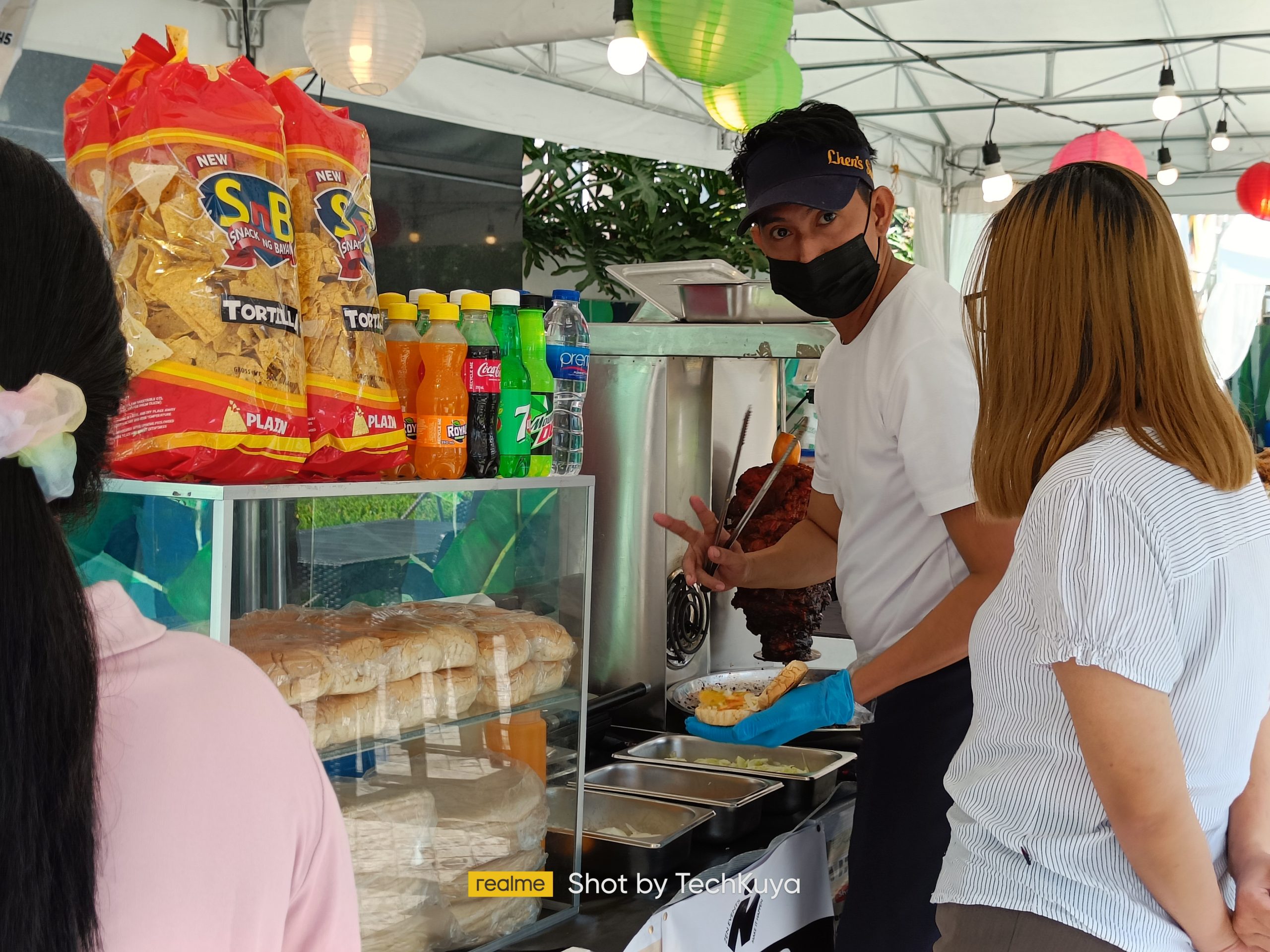 By default, Street Mode enables "DIS" which we are guessing means "dual image stabilization", engaging both hardware OIS and software EIS (electronic image stabilization). We had a lot of fun shooting in this mode, especially if you go 2x zoom. We feel like a paparazzi while capturing these candid shots of people in the street!
Not to be left out, video mode now supports software simulated bokeh which you can preview and change in real-time. This will prove useful to content creators who want to eliminate unwanted distraction in the background while shooting videos.
realme 9 Pro+ sample video (rear camera) 1080p
realme 9 Pro+ sample video (selfie camera) 1080p
Hit play to watch the sample unedited videos shot with both the front and rear cameras.
Battery and fast charging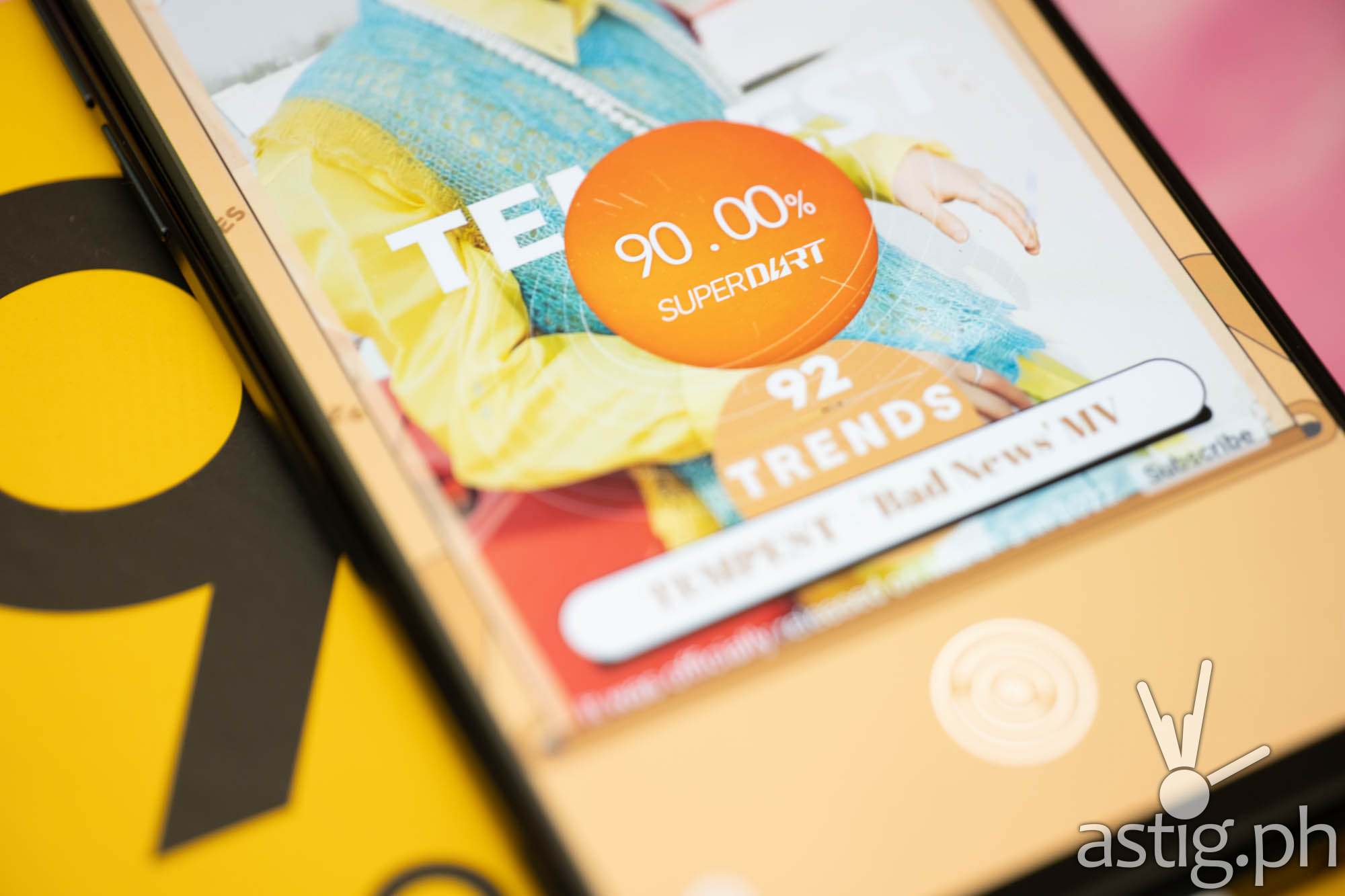 We've been hammering the phone ever since we got it: we ran benchmarks, games, and used it as a 5G mobile data hotspot. We can confidently say after two weeks that it will last at least a day before dying.
AccuBattery reports that we have a whopping 9 hours and 51 minutes worth of screen on time, with combined use averaging around 11 hours. Now that is a lot of battery life for a heavy-duty phone.
That's not all – even if you somehow end up draining it in the middle of the day, you only need an hour to charge it at 60W. Super Dart charging technology is really impressive that it even surprises us from time to time. We would drain the phone and plug it in to find it half full after looking away for a few minutes.
Verdict and value for money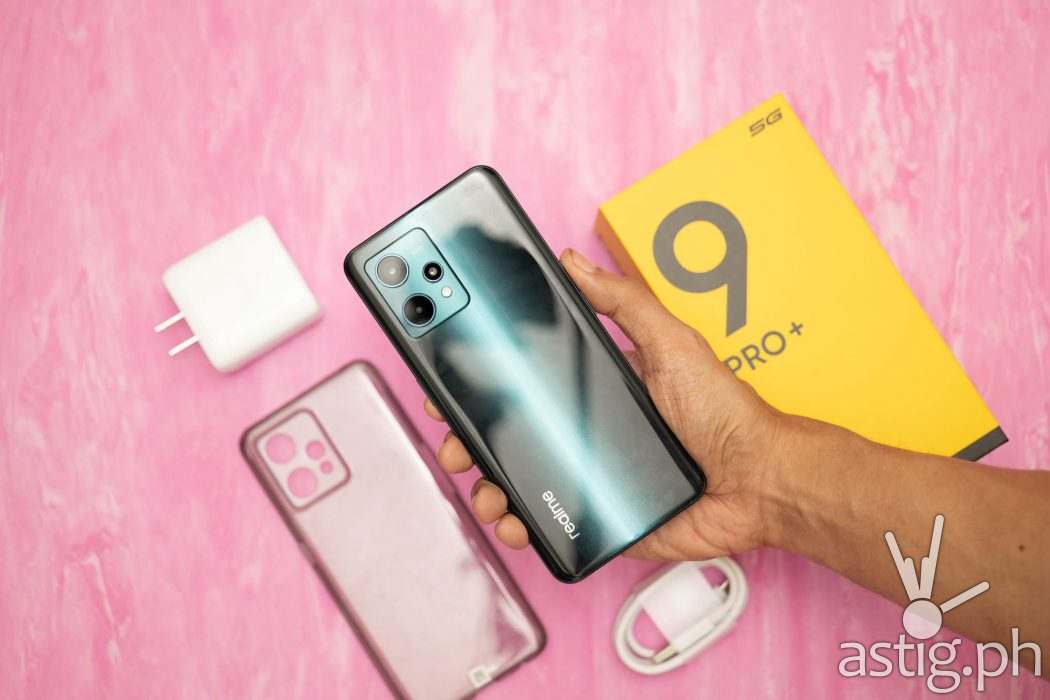 There was a time when OIS was a much-coveted feature on flagship cameras, and with brands like realme pushing the value chain downwards, the question was not a matter of "if" but "when" it was coming to the realme Number series. That time is now.
However, looking at the price, it seems that we are actually paying a premium for OIS! Lo and behold, the the realme Pro+ is priced at Php23,990 versus only Php16,990 for the realme 9 Pro. Granted, the Pro has half the amount of storage, and IPS LCD display and no OIS, but that's still a 7,000-peso difference.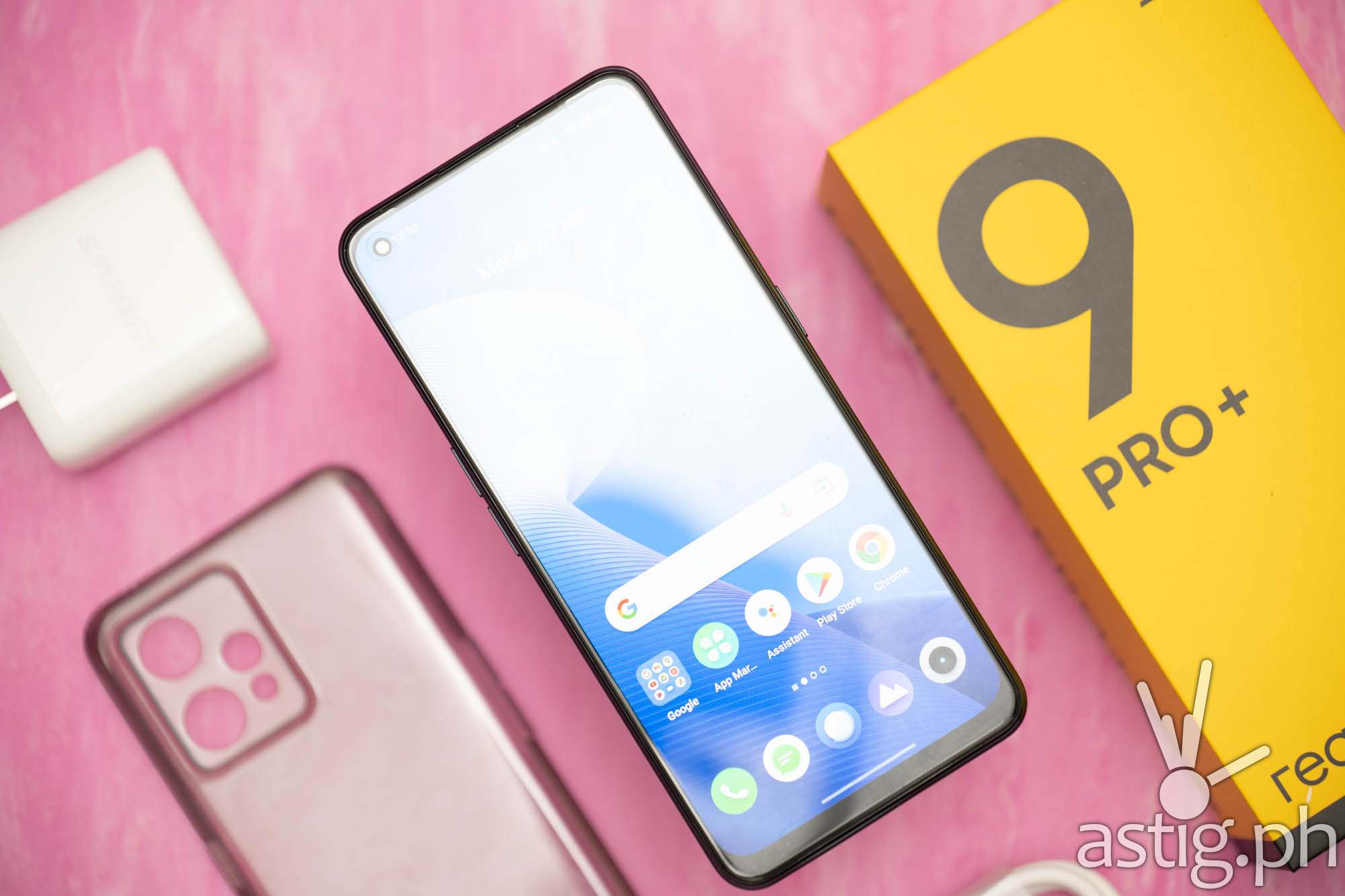 Which brings us to our theory: the realme 9 Pro+ is actually a flagship in disguise. It might run on mid-range specs, but everything else is what you would expect from a flagship:
Super AMOLED display with in-display fingerprint scanner? Check. 60W or faster charging? Check. Dual stereo speakers? Check. 5G and Wi-Fi 6? Check.
Now the only question that remains is whether or not anything in the 20 to 30 thousand peso-plus price range should be considered flagship for realme, considering other brands charge at least thrice the amount for a slightly thinner, waterproof phone with all of the features of the realme 9 Pro Plus.
Philippine price and availability
realme 9 Pro and realme 9 Pro+ launched on March 15 via livestream on the realme Philippines official Facebook page, just in time for the 3.15 sale.
They are priced as follows:
| Name | Standard price | Early bird price |
| --- | --- | --- |
| realme 9 Pro (8GB+128GB) | Php16,990 | Php14,990 |
| realme 9 Pro+ (8GB+256GB) | Php23,990 | Php21,490 |
realme 9 Pro and realme 9 Pro+ price in the Philippines
As an early-bird offer exclusively on Lazada, you can get P2,000 OFF on the realme 9 Pro (P14,990), and P2,500 OFF on the realme 9 Pro+ (P21,490) when you purchase via the realme Official Store on Lazada on March 16-18.
realme 9 Pro Plus specs
Display: 6.4 inches; 1080 x 2400 pixels; 90Hz; Super AMOLED, Gorilla Glass 5
SIM: Dual SIM (nano-SIM, dedicated slots)
OS Android 12; realme UI 3.0
Chipset (SoC): MediaTek Dimensity 920 5G
CPU: Octa-core (2×2.5 GHz Cortex-A78 & 6×2.0 GHz Cortex-A55)
GPU: Mali-G68 MC4
Memory (RAM) + storage: 8 GB + 256 GB
Expansion: none
Main camera (rear): 50MP f/1.8 Sony IMX766 OIS (wide) + 8MP f/2.2 (ultrawide) + 2MP f/2.4 (macro)
Selfie camera (front): 16MP f/2.4
Connectivity: 2.4/5 GHz Wi-Fi 802.11 b/g/n/ac/6; Bluetooth 5.2
I/O: USB Type-C; 3.5mm audio jack; fingerprint scanner (under-display)
Battery: 4,500 mAh; 60W Super DART Charge
Colors: Aurora Green, Sunrise Blue
Price (Philippines): Php23,990